Creamy cauliflower with sour cream, cheese and bacon.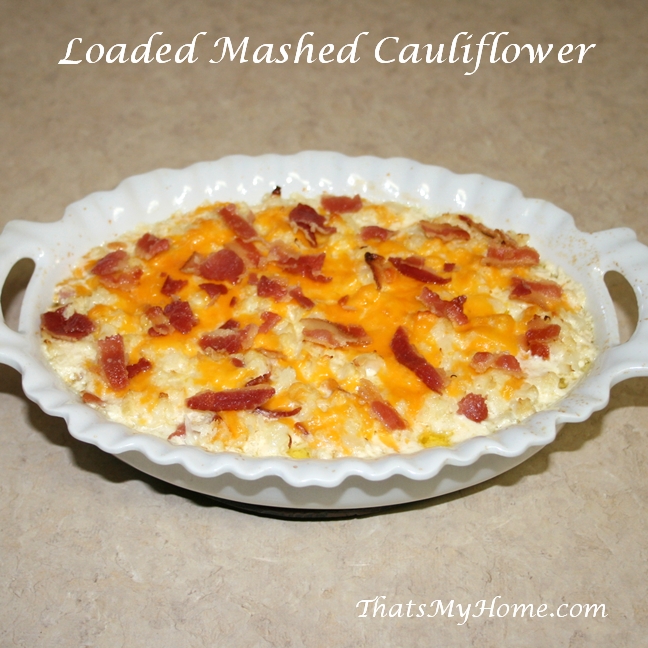 Loaded Mashed Cauliflower
I made this yesterday instead of mashed potatoes. I was sure when I made it I was going to regret not making the potatoes to go with the chicken roulades I made. Much to my surprise I didn't miss the potatoes at all. This is a tasty side dish that I will be making again.
It is no where close to the texture of mashed potatoes so don't be expecting that. When I mashed it I left the cauliflower a little chunky, but small chunky. If I'd of had some chives or green onions that would of been the only thing I would of added. This side dish is a keeper!
Loaded Mashed Cauliflower
Prep time:
Cook time:
Total time:
Creamy cauliflower with sour cream, cheese and bacon.
Ingredients
1 small head cauliflower
1/4 cup heavy cream
1/2 cup sour cream
2 tablespoons butter
8 oz. cheddar cheese
4 slices crispy bacon
salt
Instructions
Break up cauliflower into sections. Add a little water to a pan with the cauliflower and steam for about 10 minutes or until just tender. Drain well.
Mash the cauliflower with a potato masher. Add the heavy cream, sour cream, butter and 3/4 of the cheese. Mix together. Add salt to taste.
Pour into an oven safe dish. Top with remaining cheese and cooked bacon pieces.
Bake at 350 degrees for about 30 minutes until bubbly around the edges and starting to brown.
Follow me on Facebook, Google+ , Instagram or Pinterest to see when I post or share something new!
 Would you like to try?