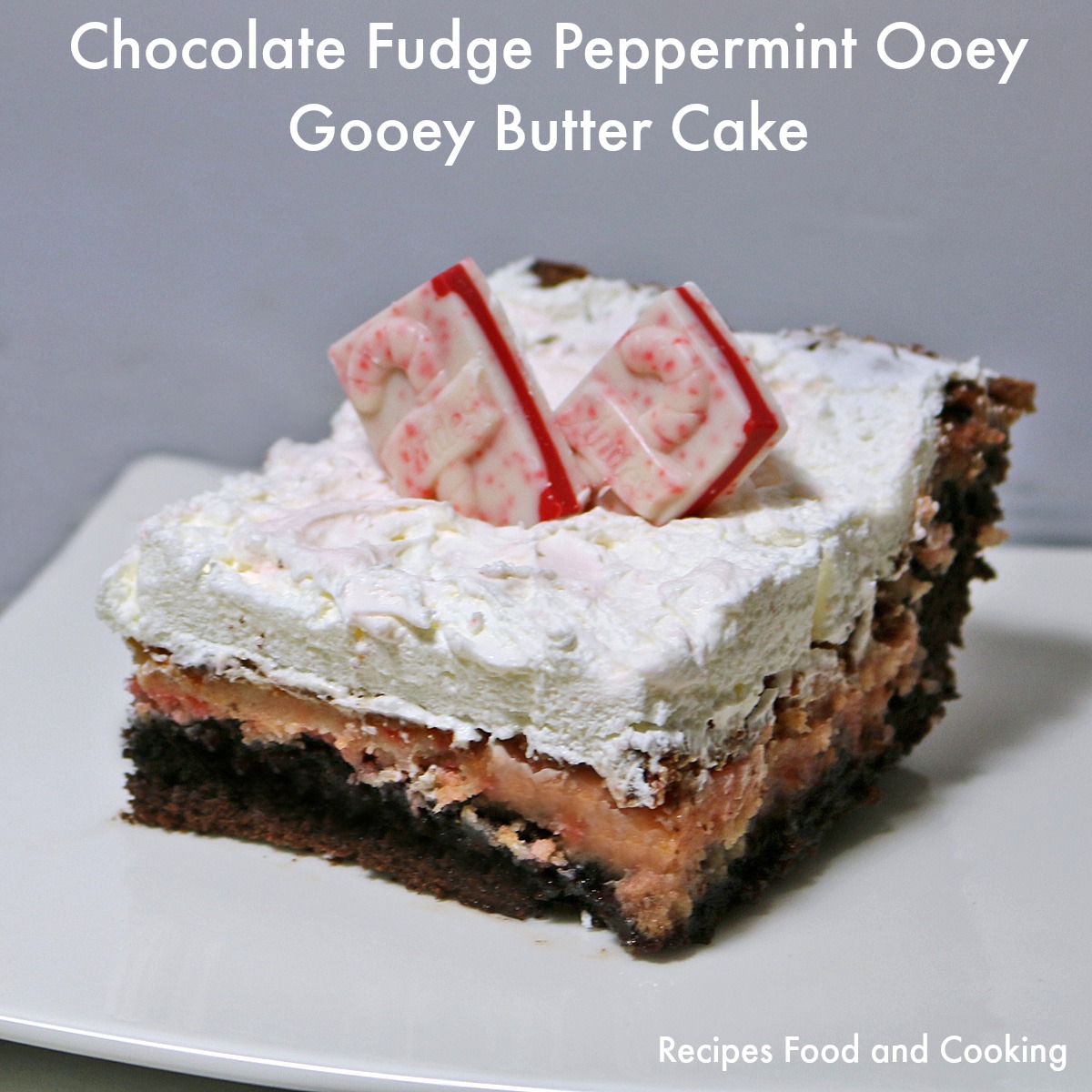 Chocolate Fudge Peppermint Ooey Gooey Butter Cake
I've had this cake in head since last Christmas only never had time to make it. I had a Christmas party to go to last night and decided now was the time. It's way past time I made a new ooey gooey butter cake.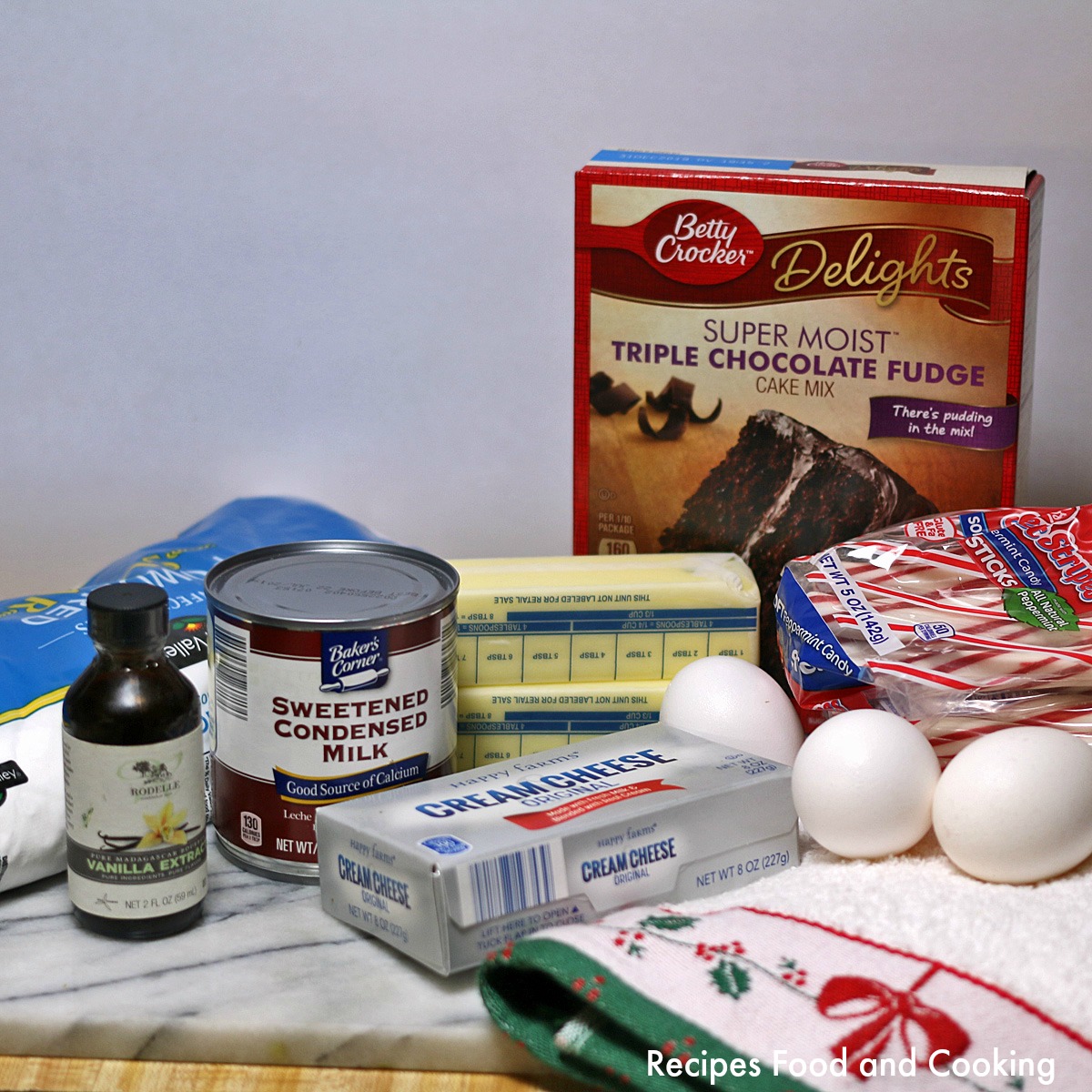 These cakes are easy to make, they start with a box cake mix that you add an egg, water and a 1/2 cup of melted butter to. Pat it out in a greased pan.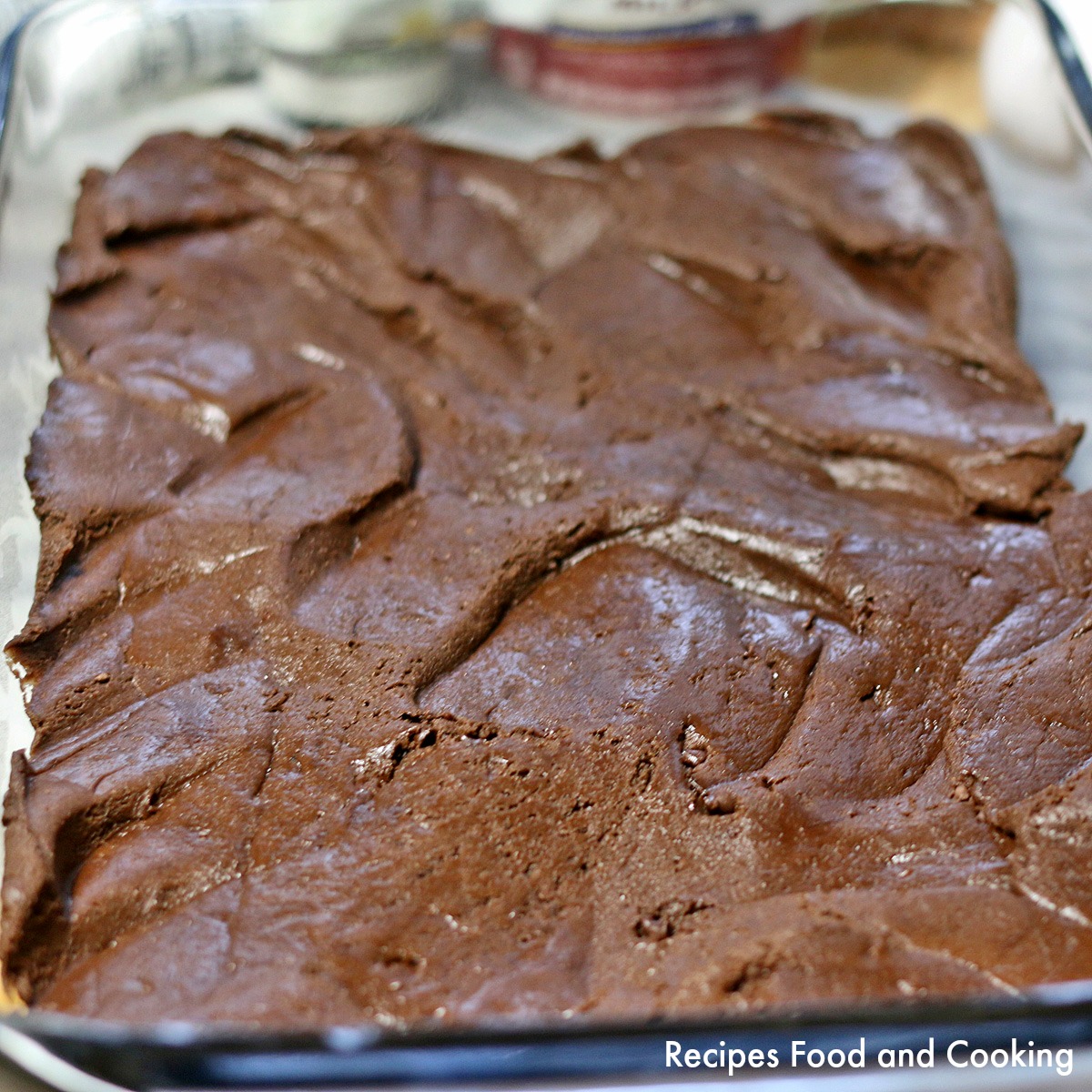 Then mix together the cream cheese, condensed sweetened milk, 2 eggs, vanilla and 8 oz. of candy canes. I used the soft candy canes that come in a bag. These came in 5 oz. bags and I used half of the second bag. I crushed them in the food processor. You want to do it in small batches or the dust will harden around the edges of the food processor bowl. Fold them in after you have mixed up the cream cheese mixture.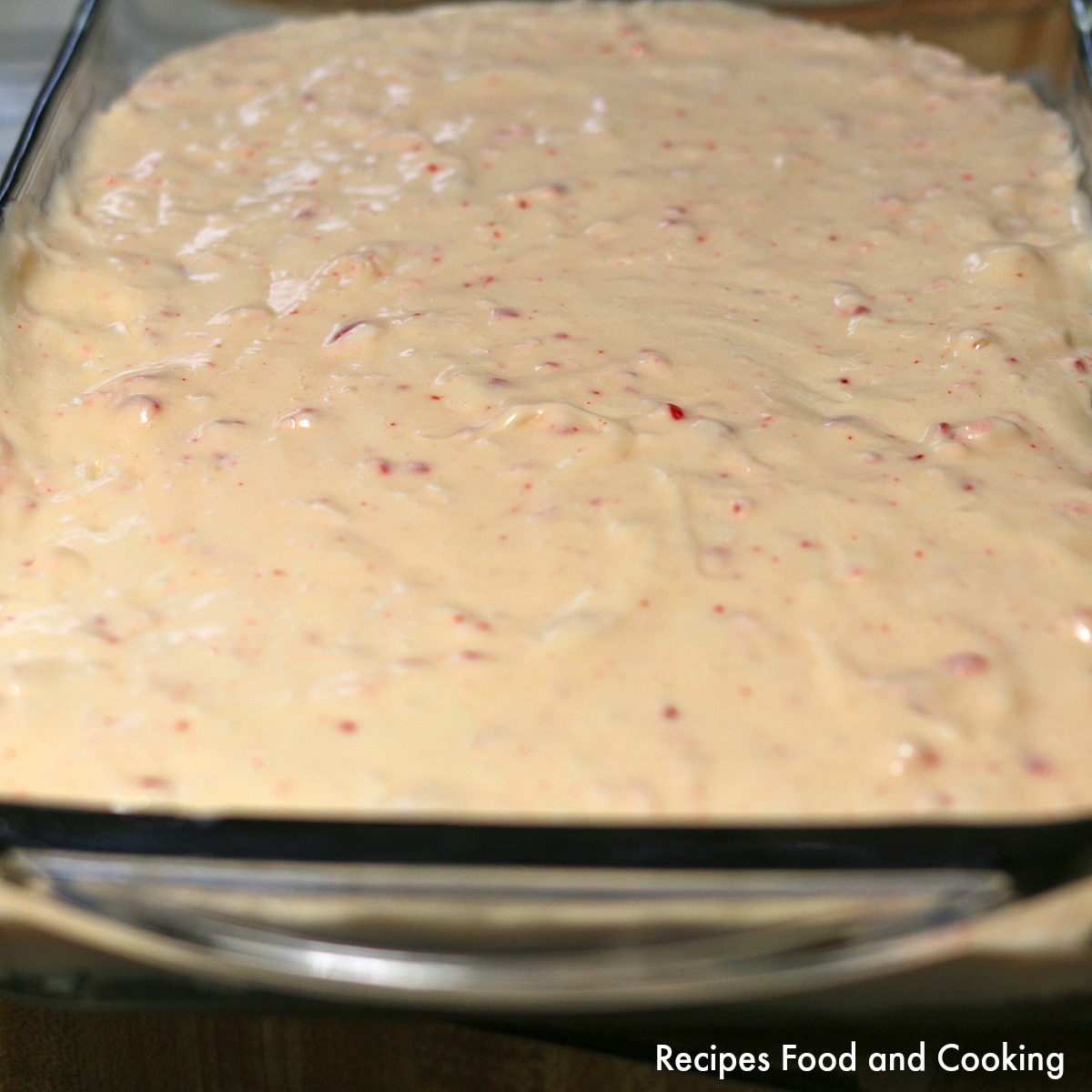 This recipe makes a 9 x 13 pan. I can't get one in my oven so I used 7 x 11. I used all of the cake batter part and all of the cream cheese mixture but just 1 cup. You can see how high it baked in the pan.  I also decided to check the temperature of the cake when it was done. Because of the density of these ooey gooey cakes it can sometimes be difficult to tell when they are done. They are done when they reach 210 degrees on a digital thermometer. Then the mixture will fall in the center as it cools. Fill with whipped topping or whipped cream.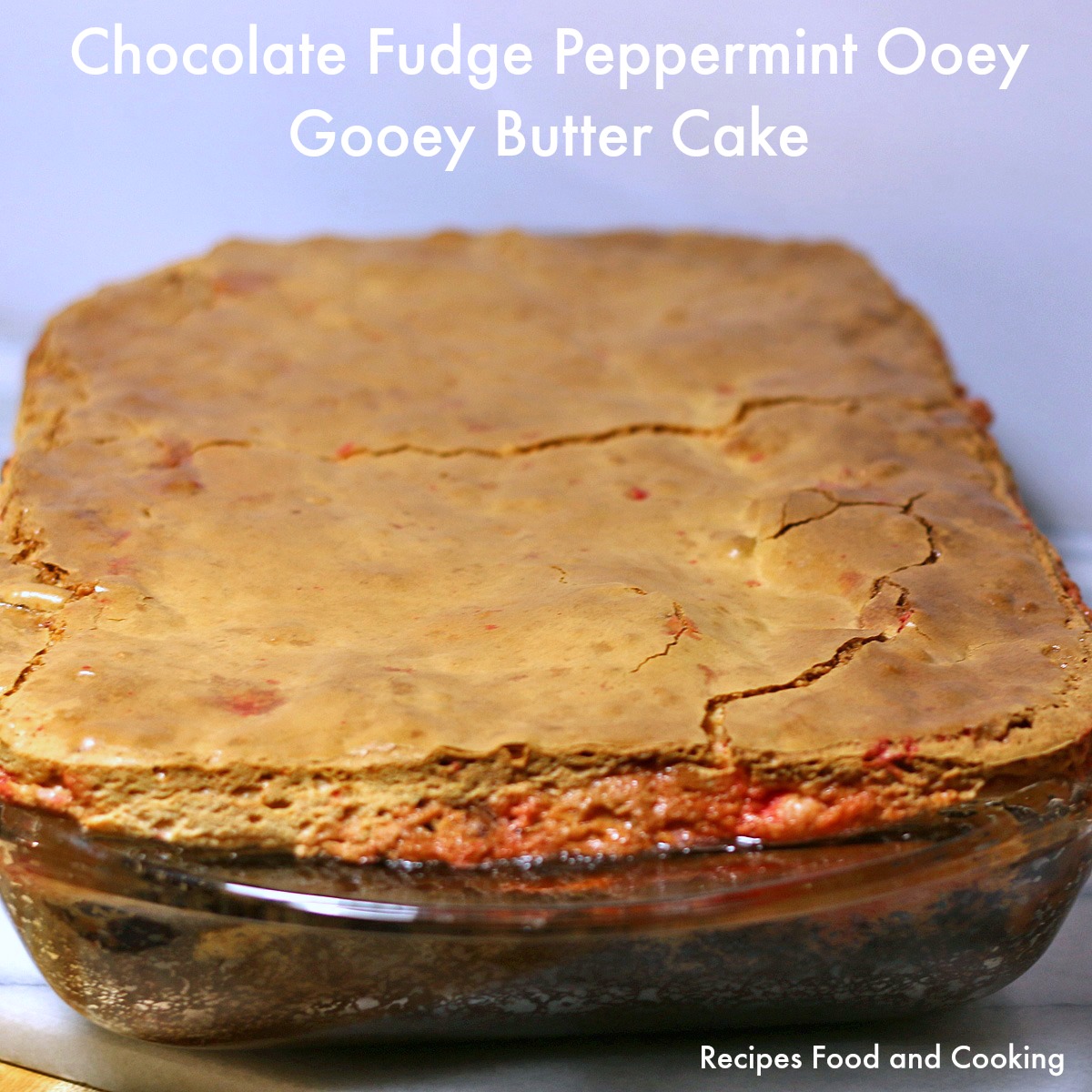 Cut this cake in small squares to serve. It's very rich.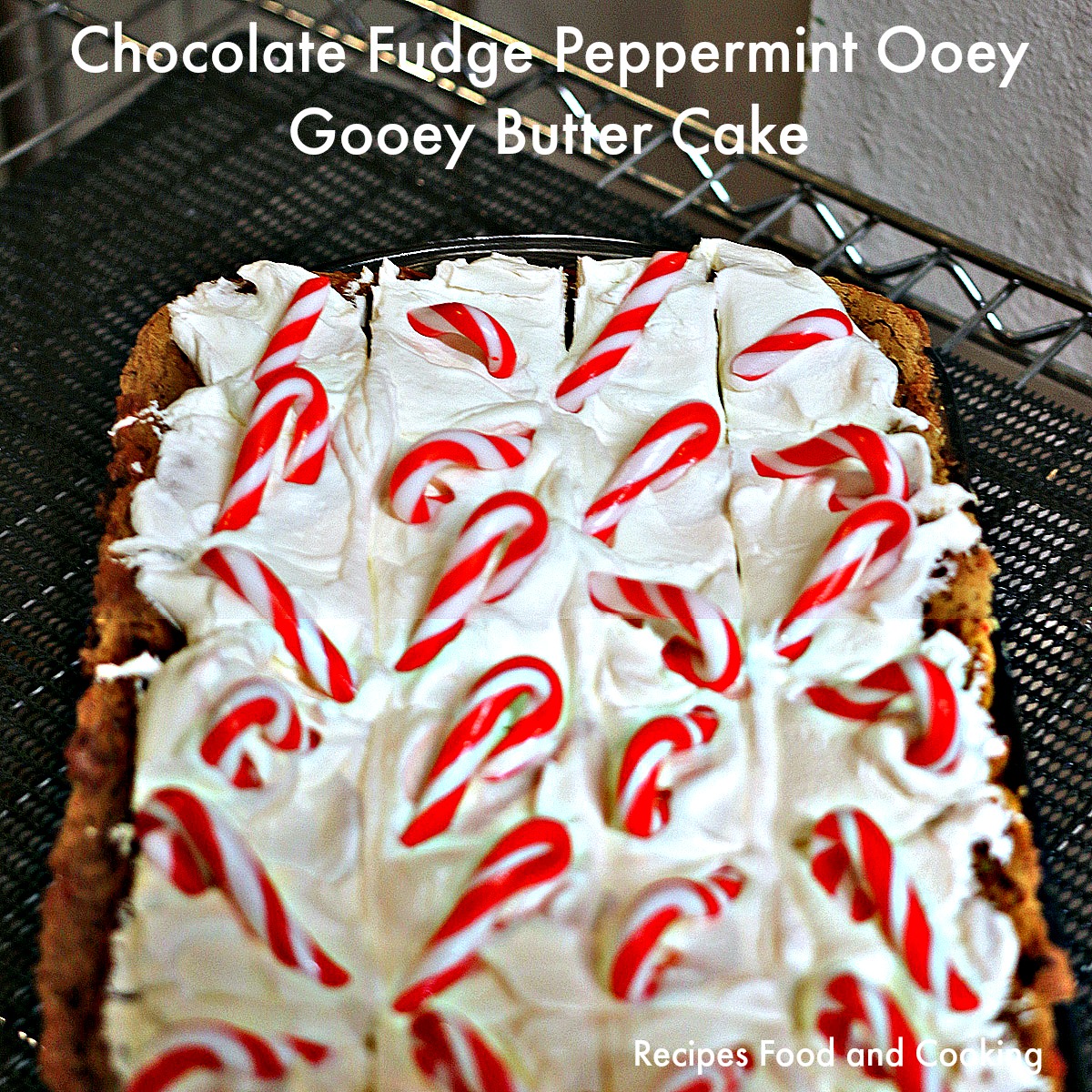 Chocolate Fudge Peppermint Ooey Gooey Butter Cake
Author:
Mary Ellen @ Recipes Food and Cooking
Recipe type:
Cake, Dessert, Ooey Gooey Cake
Prep time:
Cook time:
Total time:
Chocolate Fudge Cake with a Cream Cheese Peppermint Candy Cane Filling topped with whipped cream.
Ingredients
Cake
1 chocolate fudge cake mix
1 egg
¼ cup water
½ cup melted butter
Filling
1 8 oz. package cream cheese
1 can sweetened condensed milk
½ cup melted butter
2 eggs
3 cups confectionery sugar
1 teaspoon vanilla
8 oz. candy canes - soft ones (they come unwrapped like the bags in the pictures above)
Topping
1 carton whipped topping
Instructions
Preheat oven to 350 or 325 if using a glass pan. Grease a 9 x 13 pan. (See directions above if baking in a 7 x 11.)
Mix together the chocolate cake mix, egg, water and melted butter. Spread out in the bottom of prepared pan.
Add broken candy canes to a blender and chop finely or crush with a flat bottomed heavy pan in a plastic bag.
Mix together the cream cheese, eggs, sweetened condensed milk and melted butter. When thoroughly mixed in add the confectioner's sugar and vanilla. Stir in the crushed candy canes.
Bake for about 30 minutes. If starting to brown to fast turn down oven 25 degrees. Start checking at 50 minutes. A tester will pull out clean and the center be puffy when it's done. If you have a digital thermometer the cake should be at 210 degrees. Cool.
Top with whipped topping before serving.
Would you like to try our recipe for?
Chocolate Peanut Butter Ooey Gooey Butter Cake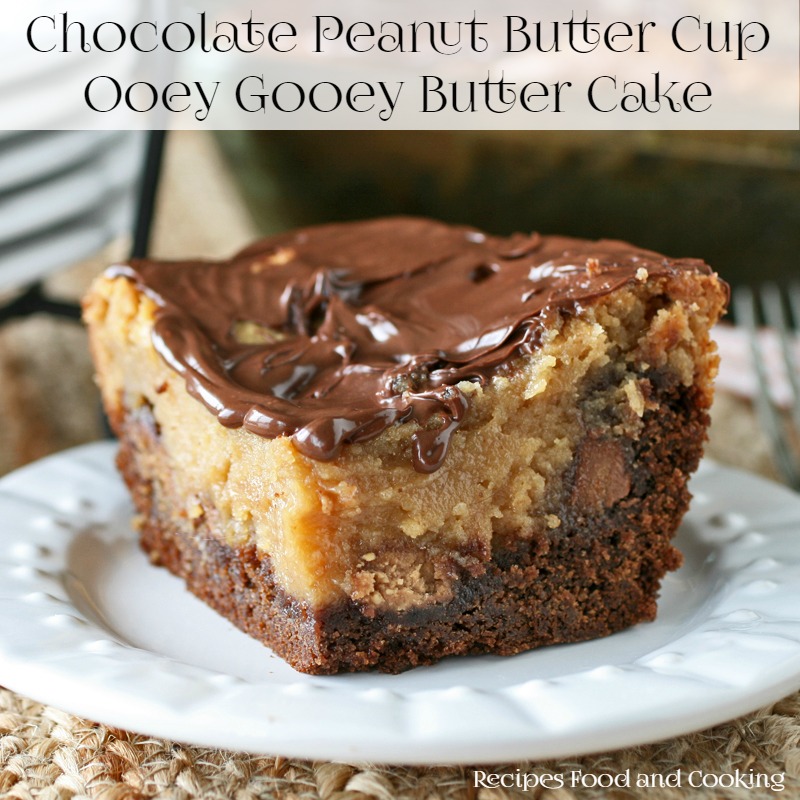 Lemon Blueberry Ooey Gooey Butter Cake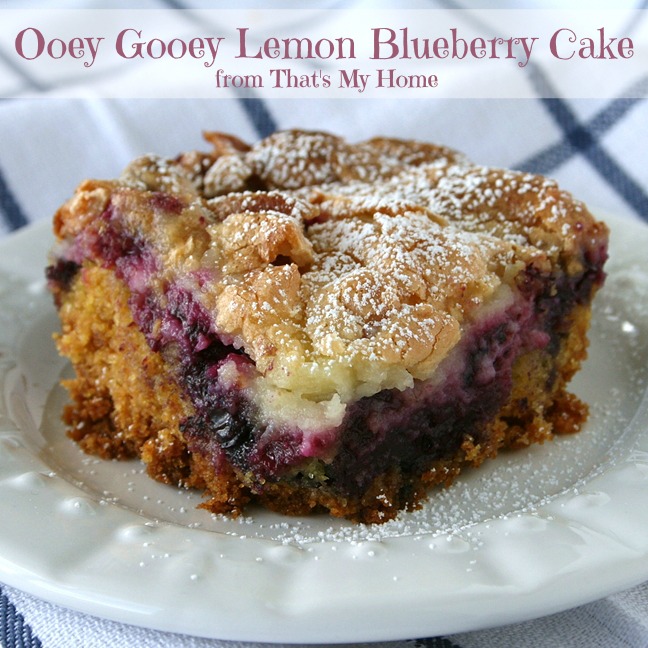 Brownie Pecan Pie Ooey Gooey Butter Cake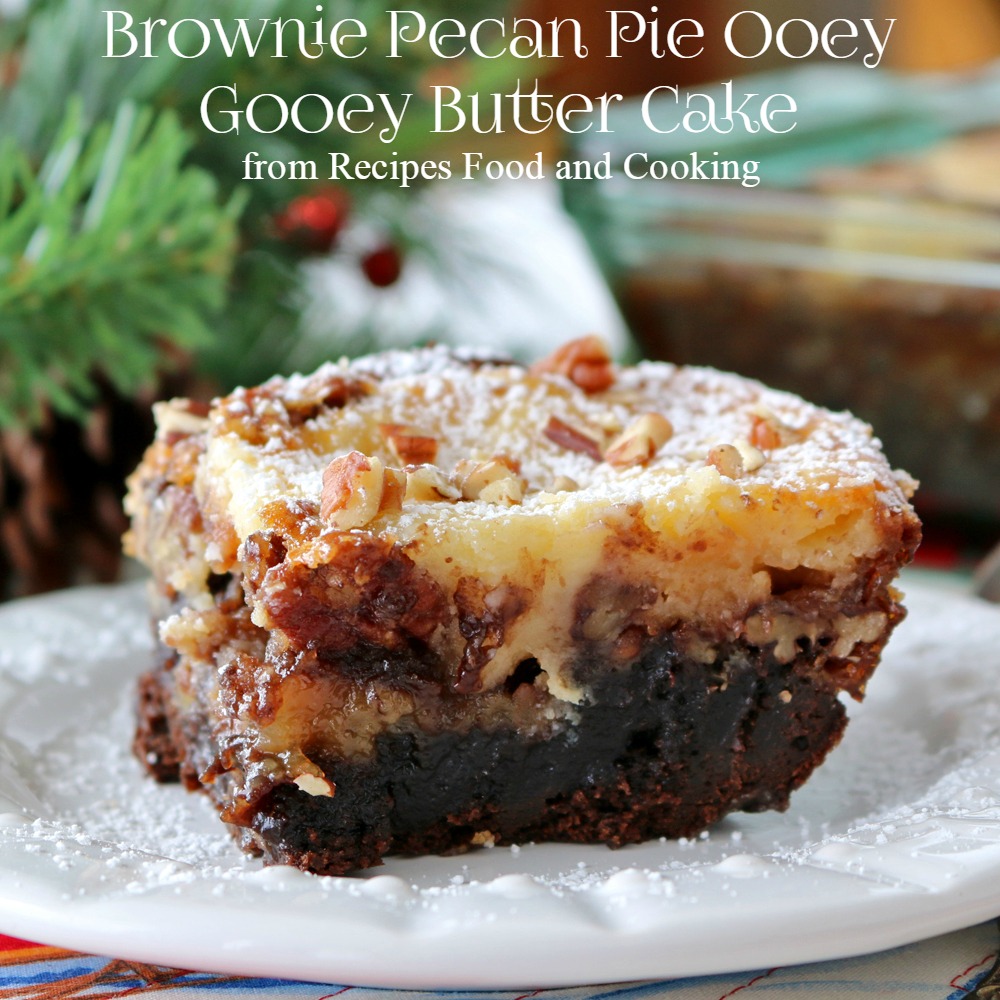 Pin It!