This is a sponsored post written by me on behalf of Vigo Foods for IZEA Worldwide. All opinions are 100% mine.

Deviled Crab Croquettes
Before moving to the Tampa area I had never heard of Deviled Crab Croquettes (croqueta de jaiba in Spanish). They have a long history here in the Tampa Bay area starting in the late 1920's during the Cigar Worker's Strike. They originated in the Spanish, Cuban and Italian immigrant community of Ybor City,Tampa, Florida. Blue crabs were plentiful in Tampa Bay at that time and Cuban bread was cheap, making it a staple meal for the striking workers.
Deviled Crab got its name from being known "as hot as the devil". It's made from crab of course, green peppers, onions, garlic (or sofrito), red pepper flakes and other spices. The mixture is wrapped in a bread dough made using Cuban and white bread and then dipped inVigo Italian Style Seasoned Bread Crumbs, flour, and eggs before being deep fried. I've added a twist here, I used Vigo Italian Style Seasoned Bread Crumbs for mine because I love the delicious taste it adds to them. The bread crumbs have real imported Pecorino Romano cheese in them along with spices, garlic, onion and parsley. The bread crumbs are made in their Tampa facility with bread picked up from commercial area bakeries (They can process more than 30,000 lbs/day). Now that's a lot of bread!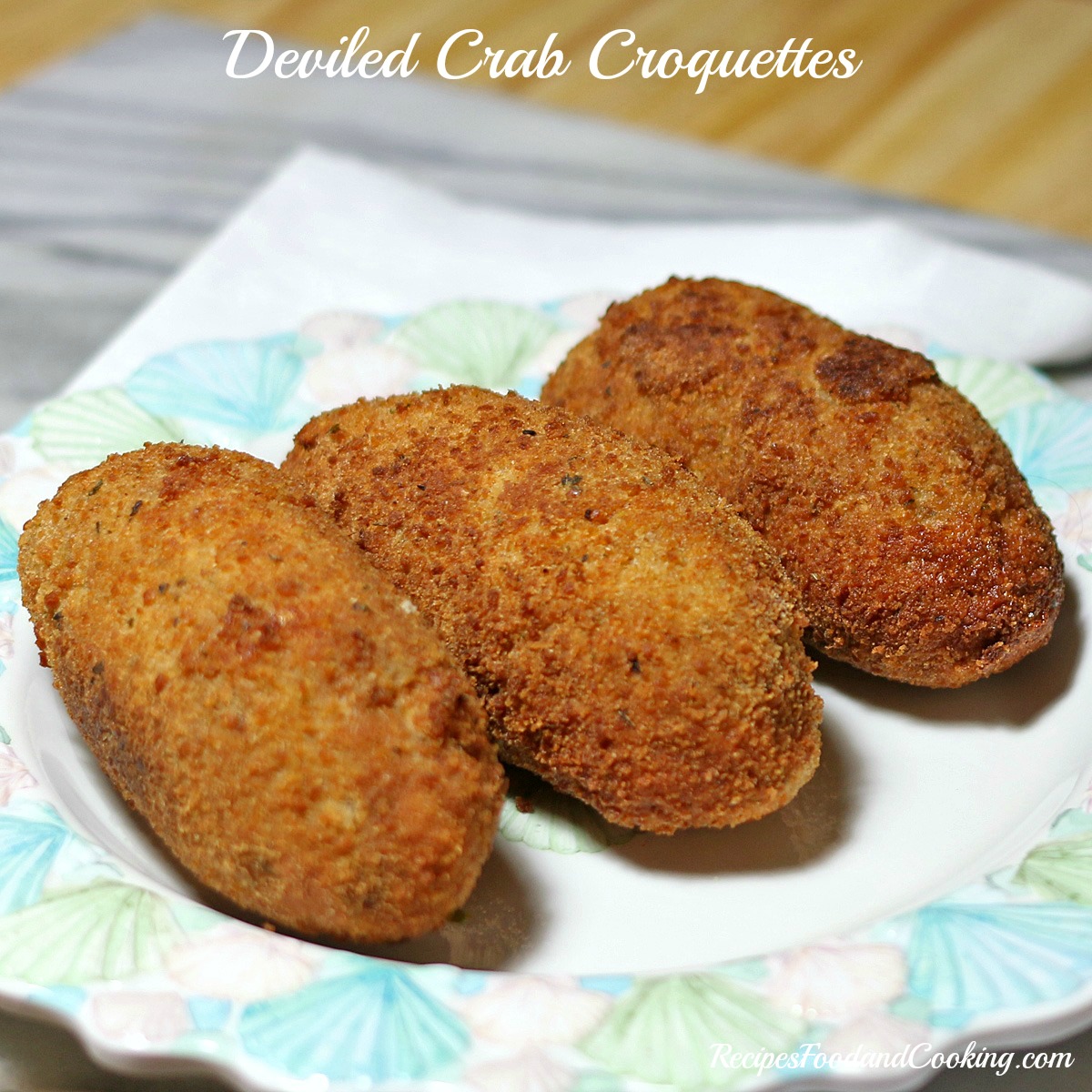 Vigo Foods is a local Tampa company. Antonino (Tony) Alessi started building the Vigo Importing Company in 1947 as a way to build security for his family. His family immigrated to Tampa when it was known as Cigar City from Sicily in the early 1900's. Vigo to this day is still a family-owned company that strives to bring you new tastes and products. For your convenience Vigo products are available at Publix or you can Shop Vigo's Online Store. Vigo sent me a gift box full of their products and I even have one to share with you below.
These croquettes are a little time consuming to make but not in actual cooking time, as there are several refrigeration points in the recipe. I love recipes like this because I can do it in stages to prepare ahead of time. The assembled croquettes can also be frozen. Making them a smaller size also makes them a perfect holiday appetizer.
Start by preparing the bread dough mixture. It is made using white bread and stale Cuban bread to make a dough. I pulverized my Cuban Bread in my food processor. After mixing, refrigerate until ready to use. This takes about 15 minutes. This dough will appear to be heavy when you are assembling the croquettes but once it is cooked it is light and delicious!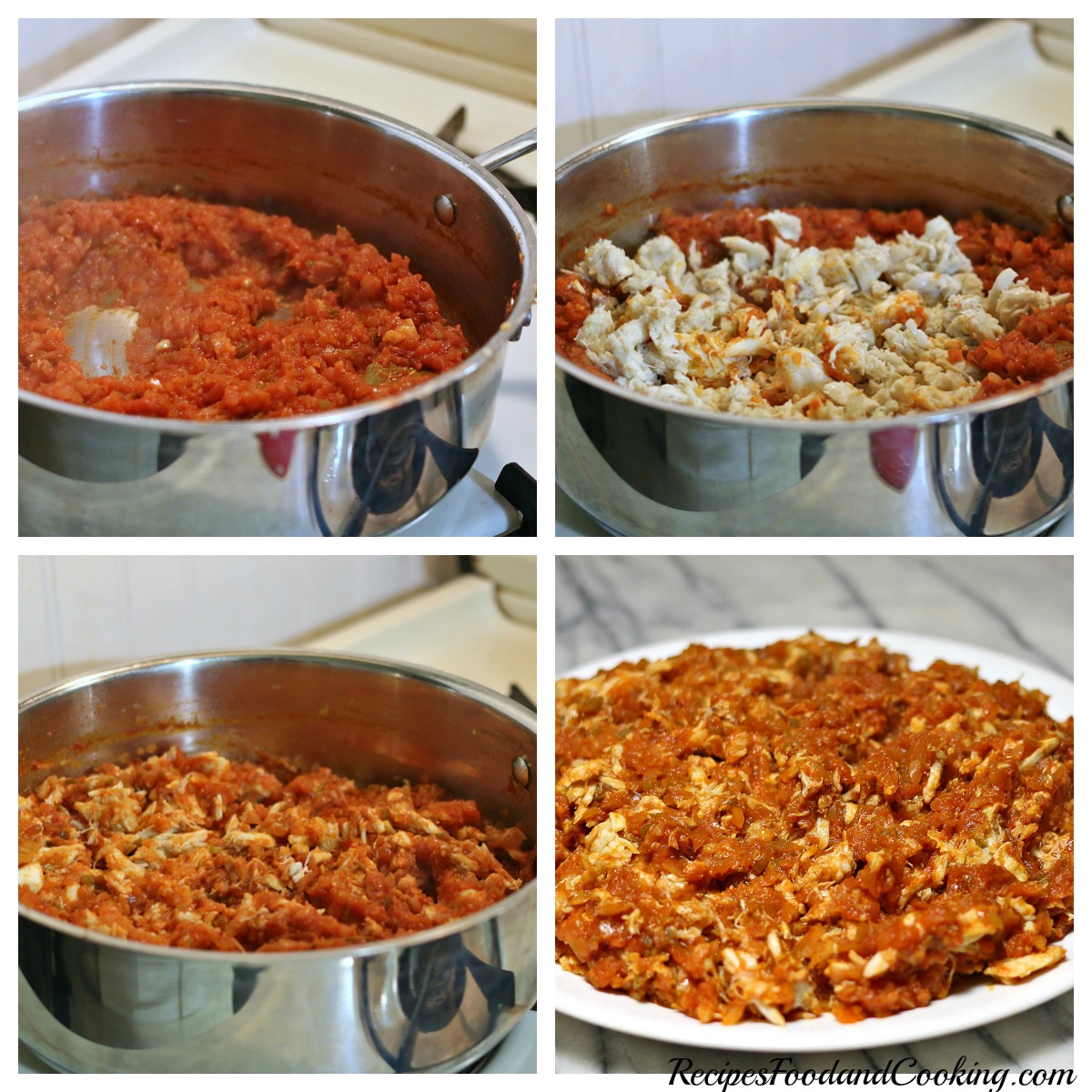 Next make the sofrito mixture and add the crab. Once mixed together, chill for 2 hours.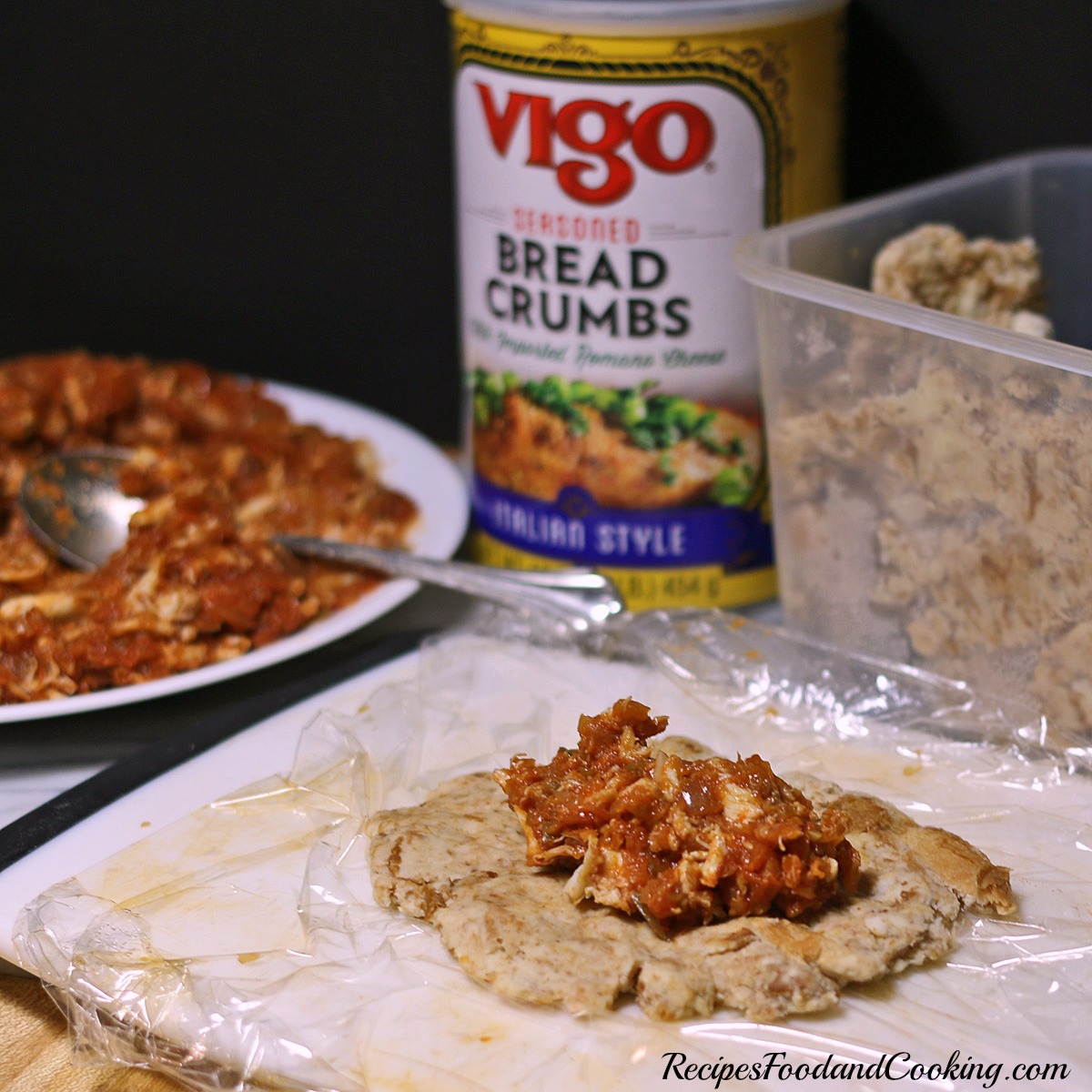 Now it's time for assembly! Take 3 tablespoons of the dough mixture and flatten it, add a generous tablespoon of the crab sofrito mixture and then gently shape it like a football enclosing the crab in the center.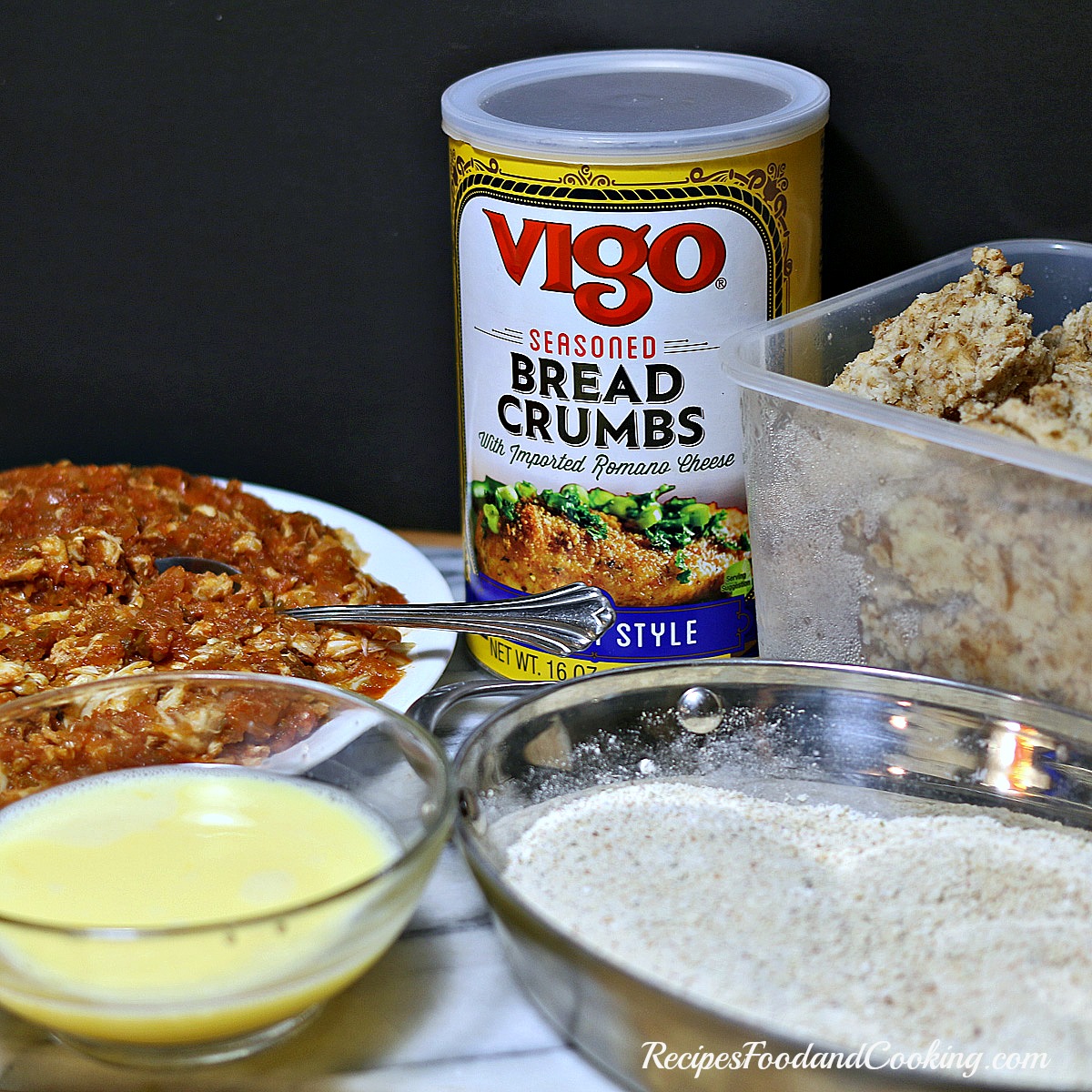 Then, bread the croquettes using egg and Vigo Italian Style Seasoned Bread Crumbs. Chill again for 2 hours, as this will make the bread crumb mixture adhere to the croquettes better (I always chill anything I bread so the coating doesn't stick to the pan).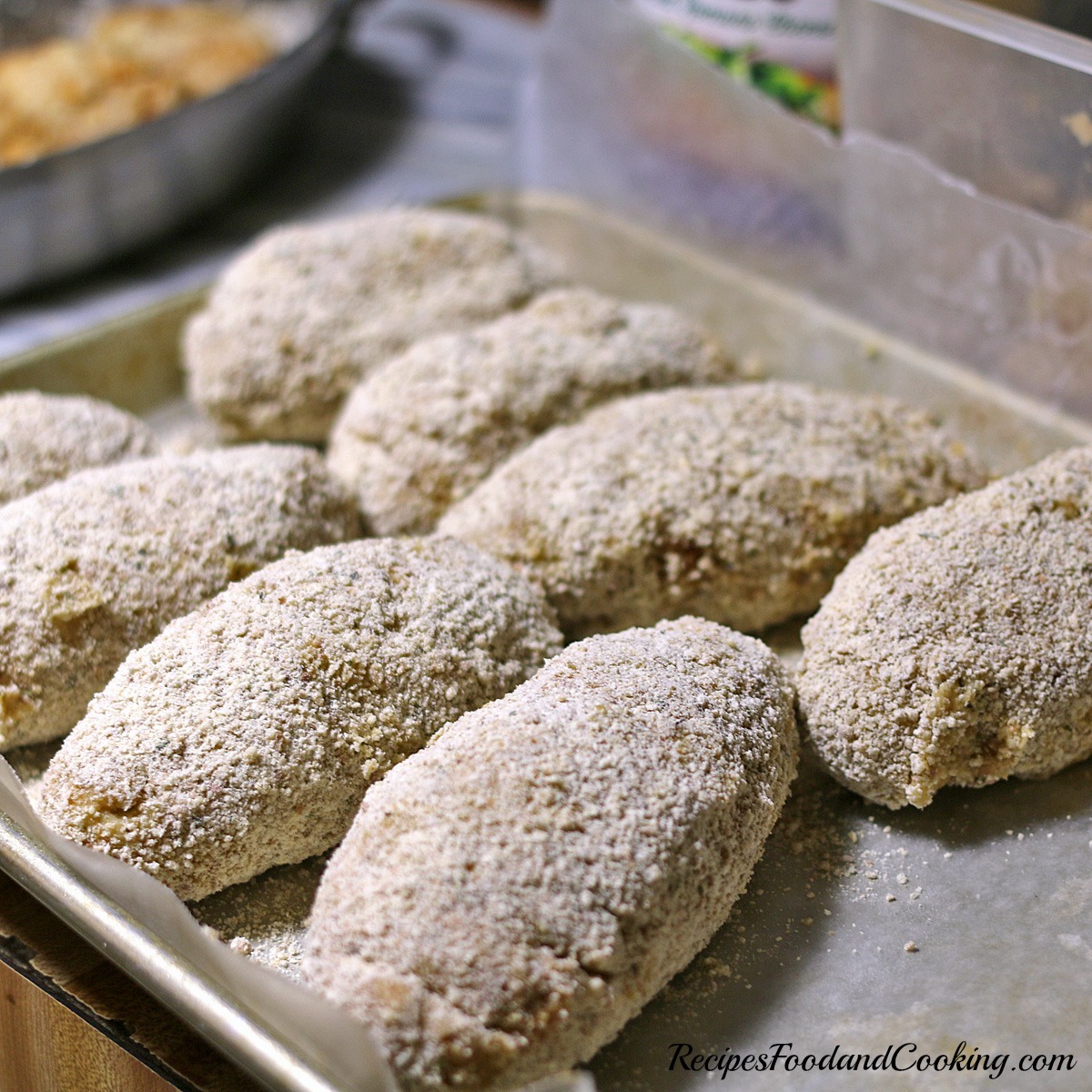 Lastly, deep fry the croquettes until golden brown and then serve them to your hungry guests! You may freeze the croquettes before frying; however, do not thaw them before frying if you do.
You're going to love knowing you have these delicious bites of goodness waiting to serve to family or guests on the spur of the moment!
Deviled Crab Croquettes
Author:
Mary Ellen @ Recipes Food and Cooking
Recipe type:
Main, Appetizer
Prep time:
Cook time:
Total time:
Deviled Crab Croquettes are a local Tampa favorite for almost a 100 years! Made with a bread dough wrapping, a spicy crab filling and covered with Vigo Italian Style Seasoned Bread Crumbs before frying to a golden brown.
Ingredients
Croquette Dough
3 loaves stale white bread, crusts removed
1 loaf stale Cuban bread, ground very fine and sifted
1 tablespoon paprika
1 teaspoon salt
Crabmeat Filling
5 tablespoons Vigo Olive Oil
3 onions, finely chopped
1/2 red or green bell pepper, finely chopped (Italian style)
4 cloves garlic, mashed or chopped fine
1 teaspoon crushed hot red pepper
2 bay leaves
1/2 teaspoon sugar
1 teaspoon salt
1 cup water
1 can (6 ounce size) tomato paste
1 pound fresh claw crabmeat, shell and cartilage removed, shredded
Croquettes
2 eggs, well beaten
1/2 cup milk
Salt to taste
1 pinch black pepper
1 cup Vigo Italian Style Seasoned Bread Crumbs
1/2 cup flour
Vegetable oil for deep frying
Instructions
Croquette Dough: About 4 hours before serving, make dough. Break white bread into pieces, place in a large bowl, cover with water and soak for 15 minutes. (I used about 2 cups of water. I poured 1 cup of water over the bread and then mixed it before adding another cup of water. I also let it sit for about 30 minutes, not 15, and got very little excess water this way) Drain water and squeeze soaked bread until almost dry and return to bowl. Gradually add sifted Cuban bread until mixture reaches dough consistency. Add paprika and salt, mix thoroughly. Form dough into ball and refrigerate 2 hours.
Make filling: Heat olive oil in large skillet. Add onion, bell pepper, garlic and hot red pepper, and saute very slowly 15 minutes. Add bay leaves, sugar, salt, water and tomato paste and stir. Cook uncovered 20 minutes or until all of the water has evaporated. See picture above, you should be able to drag a spoon thru and no moisture remains. Stir in crab, and heat a few minutes. Remove bay leaves. Place mixture on platter, and refrigerate 2 hours.
To assemble: After dough and filling have chilled, make croquettes. With your hands, take about three tablespoons of bread dough, press, add one tablespoon of crab filling and seal dough around filling like a croquette with pointed ends.
In a small bowl, mix eggs, milk, salt and pepper. In another bowl, mix Vigo Italian Style Seasoned Bread Crumbs and flour. Roll croquettes first into breadcrumb mixture then into egg mixture then into breadcrumb mixture again. Refrigerate 2 hours.
When ready to cook, heat oil in a deep heavy saucepan or a deep fryer to 350 degrees. Place croquettes a few at a time in the hot oil, and fry until light brown.
I'd like to take a moment and talk to you about some other great Vigo products. I know you'll love them as much as I do! As I mentioned, the Vigo Italian Style Seasoned Bread Crumbs are made with imported Pecorino Romano Cheese and spices. We loved Chicken Parmesan made using it. I don't know about you but I love beans and rice together and their Vigo Black Beans & Ricewent really well with taco night. It is so quick and convenient and flavored perfectly with their spice blends. We also love the Vigo Mexican Rice. It is so easy to make and the flavors are fantastic! The first thing I tried was their Vigo Cilantro Lime Rice with chicken thighs cooked in one pan for a quick, nutritious weeknight dinner. I also made a great side dish using their Saffron Yellow Rice with Roasted Fall Vegetables. While the rice is perfectly seasoned as is, I added additional Vigo Saffron because of all the vegetables to have even more delicious saffron flavor.
The spice blends are made at their facility, and they can blend up to 36,000 lbs. of spices a day that they use to season their products. Their products are low in fat and high in taste. Vigo rice products are the answer to today's health conscious consumers who have little time to prepare meals. All can be prepared in a single pot and in less than 25 minutes.
For more recipe inspiration Vigo has a great section of authentic recipes on their website. You can also follow them on Facebookas well.
Want a chance to win a Vigo/Alessi Gift Box? I have one to give away valued at $50.00. Winner will be chosen randomly and shipped by Vigo from Comments below! So be sure to leave a Comment! Order one by December 17th for Christmas delivery. It's the perfect Taste of Tampa for those that can't make it home for the holidays.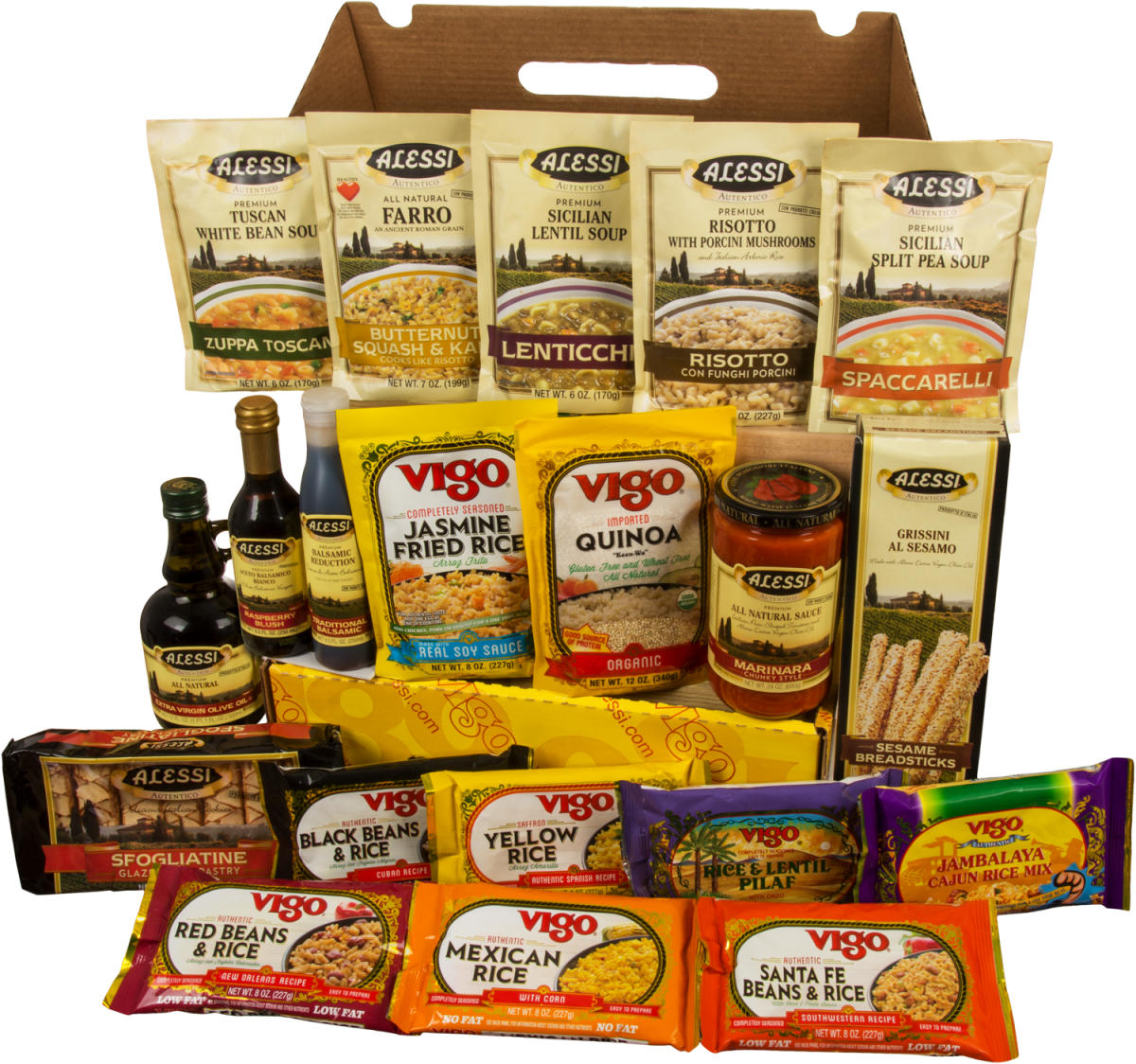 The gift box includes: 8 oz Alessi Funghi Risotto, 6 oz Alessi Pasta Fazool Soup, 6 oz Alessi Lentil Soup, 6 oz Alessi Tuscan Bean Soup, 6 oz Alessi Split Pea Soup, 3 oz Alessi Thin Breadsticks (loved these and they are individually packaged for freshness), 1.34 oz Alessi Black Peppercorns, 2.83 oz Alessi Sea Salt, 3.5 oz Alessi Pesto Di Liguria, 24 oz Alessi Chunky Marinara, 8.5 oz Alessi Balsamic Reduction, 8.5 oz Alessi Raspberry Blush Balsamic Vinegar, 7 oz Alessi Sfogliatine, 17 oz Vigo Extra Virgin Olive Oil, 8 oz Vigo Yellow Rice, 8 oz Vigo Mexican Rice, 8 oz Vigo Jasmine Fried Rice, 8 oz Vigo Rice & Lentil Pilaf, 8 oz Vigo Red Beans & Rice , 8 oz Vigo Jambalaya, 8 oz Vigo Black Beans & Rice, 8 oz Vigo Santa Fe Rice, 4 gr Vigo Flavoring.
Don't forget to Comment on this post for a chance to win your own gift box!
Pin It!