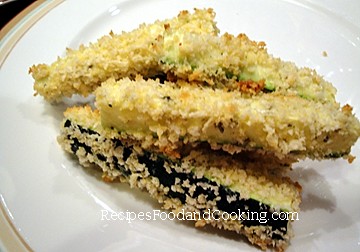 Zucchini Fries
When you make them out of zucchini and panko there is no reason to not have fries. They are crunchy and are a perfect accompaniment to that hamburger you know you want to have tonight!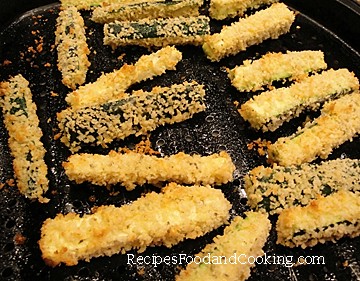 This is the fries in the oven, I'm not sure if you can tell but the pan I use has holes in the bottom.
Who Says No Fries?
Prep time:
Cook time:
Total time:
Ingredients
4 spray(s) olive oil cooking spray
1 tsp Italian seasoning
1 1/2 Tbsp all-purpose flour
3/4 tsp table salt
3/4 cup(s) dried bread crumbs, panko-variety suggested
2 medium zucchini, about 7-inches each, cut into 4 chunks, then each chunk halved
2 large egg white(s), whipped until frothy (almost soft peaks)
Instructions
Preheat oven to 425F. Coat a baking sheet with cooking spray. In a small bowl, mix together Italian seasoning, flour and salt. Place bread crumbs in another small bowl.
Dredge a zucchini fry in flour mixture and then dip into egg whites; dredge in bread crumbs. Place coated zucchini on prepared baking sheet and repeat with remaining ingredients; liberally coat with cooking spray.
Roast, turning once, until desired crispness, about 12 minutes.
Yields about 8 fries per serving.
Points per serving
Recipe from Weight Watchers
Weight Watchers
Note: I used Kikoman Panko on these and am not sure I really like it as well as some of the others I have tried. It has a heavier texture than the bagged ones I have tried before.