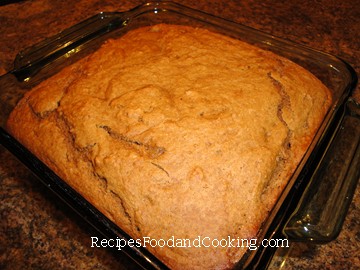 Old Fashioned Gingerbread
When I was a little girl I can remember my grandmother making gingerbread often. She would top it with mounds of wonderful sweetened whipped cream. We are going to skip that part and use a couple tablespoons of Sugar Free Cool Whip instead and not miss a thing.
This cake is full of flavor and is wonderful texture and an added bonus is your house will smell wonderful while it bakes! I learned some of my best cooking lessons in my grandmothers kitchen. All of my aunts, uncles and my mom would get in there and cook up a storm. I am sure that this gingerbread would pass their scrutiny.
Old Fashioned Gingerbread
Ingredients
1/2 cup(s) unsweetened applesauce
1/2 cup(s) packed brown sugar
2 Tbsp molasses
1/2 cup(s) regular egg substitute
1 cup(s) buttermilk
1/2 tsp table salt
2 tsp ground ginger
2 Tbsp crystallized ginger, chopped
1/4 tsp ground cloves
1 tsp ground cinnamon
1 1/4 cup(s) all-purpose flour
1 cup(s) whole wheat flour
1 tsp vanilla extract
1 tsp baking soda
1 tsp baking powder
2 Tbsp butter
Instructions
Cream together butter and brown sugar.
Add all of the wet ingredients and blend well.
Stir in dry ingredients and mix until well blended.
Put batter into a 8 inch pan that has been sprayed with Pam.
Bake at 350 (325 if using a glass pan) for 40-45 minutes.
Serve warm.
POINTS® Value: 5 for 9 servings Total recipe as written is 44 points in case you want to adjust number of servings
Chocolate Peanut Butter Ooey Gooey Butter Cake