Lemon Cheesecake Coffee Cake has a creamy cheesecake layer topped with buttery crumbs.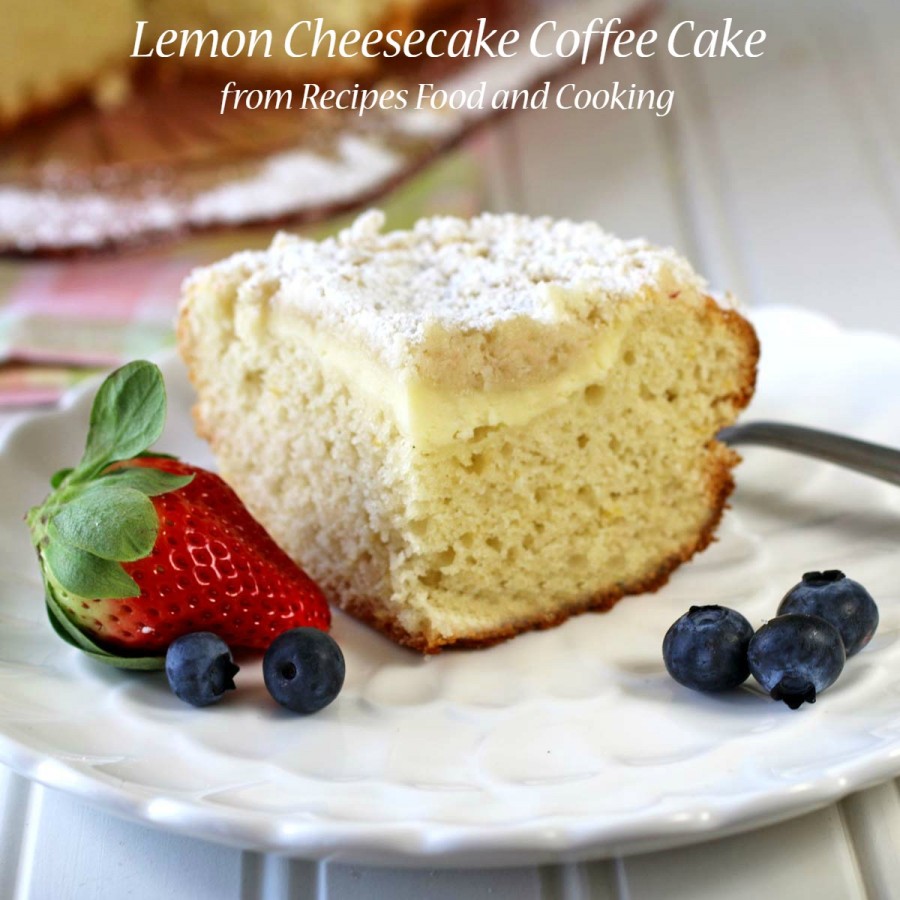 Lemon Cheesecake Coffee Cake
This coffee cake with citrus undertones is sure tasting like spring is around the corner. The cake has lemony flavor with a cheesecake layer all topped with buttery crumbs. It is better the next day so it is a great make ahead dish. They usually freeze well also if you are looking to make something ahead of time.
Coffee cakes are usually a single layer cake and often topped with a crumb topping or glaze. They were meant to be served with coffee on a coffee break or as a sign of hospitality. If you're invited for coffee it wouldn't be a surprise to see a coffee cake in some form being served. They are usually a moist, buttery cake and can be filled with fruit, nuts or in our case here a cheesecake type filling.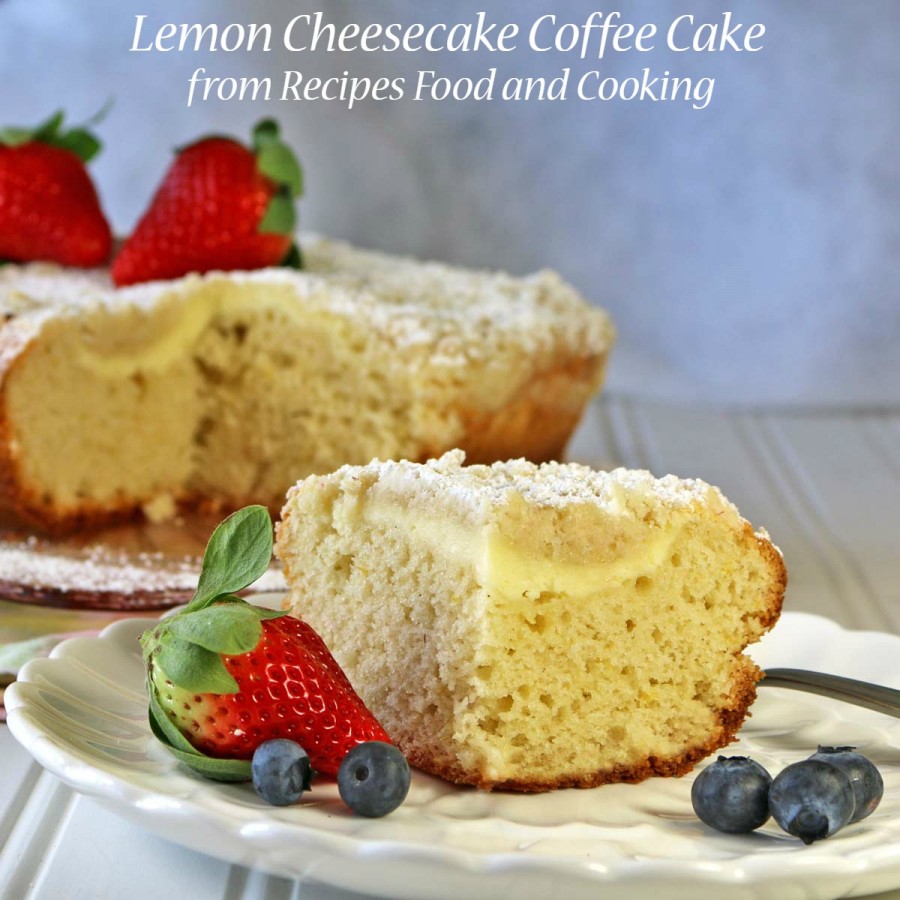 Coffee cakes can be either a yeast type or like this one a quick cake leavened with either baking soda or baking powder.
 To have the best success when baking a coffee cake here are some tips.
Have all ingredients at room temperature.
Use the correct type of measuring cups for wet or dry ingredients. It does matter!
If the recipe calls for buttermilk, you may use yogurt or sour milk. Sour milk is made by adding 1 tablespoon fresh lemon juice or distilled white vinegar into a cup of milk.
Be sure to check your coffee cake 5 – 10 minutes before the end of baking times because ovens do vary.
Lemon Cheesecake Coffee Cake
Prep time:
Cook time:
Total time:
Delicious lemon coffee cake with a layer of cream cheese and light buttery crumbs.
Ingredients
Cream Cheese Layer
8 ounces cream cheese
1/4 cup sugar
1 egg
2 teaspoons lemon juice
Coffee Cake Layer
1 1/2 cups flour
1/2 teaspoon baking powder
1/4 teaspoon baking soda
1/4 teaspoon salt
1/2 cup vegetable oil
3/4 cup sugar
1 egg
1/2 cup Vanilla Bean yogurt
zest of one lemon
2 tablespoons lemon juice
Crumb Topping
1/2 cup flour
1/4 cup sugar
2 tablespoons cold butter
powdered sugar for dusting
Instructions
Preheat oven to 350 degrees, 325 if using a glass pan. Prepare an 8 x 8 inch baking dish by lining it with parchment paper or spray with nonstick spray.
Cream Cheese Layer
In a mixing bowl, add the cream cheese, sugar, egg, and lemon juice until smooth and creamy. Set aside.
Crumb Topping
Add the butter and sugar to a mixing bowl. Cut in butter with a fork until you get pea sized crumbs.
Coffee Cake Layer
Whisk together the flour, baking soda, baking powder and salt. Set aside.
In a medium mixing bowl add the oil and sugar. Mix together with an electric mixer. Add the egg and mix until combined.
Add the yogurt, lemon juice and zest. Mix until smooth.
Gradually add the flour mixture, be careful not to over mix.
Add the batter to the prepared pan. Add the cream cheese mixture on top, spreading it out on top. Sprinkle the crumb topping over the cream cheese.
Bake for 40-45 minutes. Dust with powdered sugar when cool.
Maybe you'd like to try our recipe for?
Sour Cream Coffee Cake – my mom's recipe that we've made forever! I need to still take a pic of it. Trust me here, it's really good!
Blueberry Snack Cake – tender sweet white cake bursting with blueberries!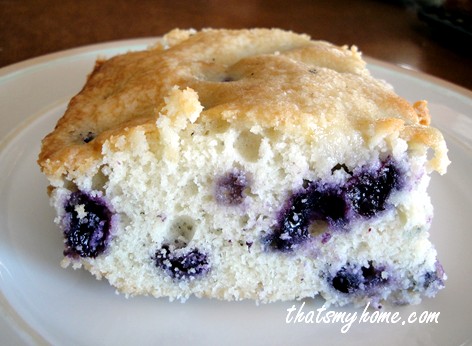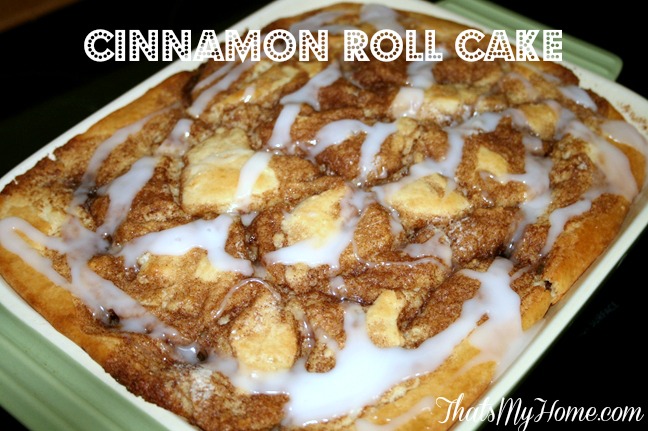 Pin It!