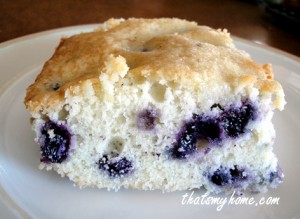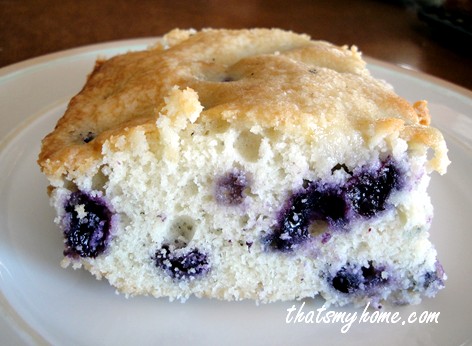 I know I posted this over on Facebook but it will be easier to find here in the future and this is a recipe I plan to make often. The cake is as tender as can be be and really moist. You get a blueberry in every bite, yum.
I plan on making a few variations with the cake as soon as this one is finished. I made this for breakfast to go with coffee the other day when I had overnight guests.
Blueberry Snack Cake
Prep time:
Cook time:
Total time:
Ingredients
2 eggs, separated
1 cup sugar, plus 2 to 3 tablespoons to sprinkle on top
1/2 cup butter, room temperature
Pinch salt
1 1/2 cups all-purpose flour plus 1/4-cup for blueberries
1 teaspoon baking powder
1/3 cup milk
1 1/2 to 2 cups blueberries
Instructions
Heat oven to 350 degrees. Grease an 8 x 8 pan.
Beat egg whites until foamy, then beat in 1/4-cup sugar. Continue to beat until whites are stiff and glossy. Set aside.
Beat butter until light, add sugar and salt. Beat in egg yolks one at a time. Blend well.
Add flour to mixing bowl with baking powder. Add half of the flour mixture to the butter mixture. Add about half the milk. Add remaining flour and milk.
When the batter is well mixed add 1/3 of the egg whites. Fold in remaining egg whites being careful not to delfate the whites.
Toss blueberries with remaining 1/4 cup of flour. Fold into batter. Pour into prepared pan. Sprinkle 2 - 3 tablespoons sugar on top. (I skipped that step)
Bake for 35 - 40 minutes until top is golden and a toothpick is clean when inserted into cake.
Serves 8.