Chocolate Pecan Jam Thumbprint Cookies are chocolate cookies rolled in pecans, topped with orange marmalade and chocolate drizzle.
 Chocolate Pecan Jam Thumbprint Cookies
I'm finally started doing a little Christmas baking. This is a perfect cookie to make ahead and freeze. Just make the cookie part and when you take them out of the freezer add the jam and chocolate. I love the orange marmalade together with the pecans but you can any jam you want, raspberry or apricot would be good too.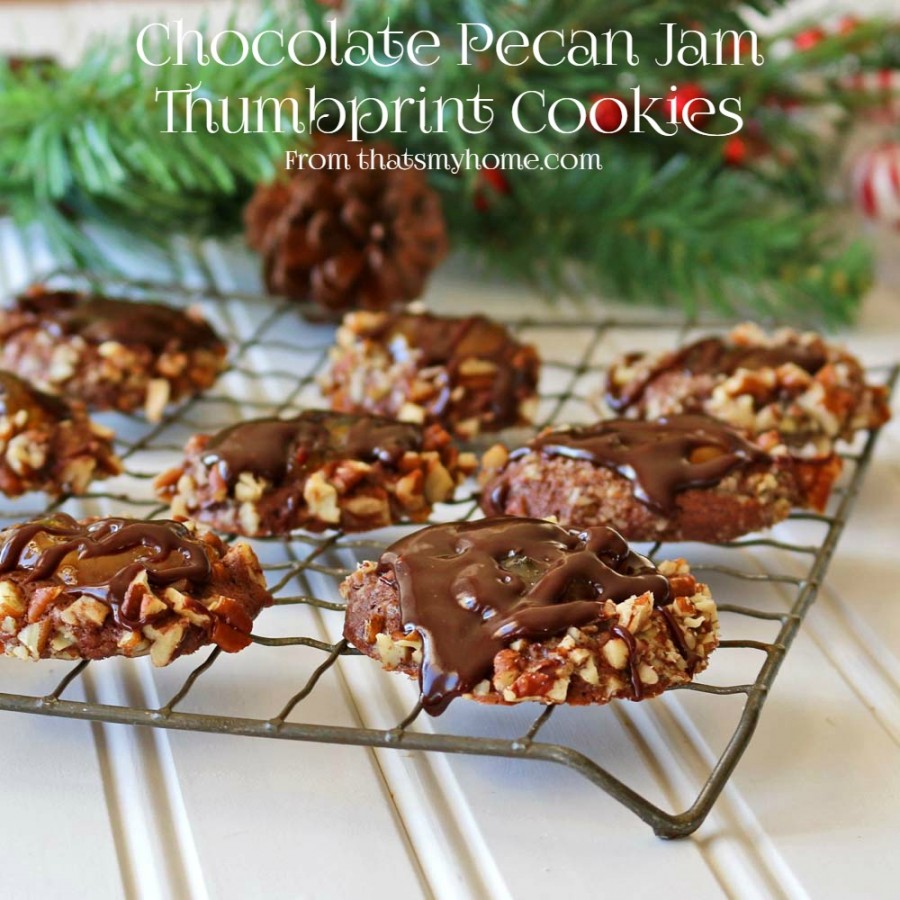 You can also make the dough ahead of time and have it waiting in the refrigerator until you are ready to bake them. The dough needs at least an hour to firm up in the refrigerator. If the dough gets too soft while you are working on it and before you bake them, stick them on the cookie sheet back into the refrigerator for 10 minutes. This will also help the cookie keep its shape better. I do this often when I making cookies that are rolled or shaped into a ball because it makes for a better finished product when baked.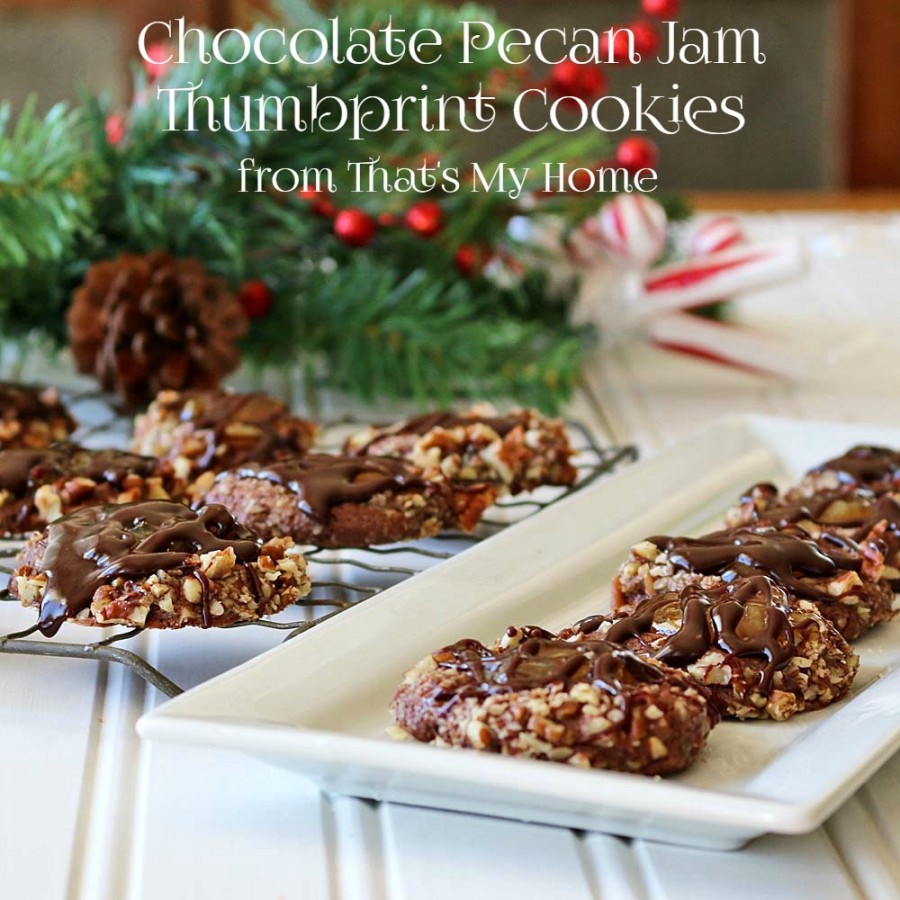 These cookies were my mom's favorites and I'm not quite sure what she'd think of adding jam to them, she did them all chocolate. I learned so much about baking from her. One of the things she taught me was that every Christmas cookie needed to a perfect bite of whatever it is. She also said that if a cookie had layers of different flavors that to be sure that the filling showed thru, She also didn't like it if frosting went over the sides of a cookie, I'm sure with these because it is a drizzle it would be okay, I don't think I could be careful enough not to go over the sides. It is funny the memories that stick with you about something you do. I said when I was younger I wouldn't do things the way my mom did during those lovely teen age years. As I age I find I almost do things exactly like she would of done it.
Chocolate Pecan Jam Thumbprint Cookies
Prep time:
Cook time:
Total time:
Chocolate cookies rolled in pecans, topped with orange marmalade and chocolate drizzle.
Ingredients
Cookies
1 cup flour
1/3 cup cocoa powder
1/2 teaspoon salt
1/2 cup butter, softened
2/3 cup sugar
1 large egg, separated, plus 1 additional egg white
1 1/4 cup pecans, finely chopped
Chocolate Drizzle
2 oz. semi-sweet chocolate
1 teaspoon shortening
2 tablespoons milk
3/4 cup orange marmalade
Instructions
Combine flour, cocoa, and salt; set aside.
In a mixing bowl add sugar and butter. Mix with an electric mixer until light and fluffy, about 2 minutes. Add the egg yolk, milk and vanilla. Mix until incorporated.
Reduce speed to low and add flour mixture until just combined. Wrap dough in plastic wrap and refrigerate until firm, 1 hour.
Whisk egg whites in a bowl until frothy. Place chopped pecans in another bowl. Roll chilled dough into 1-inch balls, dip in egg whites, and then roll in pecans.
Place balls about 2 inches apart on a baking sheet. Using a 1/2 teaspoon measuring spoon, make an indentation in the center of each dough ball.
Bake at 350 degrees until set, about 12 minutes.
Remove to a wire rack to cool.
Mix the drizzle ingredients together in a micro-wave safe bowl. Micro-wave for about 1 minute, stir at 30 seconds.
Add a teaspoon of jam to the center of the cookie.
Drizzle the chocolate over the cookies.
Notes
Adapted from America's Test Kitchen
Want to see more Christmas Cookies? How about?