Cherry Noel Cookies are light butter cookies full of candied cherries and pecans. Make ahead and bake as needed. Dough can be frozen 30 days
Candied Cherry Noel Cookies
I am so excited to start sharing Christmas recipes with you and I have a great lineup planned. Be sure to check back often to see what's new.
These cookies are a great one to have in your line up because you freeze the dough in logs. When you need cookies on the fly, they are waiting to be baked. Thaw on the counter for about 15 minutes until you can slice them and fill up your cookie sheet. Bake them frozen, you may need to add a couple of minutes baking times. These are a delicious butter based cookie and I wouldn't substitute the butter if you are thinking about it.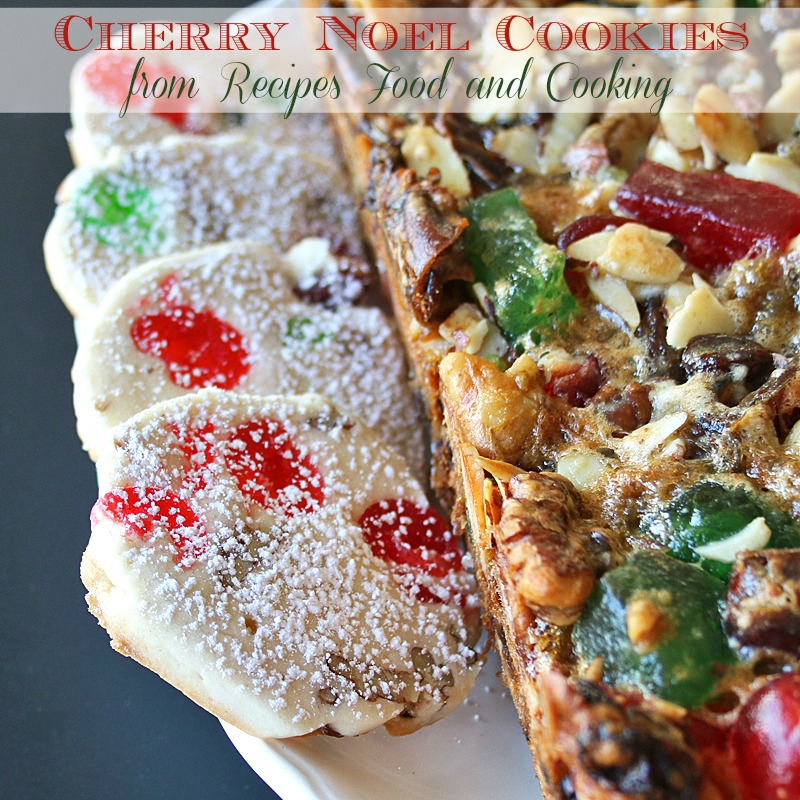 You can use walnuts or pecans, your choice, even macadamia nuts would be great in these as a special treat. I loved using both red and green cherries in these. I got them from Paradise Fruits and they are so fresh and flavorful. There is even a place to sign up for coupons for the fruit along with a section for recipes using the fruit.
Ready for the recipe for the Cherry Noel Cookies?

Candied Cherry Noel Cookies
Prep time:
Cook time:
Total time:
Light butter cookies full of candied cherries and pecans. Make ahead and bake as needed. Dough can be frozen 30 days ahead.
Ingredients
1 cup butter, at room temperature
1 cup sifted powdered sugar
1 egg
1 teaspoon vanilla
2 tablespoons cornstarch
1/4 teaspoon cream of tartar
2 1/2 cups (10 ounces) sifted flour
1/2 cup chopped pecans
1/2 cup candied whole red cherries
1/2 cup candied whole green cherries
Instructions
Mix the butter and confectionery sugar together with a mixer. Mix until light about 3 - 4 minutes.
Add the vanilla, cornstarch and cream of tartar. Then beat in the egg. Add the flour. Mix well.
Gently stir in the pecans, candied red and green cherries until evenly incorporated using a spatula. The dough will be sticky.
Roll into 1 1/2 inch logs between wax paper or parchment paper. Freeze for at least 2 hours or until dough is hard.
Cut the dough into rounds one-fourth-inch thick. Bake the cookies on a greased baking sheet until cooked through about 6 to 8 minutes. Cookies should be lightly browned on the bottom and around the edges.
Cool on a wire rack. Place cookies in an airtight container.
Note: You can make the dough a month ahead and keep it in the freezer.
Bake at 350 degrees
Mom's Fruitcake
The fruitcake below is sure to make you into a fruitcake lover. It is full of candied cherries, candied pineapple, dates, raisins and nuts! I think it is the best fruitcake ever and I was never a fan until my mom started making this one that a friend gave her. It's a wonderful addition to a cookie tray.