Gingerbread Christmas tree decorated with royal icing, sanding sugar and red, white and green candies.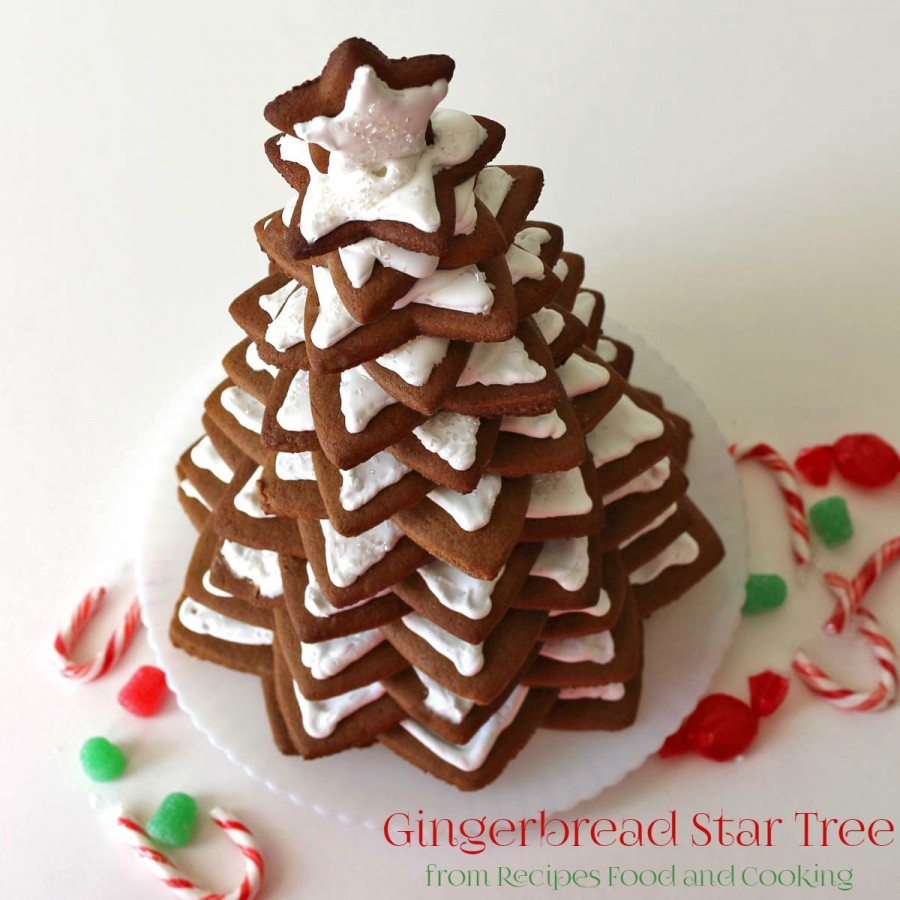 Gingerbread Christmas Tree
This is my first time making this star tree and I love it! I saw one online the other day so I decided to see if I could find the cookie cutters to make it. I was in Home Goods at the time and was so surprised when I found them. It was the day before I baked 4 gingerbread houses so one more batch of gingerbread just made my house smell even better.
Above is just the tree and a little sanding sugar. I wish you could see how it sparkles. I decided I'd like a little more festive so I got out some of the leftover gingerbread candy and decorated the tree. This will take a couple of days to do in short stages. Bake the cookies one day and let it dry on wire racks at least 24 hours. Then using a writing tip make an outline on your cookies with the royal icing. I waited a few hours and then filled in the stars. I used a spoon to spread out the thinned royal icing and it worked great. I reserved a small amount of the frosting to put the pieces together with and then thinned down the remaining frosting with water until it formed a ribbon off of a spoon. Do about a tablespoon of water and beat it in until you reach the desired consistency. Add the sprinkles to the cookies and let them dry overnight. Use the reserved frosting to stack the pieces together to form the star tree.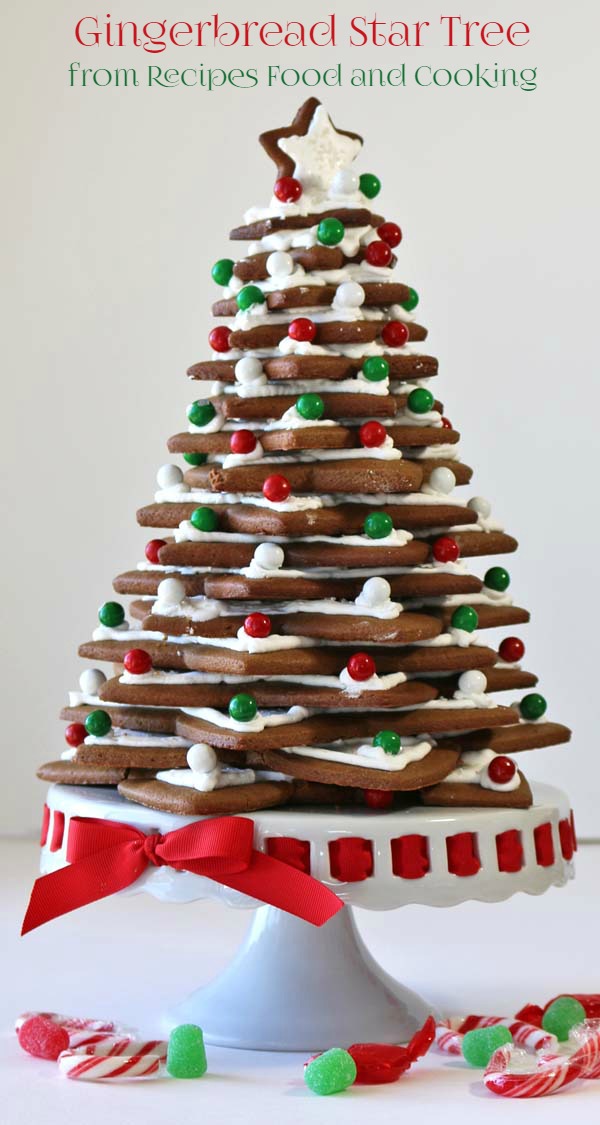 This was gingerbread house weekend at my house and we got together with the kids and let them decorate gingerbread houses. This is the start of a new tradition for them and the girls had a blast. If you want to read about it and see their gingerbread houses the post will be up this week over at the New York Melrose Family blog. I'll link to it as soon as it's live. Here's a sneak peak of the fun. We did 4 houses that day!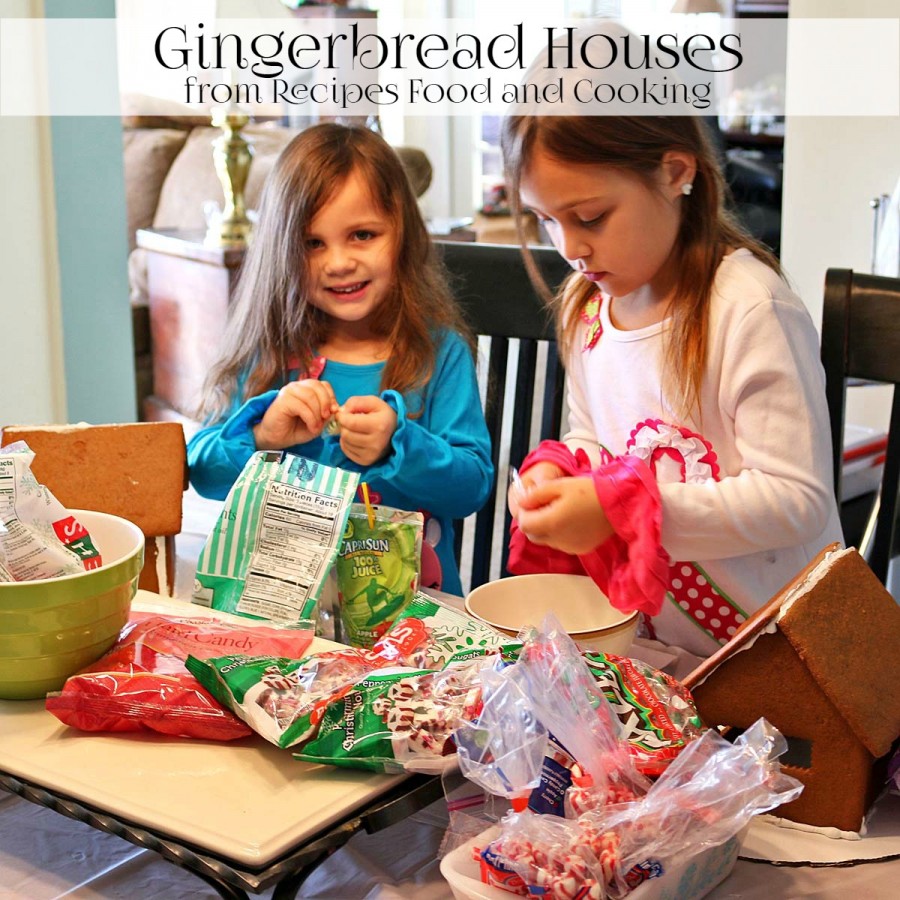 Gingerbread Christmas Tree
Prep time:
Cook time:
Total time:
Gingerbread Christmas Star tree decorated with royal icing, sanding sugar and red, white and green candies.
Ingredients
5 cups flour
1 teaspoon baking soda
1 teaspoon salt
2 teaspoons ginger
2 teaspoons cinnamon
1 teaspoon nutmeg
1 teaspoon cloves
1 cup solid white shortening
1 cup sugar
1 1/4 cups molasses
2 eggs beaten
Royal Icing
3 level tablespoons Meringue Powder
4 cups sifted confectioners' sugar (approx. 1 lb.)
6 tablespoons water
Instructions
Thoroughly mix together the flour, soda, salt and spices.
In a saucepan melt the shortening. Let cool slightly and add the sugar and molasses. Add eggs when cool.
Add the oil mixture to your mixing bowl fitted with the paddle attachment. Add 4 cups of the flour. Mix together thoroughly. Add remaining flour a little at a time to make a stiff dough.
Roll out the dough on the back of greased cookie sheets to about 1/8th inch thick. Lay your pattern pieces on top and cut out with a knife or pizza cutter. Place cookie sheets in the refrigerator for 15 minutes.
Preheat oven to 350 degrees. Bake for about 6 minutes for smaller pieces and up to 12 for the larger pieces like the roof. Let set on the cookie sheet for a few minutes before removing to a wire rack to cool. Let pieces dry overnight before assembling.
Royal Icing
Beat all ingredients at low speed for 7-10 minutes (10-12 minutes at high speed for portable mixer) until icing forms peaks. Keep icing covered with a damp cloth when not in use.
Note: Royal icing should have good body and be moderately stiff: It will not create a lasting bond if too runny and soft. For snow, I sometimes add a few drops of Karo Syrup to thin it just a little for a softer look.
Maybe you'd like to see our other gingerbread houses? There are lots of tips on making the houses on each of the pages.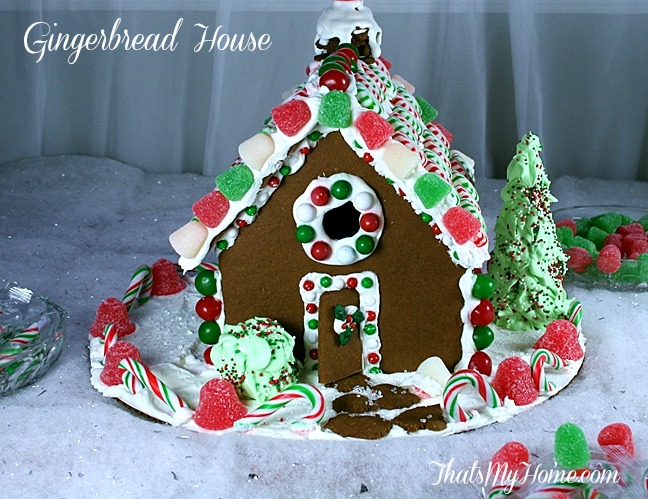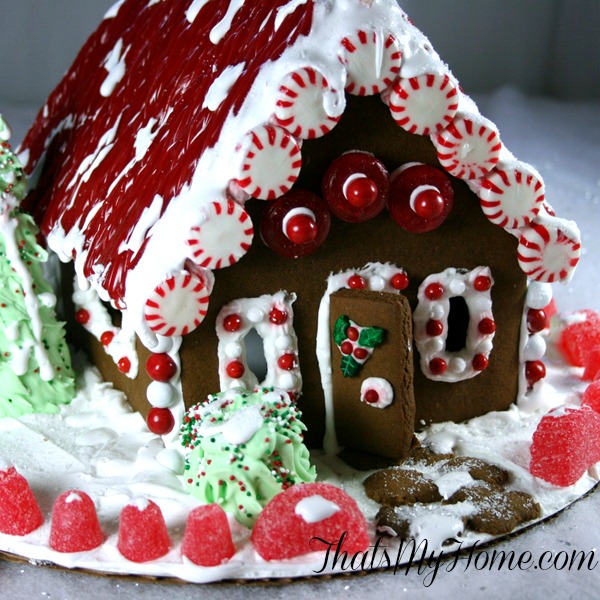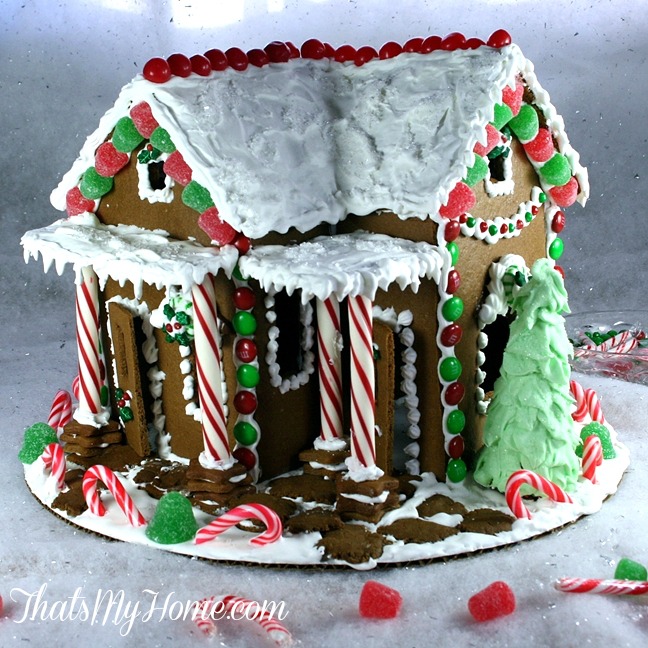 Go check out this years gingerbread houses at The New York Melrose Family blog.