Cucumbers, peppers, onions and garlic in a vinegar brine, refrigerate 3 days for pickles.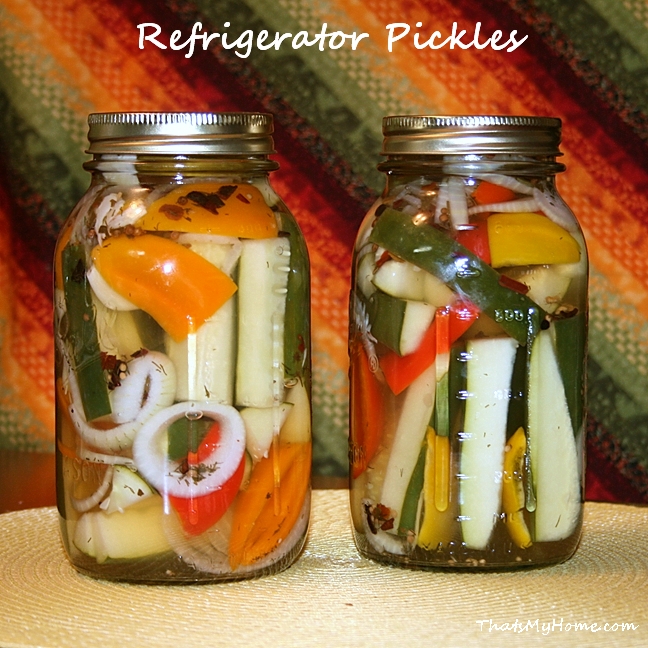 Yesterday at Aldi's they had a great buy on cucumbers so I decided to get a few to do some refrigerator pickles. They also had big bags of sweet peppers for 99 cents so I included them in my jars also along with sweet onions and garlic. Before I could proceed with my plan I had to pay for them first and that's when the problem started. I opened up my purse to get my debit card out and discovered my billfold was missing.
Pure panic at this point, so I told the cashier to stop ringing my order, I needed to go out and see if it was in the front seat of my truck. On my way out there, all kinds of things are going thru my head, money, credit cards, drivers license, OMG! Just as I get to the door I realize I have the wrong purse, I had gone to lunch last Friday with friends and switched purses so that my purse matched my sandals. So convinced now that my panic was over I went in and told the cashier I had to go home and I would be back to get my groceries. Sure enough that was exactly what I did, I should of known from the weight of the purse alone that I should of checked it. 30 minutes later I am back at my house grabbing the right purse this time to go back to the store to get my groceries. I guess there is a first time for everything.
A few notes on this recipe, I used large cucumbers, 1 each cut into 3 sections before cutting into spears. I did not peel my cucumbers, but washed them the best I could to get that darn wax off of them. As big as these cucumbers were they did not have a lot of seeds, but I did cut most of the seeds out just because I could. I like the pickles better this way.
Day 2 Refrigerator Pickles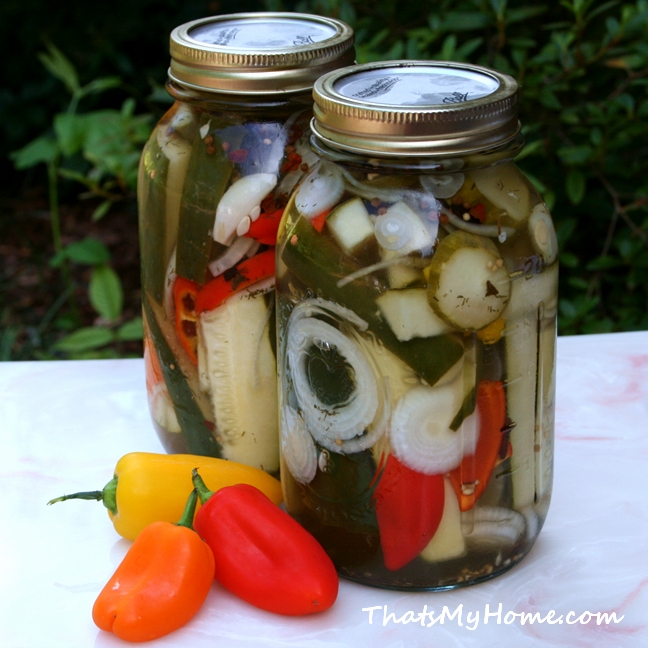 Refrigerator Pickles
Prep time:
Cook time:
Total time:
Cucumbers, peppers, onions and garlic in a vinegar brine, refrigerate 3 days for pickles.
Ingredients
2 cucumbers (mine were very big)
1 sweet onion
8 mini sweet peppers
4 garlic cloves
2 cups cider vinegar
2 cups water
1 tablespoon kosher salt (or salt without iodine)
2 tablespoons pickling spice
1 tablespoon sugar
Instructions
In a pan, heat the water, cider vinegar, sugar, salt and garlic.
Cut up vegetables and pack them into clean, sterilized jars. Add 1 tablespoon of pickling spices to each jar as you are filling them so that the spices are throughout the jar.
Pour the hot vinegar solution over the vegetables. Put the lid on. Let set on the counter until they cool, then refrigerate. Let refrigerate for 3 days before eating.
www.thatsmyhome.com
Maybe you'd like to try?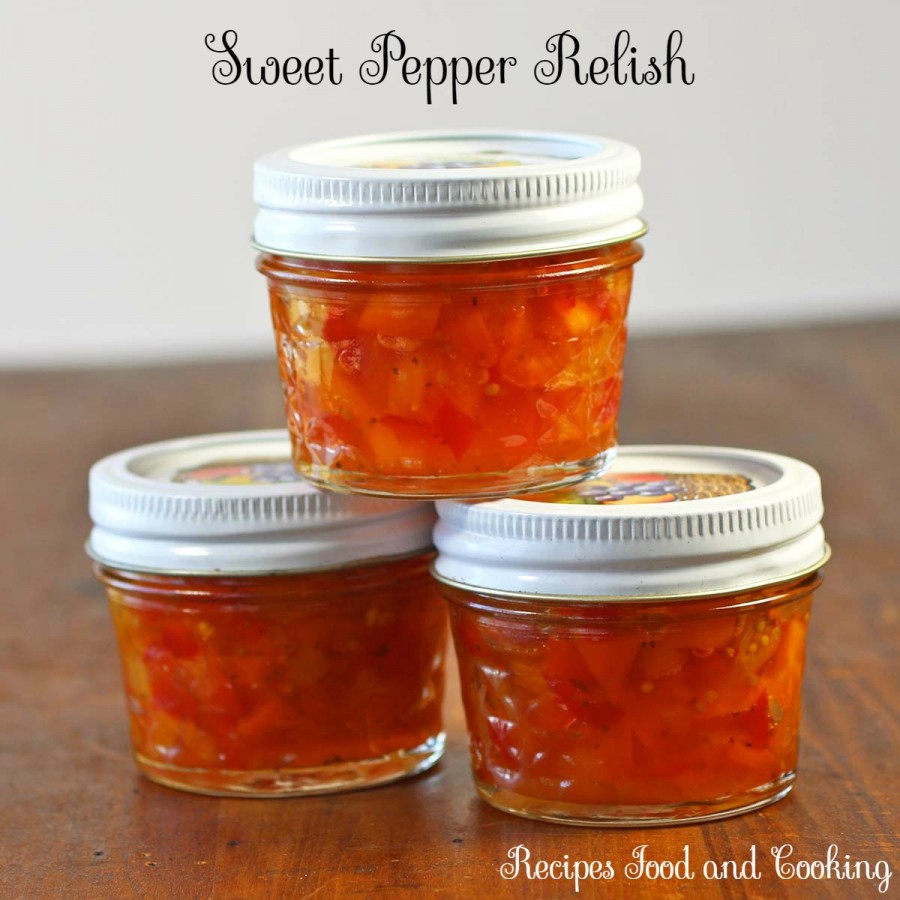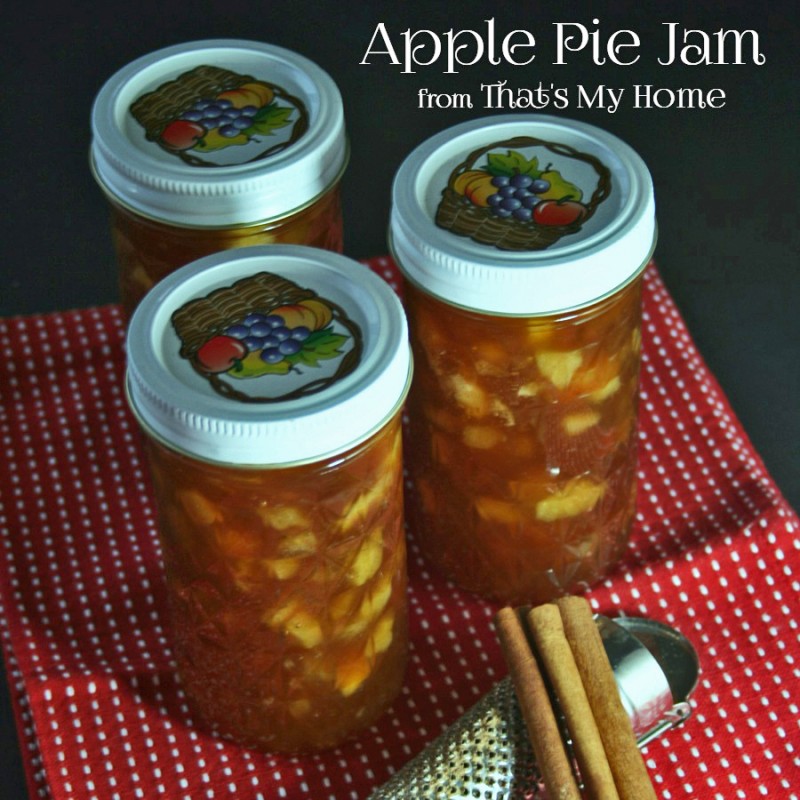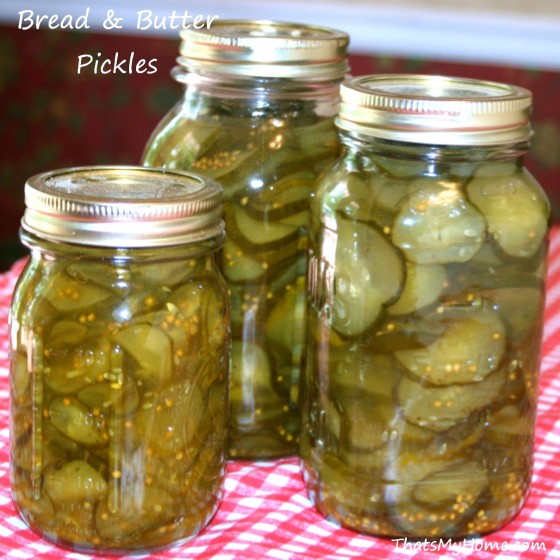 Follow me on Facebook, Google+ , Instagram or Pinterest to see when I post or share something new!