Meat Loaf with a Mexican influence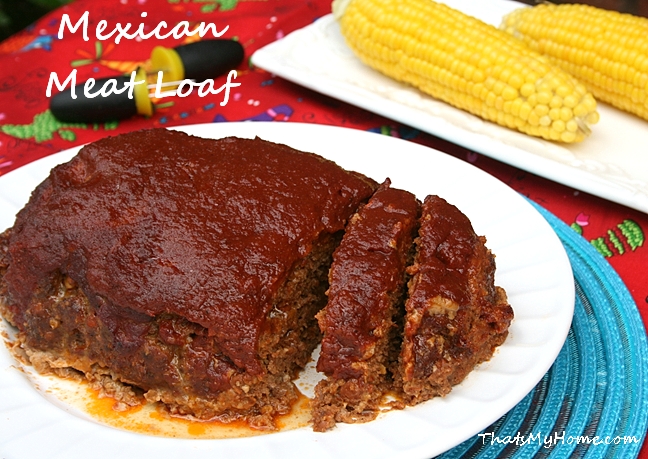 Mexican Meat Loaf
Tonight's dinner was an experiment with a Mexican Meat Loaf. It came out really good. Instead of crackers or oatmeal I used Doritos and ground them up finely in the food processor. You could taste the corn flavor in the finished meat loat and I think any corn chips would do the same thing. Then instead of ketchup I used a Fire Roasted Enchilada Sauce from Krogers. I was looking in my pantry for a jar of salsa and found this first. I had never used it before but will be buying it again. I really liked this meat loaf, it tasted like a taco in a meat loaf form. Next time I make it I am going to make a fresh tomato salsa with fresh cilantro to serve with it.
So how do you mix up your meat loaf when you make one? Do you use your hands? I do but I don't like to, the meat loaf is better if you do. There is something about how everything gets so mushed (so technical, LOL) together. The longer you mix it together with your hands the texture of the mixture changes before your eyes. So for this reason I use my hands. There are a couple of dishes I use my hands, I remember once doing an interview about picnic lunches and they wanted me to do a demo on a pasta salad I make. When I went to mix the salad with my hands (clean, he had just watched me wash them) the photographer was appalled and not one of those pictures was in the article. I'll do that recipe for you soon, I actually forgot it as I haven't made it in a long time. Do you ever stop making a favorite recipe you used to make? I know trends change is one reason or maybe it isn't healthy enough any longer? I think this recipe would be good using turkey too, I just might hold back some of the enchilada sauce to not overwhelm the turkey.
As I type this I am wondering if I put everything in my kitchen aid with the flat paddle would do the same thing. Leave me a comment if you do it this way or have another suggestion about mixing meat loaf. I may just try this the next time I make a meat loaf.
Mexican Meat Loaf before it went in the oven below.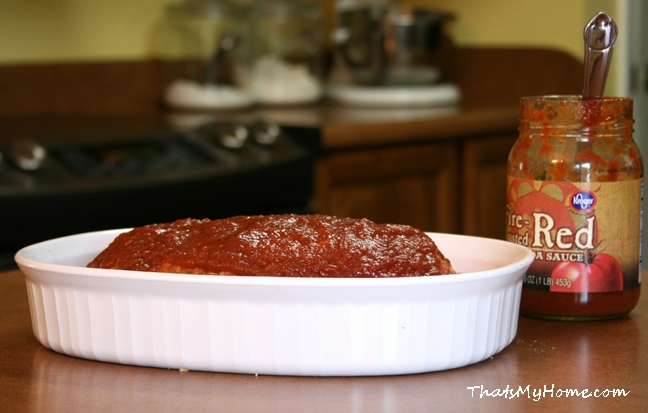 Follow me on Facebook, Google+ , Instagram or Pinterest to see when I post or share something new!
Mexican Meat Loaf
Prep time:
Cook time:
Total time:
Mexican Meat Loaf with a Mexican influence.
Ingredients
1 1/2 lbs. ground beef
1 1/2 cups crushed Doritos, measure after crushing
2 eggs
1 cup fire roasted enchilada sauce - divided use
1 cup onions - chopped
1 cup sweet peppers - chopped
2 tablespoons taco seasoning
salt and pepper
Instructions
Put all the ingredients except for 1/2 cup of the enchilada sauce into a large mixing bowl. Mix everything well together.
Place mixture in a greased baking dish shaping into a loaf. Spread remaining sauce on top.
Bake at 350 degrees for about an hour and 30 minutes. Juices will run clear when meat loaf is done.
Let set for 10 minutes before slicing.
Serve this with