162 layers of buttery goodness!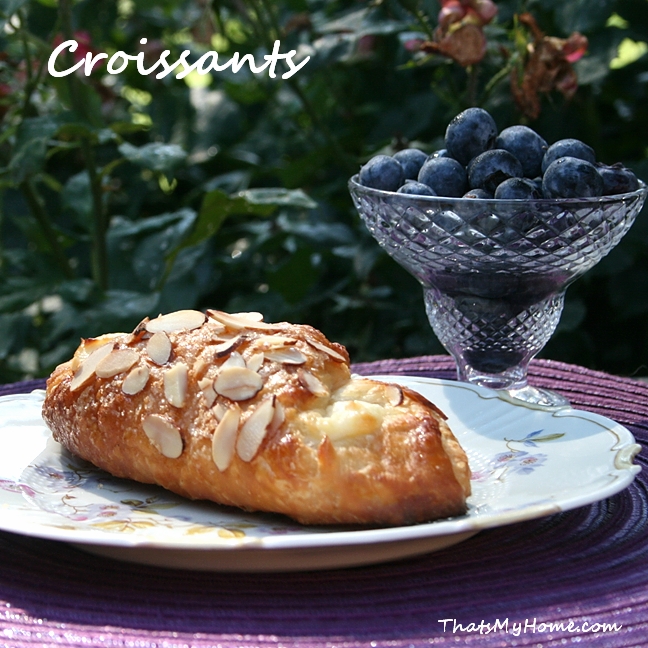 Croissants
My bedtime snack the last 2 nights has been a fresh baked croissant. Oh yes, lucky me! I haven't made them in years. Tonight's is filled with an almond cream cheese and topped with almonds. Last night was a plain mini croissant. If you have never made croissants before, what are you waiting for? Yes, it is an involved process but it's not hard. Start your croissants on a Friday night and you'll be having them for breakfast Sunday morning. On Saturday just roll out the dough for the 4 turns throughout the day, the dough needs to rest at least 2 hours before every new turn. Did you know that the croissant has 162 layers of buttery goodness?
I had used a recipe back in the 80's that I fell in love with, then I lost the recipe until a few months ago. I had tried other recipes thru the years but it was this recipe I wanted. When I found the magazine it was in after I thought it was gone forever, I almost jumped with joy. There is was, my magazine with my favorite croissant recipe in it. Much to my surprise it is a Nick Malgiere recipe, I could of found it years ago I am sure if I had just remembered that. The recipe was published in a 1983 Cuisine magazine with very detailed pictures and instructions. I'll give you a briefer recipe here but maybe see if it is one of his cookbooks if you want the complete instructions. I know one thing, I am never loosing this recipe again, especially since I am sharing it with you. It was as good as I remembered. Not many recipes live up to a over 20 year old memory, this one does for me…..
In this magazine article Nick gives lots of tips and tells you why you are doing the things you're doing. I love learning the science behind baking. As you work with the dough it will become a little harder to roll it out each time without the dough wanting to snap back like a rubber band as the gluten develops. That is the reason for the resting times between the turning of the dough. One thing to remember as you turn your dough, you want to turn it 90 degrees each time you turn it to roll out the dough. I press my thumb into a corner so I know which corner I last turned. When I get the dough out again to roll, I put the dough with the pressed in corner towards me and then rotate it the 90 degrees. Hope this is clear because this is one of the most important parts of making any laminated dough. This helps to keep the layers evenly distributed so your dough will raise and bake evenly. I am going to be making these again in a few weeks when company comes so I will take some more pictures of the dough process when I do. So watch for an update to this article after the 4th of July.
Do you see the butter in this photo starting to leach from the dough in the photo below? This is what you do not want to happen. We didn't spend all of this time getting that butter into the dough just to loose it right before baking. My kitchen was too warm which is why this happens. If I had caught this a little sooner, it could of been prevented by putting the cookie sheet in the refrigerator which is exactly what I did when I saw this.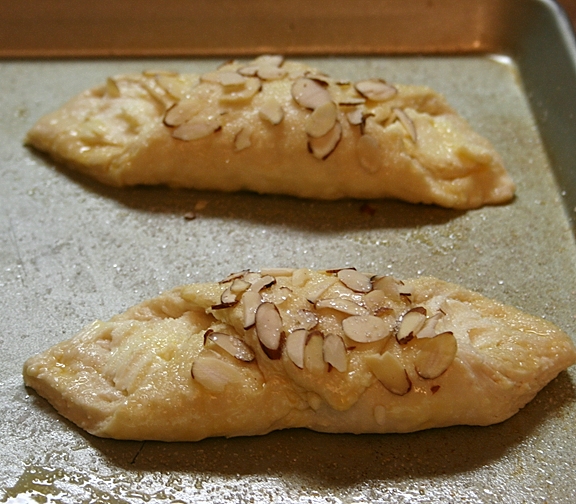 Croissants right out of the oven.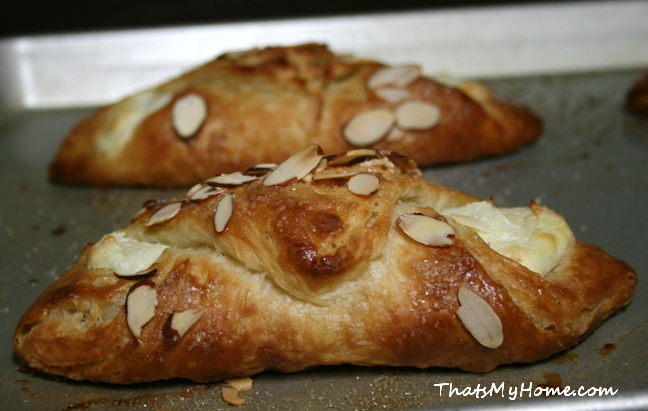 Croissants
Prep time:
Cook time:
Total time:
Serves:
18 - 24 croissants
162 layers of buttery goodness!
Ingredients
4 cups (1 lb.) plus 5 tablespoons unbleached all purpose flour as needed, plus additional for dusting work surface
5 tablespoons sugar
1 1/2 teaspoons salt
1 tablespoon plus 1 1/2 teaspoons active dry yeast - 1 1/2 packages
1 1/2 cups milk
2 1/2 sticks (10 oz.) unsalted butter
1 egg beaten with 1 tablespoon milk
Instructions
Combine the flour, salt and sugar in a large mixing bowl. Stir with a wooden spoon to evenly distribute everything.
Heat milk to 100 degrees. Sprinkle the yeast on the milk. Let stand until the milk has soaked thru the yeast granules. Pour into the dry ingredients. Stir until no dry flour can be seen and beat an additional 30 seconds. Cover the bowl with plastic wrap and refrigerate for 8 hours or overnight. Dough will double and become very light and spongy.
Prepare the Butter
Place the 5 tablespoons of flour on your work surface. Roll the butter in it right out of the refrigerator. Cut the butter into long slabs with a pastry cutter. Using your rolling pin pound the butter and flour together until you can form it in a lump. If it gets too soft or starts to melt you need to refrigerate again for an hour and then repeat this process using a couple more tablespoons of flour. It is important that the dough and butter are about the same temperature when you incorporate the butter in the first rolling of the dough.
Roll you dough into a 8 x 14 rectangle, patting it out at with your hands. Do not use a rolling pin at this point, the dough should be too fragile at this point. Divide the dough in your head into thirds. Now cover the lower two thirds of the dough with the butter, leaving an inch on each side. Now fold the top piece back over the middle third and then the bottom third goes on top of that. Press the edges to seal the layers.
Now you are going to do your first turn of the dough. Roll the dough carefully out to about 18 x 24 inches. Fold the dough into thirds again and place on a cookie sheet to rest. Cover and refrigerate the dough for at least 2 hours. Repeat this step 3 more times.
To Make the Croissants
Roll out the dough again to 18 x 24 inches. On the final roll, roll out the dough corner to corner to compensate for shrinkage. Using a pastry wheel or croissant cutter cut the dough into triangles. Starting on the long end roll the dough towards the point. Shape into a crescent shape on a greased cookie sheet or lined with parchment. Let croissants raise until doubled at room temperature, uncovered. When ready to bake brush with the egg wash.
Bake at 375 for about 25 minutes until golden brown.
Note: To make the almond cream cheese croissants like the ones above, use 8 oz. cream cheese, 3 - 4 tablespoons sugar, 1/2 teaspoon almond extract and 1 teaspoon vanilla. Cut the dough into squares, put the filling down the center, corner to corner. Fold over sides and pinch the edge on top to seal the dough together. Let raise and right before baking and brush with egg wash, sprinkle with almonds and a little sugar.
adapted from Nick Malgeieri
Maybe you'd like to try?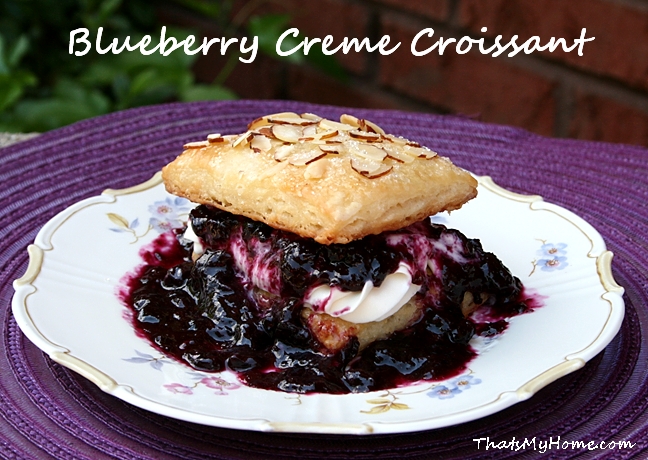 Follow me on Facebook, Google+ , Instagram or Pinterest to see when I post or share something new!