Hide the Vegetables Meatloaf without the gravy and the kids won't even see the veggies.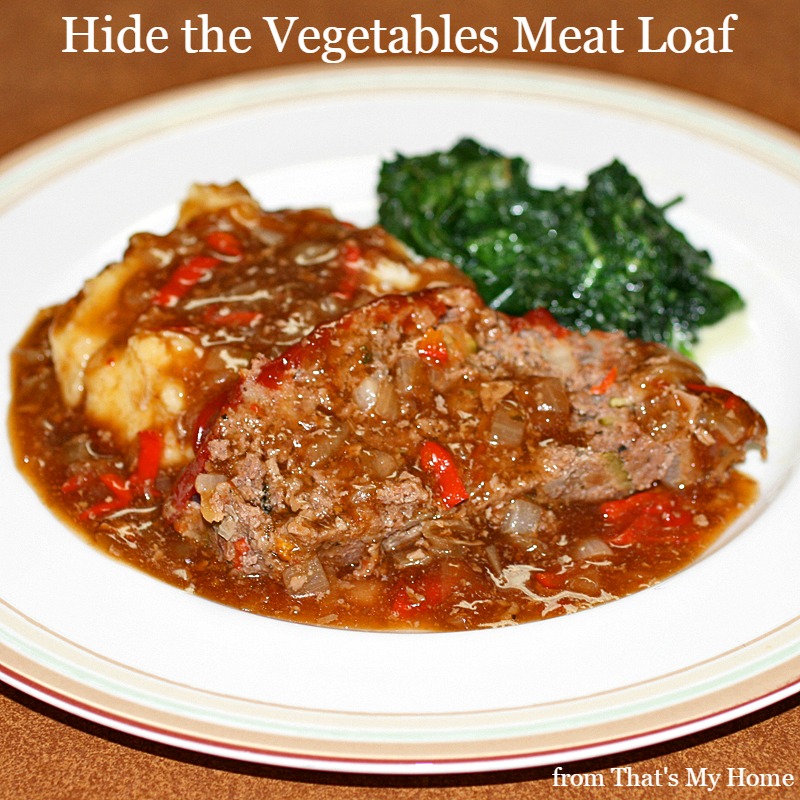 Hide the Vegetables Meat Loaf
Are you one of those moms who worry about getting your children to eat vegetables? Meatloaf is a good way to hide them. I added a cup of zucchini to this meatloaf and I bet they would never guess it. Shredding up vegetables is a good way to hide them. You could do the same with the onions if you have a child who won't eat them, the peppers oh not so much. The color will still stand out.
I've been using those bags of sweet peppers we see all the time now in the grocery store. They are milder and sweeter than the larger versions. I love using them and if you leave them in the bag they came in they will stay fresh in the cooler drawer for a couple of weeks.
Hide the Vegetables Meat Loaf
Prep time:
Cook time:
Total time:
Hide the Vegetables Meat Loaf has hidden vegetables the kids will never suspect are there except for the peppers.
Ingredients
1 lb. ground beef - I use 92%
1/2 cup breadcrumbs
1 egg
1/4 cup ketchup + extra for top
1/4 cup milk
1/2 cup chopped onions
1 cup grated zucchini
1/2 cup chopped peppers
1 teaspoon Italian Seasoning
salt and pepper
For pan to cook with
1/2 cup chopped onions
1/4 cup chopped peppers
For Gravy
1 beef bouillon cube
1 cup water
1 tablespoon cornstarch
Instructions
Mix all of the ingredients together in a mixing bowl.
Spray a baking dish. Shape meat into a loaf shape. Top with ketchup and smooth with a knife. Put the extra onions and pepper around the loaf.
Bake at 350 covered for 60 minutes or until juices are clear from the center. Remove meatloaf from pan. Let set for 10 minutes before cutting.
To make gravy - Add water and bouillon to pan with drippings. Bring to a boil. Add a little more water to a cup with cornstarch and stir into pan. Add salt and pepper if needed.
Note: Add mushrooms to the gravy if you desire.
Try our