Mom's Meatloaf the way my mom made it when I was growing up.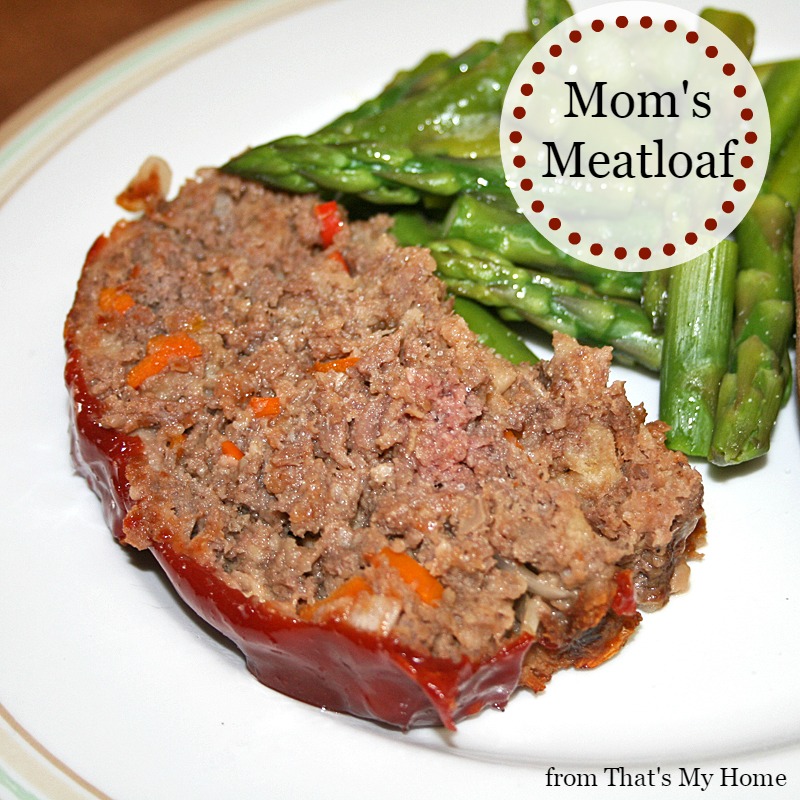 Mom's Meatloaf
My favorite place in the house has always been the kitchen. I loved spending time in the kitchen with my mom, aunts and grandmothers. I learned so much just watching these amazing women cook and bake. I am the oldest of seven children so we ate a lot of hamburger and meatloaf was a regular on mom's menu plan. By the time I grew up I wouldn't eat meatloaf or spanish rice, not because it wasn't good but because it seemed like we were always eating it. Sometime in my thirties I decided to start making it again and now love it and the place it takes me back to. Food is funny like that.
Mom's Meatloaf
Prep time:
Cook time:
Total time:
Meatoaf the way my mom made it when I was growing up.
Ingredients
1 1/2 lbs. ground beef (90% lean)
1/2 sleeve of saltine crackers – crushed into small pieces
1 medium onion – chopped finely
2 garlic cloves – minced finely (mom didn't use this, but I do)
3/4 cup sweet peppers – chopped finely
1 cup ketchup – divided use
1 egg
1/2 cup milk
1 teaspoon salt
pepper
Instructions
Grease the baking dish you are going to use.
Put all ingredients into a large mixing bowl, using 1/2 cup of the ketchup. The best way to mix up a meatloaf is with your hands. So wash you hands really well and get to smooching the mixture together. Mix together for 3-4 minutes. Shape into a meatloaf shape when you put it in the pan. Spread remaining 1/2 cup ketchup on top and spread out with a knife, it should be quite thick on top.
Bake at 350° F. for about an hour, meatloaf should be 160°F in the center and no longer pink when you take it from the oven. Let set 5 minutes before cutting into slices.
Some people also put brown sugar and a little mustard in the ketchup topping. If you remember a sweetness on top of the meatloaf you might want to try it this way.
Follow me on Pinterest
Maybe you'd like to try our