Chicken with Bow Tie Pasta and seasonal vegetables.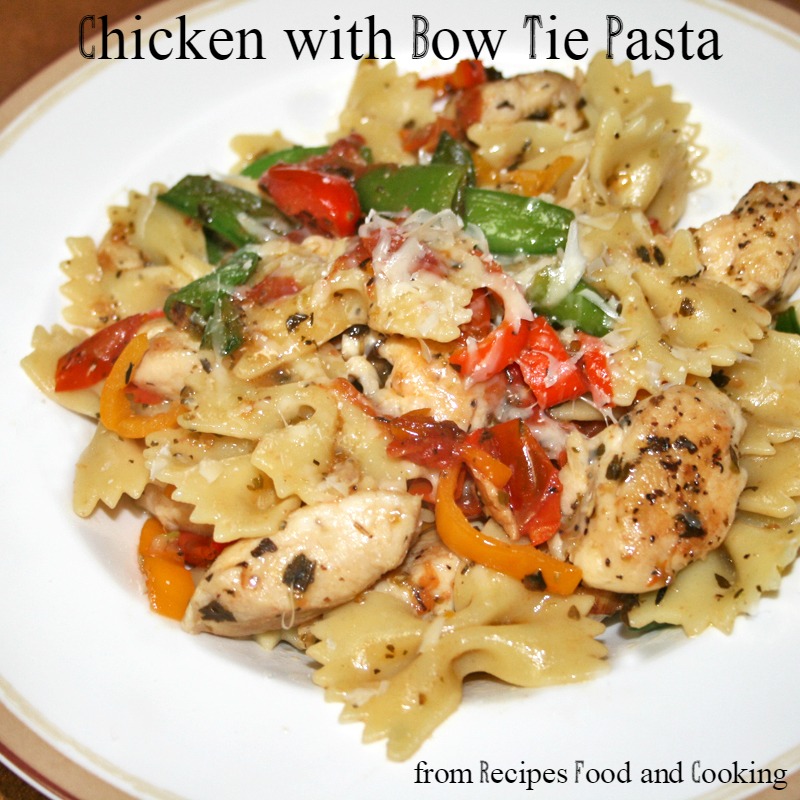 Chicken with Bow Tie Pasta
I made this the other night and realized how few easy pasta recipes I have on this blog, I will be changing that! Making pasta is a good week night dinner especially with all of the prepared vegetables you can buy now. Once you have a good easy pasta dish in your repertoire you will be making this often. Substitute the vegetables, add more or change the pasta, the choice is yours.
If you add more vegetables you may find you need a little more sauce, that's easy because the pasta is cooked in chicken broth and you can add a little more of that and a little additional butter. Add the butter off of the heat just before you add the parmesan cheese. I make a well in the center of the pan by pushing the pasta and vegetables to the sides of the pan. Add a little more of the pasta water and then add the butter. The butter should be cold and what you want to do is to just swirl it in the chicken broth so that it melts into the broth. Do not put it back on the heat after you add the butter or the sauce will break. Then either toss or lightly stir the sauce and cheese over the pasta.
Chicken with Bow Tie Pasta
Prep time:
Cook time:
Total time:
Chicken with Bow Tie Pasta with seasonal vegetables.
Ingredients
1/2 lb. bowtie pasta
1 can chicken broth
1 cup water
1/2 lb. chicken breasts or chicken tenders
3 Tablespoons olive oil
1 teaspoon Italian Spice Mix
2 – 3 garlic cloves
1/2 pint grape tomatoes
3-4 small sweet peppers
1 cup pea pods
salt and pepper to taste
1 – 2 Tablespoons butter
Parmesan cheese to serve
Instructions
Cut chicken into bite size pieces. Sprinkle with the spice mix and 2 tablespoons olive oil. Stir to mix together and set aside for 10 minutes.
Add water and chicken broth to a pan. Bring to a boil and add pasta. Cook pasta for about 10 minutes until ala dente.
Add chicken to a frying pan with 1 tablespoon olive oil and garlic. Brown well on one side before stirring. Stir and then add vegetables to the pan. Cook on medium heat until the vegetables soften, 3 – 5 minutes. Add salt and pepper to taste. Stir in pasta and a little of the pasta water. Add 1 tablespoon butter and swirl it in the pasta water to create a sauce. Sprinkle with parmesan cheese to serve.
How about?