Pasta cooked with vegetables all in one pot.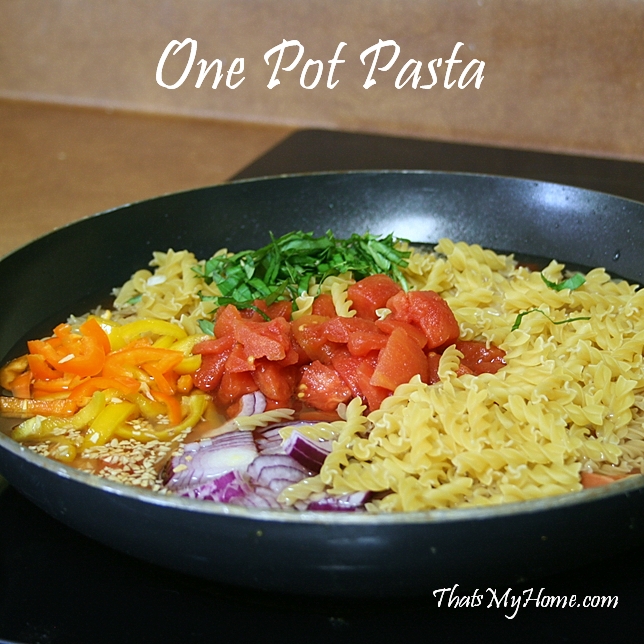 One Pot Pasta
I've been seeing this recipe floating around, I believe the concept came from Martha Stewart. Whoever it was, it is a stroke of brilliance. One pot, dinner ready in less than 20 minutes and it tastes amazing. I added Meatballs to mine because I was already making them after my grill wouldn't start today and I needed to use the ground beef up. You can switch up the pasta or veggies and create something different every time you make it. Also amazing is only 1 dirty pan! Want it hot? Add some jalapeno or red hot pepper flakes. What about cauliflower, broccoli, mushrooms and spinach also? I could see adding chicken strips or shrimp to this also.
Once I got everything I was going to use in the pan and the spices added, I stirred it every 3 – 4 minutes. I had this urge to add some tomato paste to it or the olive oil I saw in some recipes, but I resisted. Just as it finished I still wanted to add a little butter just to make the sauce that was there coat the pasta a little better. I resisted and was pleasantly surprised with my first bite that I had resisted and avoided adding fat to a recipe when it just didn't need it. Sometimes less is more, this is one of those dishes.
I added the Meatballs (since they had just come out of the oven) in the last 5 minutes of cooking the one pot pasta dish.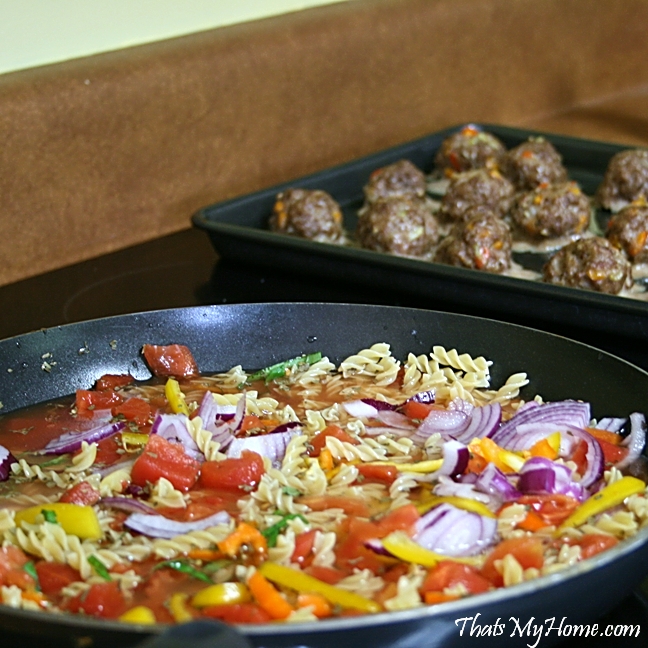 One pot pasta served with meatballs and parmesan cheese.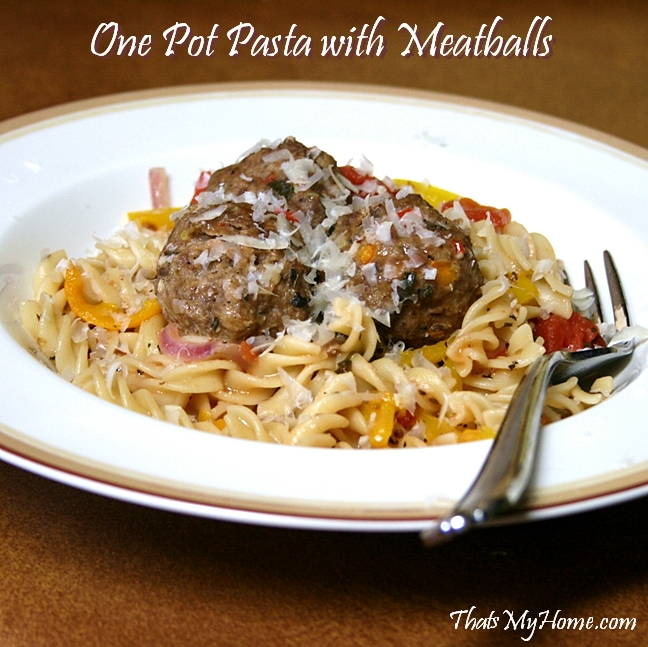 One Pot Pasta
Prep time:
Cook time:
Total time:
Pasta cooked with vegetables all in one pot.
Ingredients
1/2 lb. fusilli or farfalle pasta
3 1/2 cups water
1 14.5 oz. can diced tomatoes
1 small red onion - sliced thin in half
4 - 6 sweet mini peppers - sliced thinly
1/2 teaspoon salt
1/2 teaspoon pepper
1 teaspoon Italian Seasoning
4 big leaves fresh basil
1 - 2 garlic cloves - minced
Instructions
Add everything to a big pan. Stir and mix together. Turn on high heat. Stir every 3 - 4 minutes. Turn down heat if it is cooking too fast on your stove. Cooks in about 10 minutes. Thrown the torn basil in when you take it off the heat to serve.
Top with parmesan cheese to serve.
www.thatsmyhome.com
Maybe you'd like to try?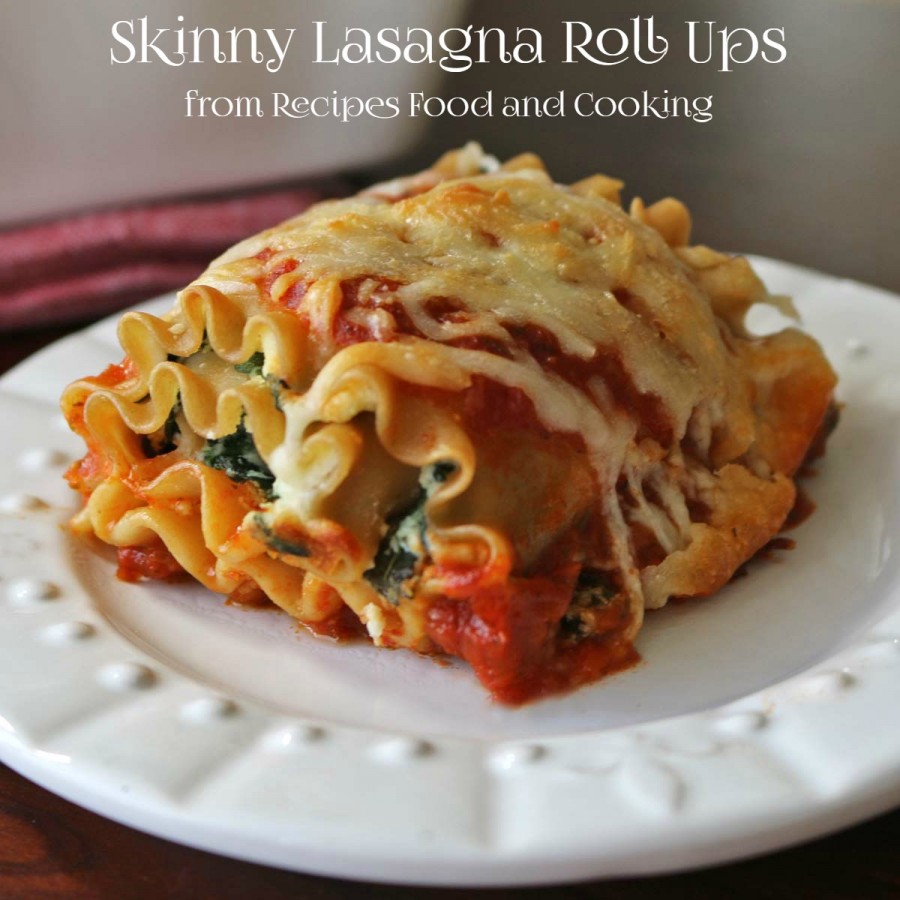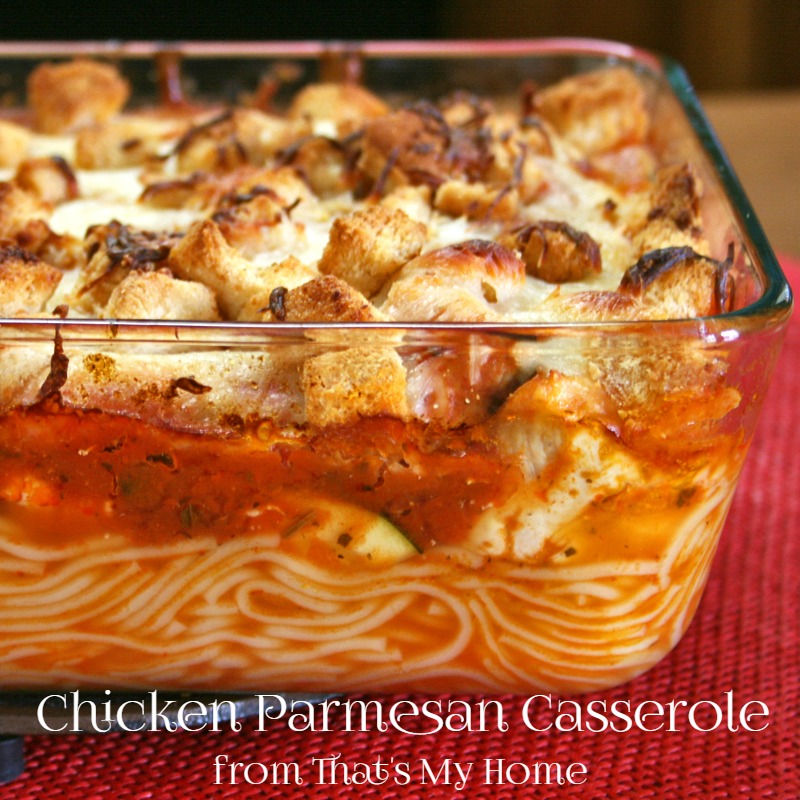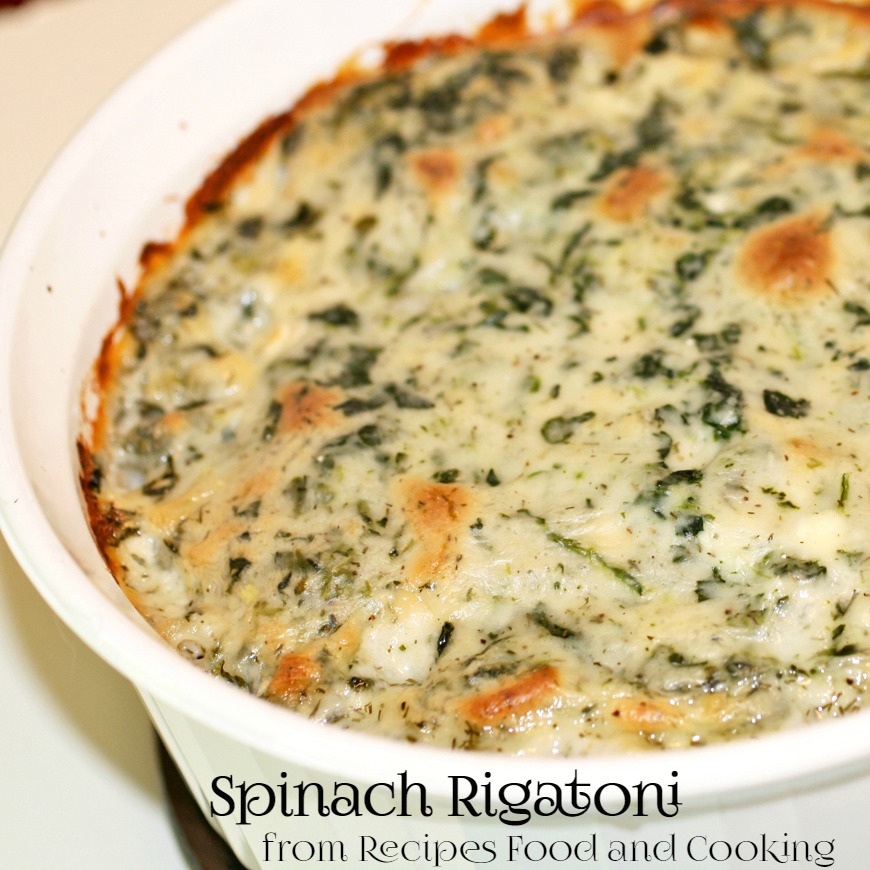 Follow me on Facebook, Google+ , Instagram or Pinterest to see when I post or share something new!