Chocolate Fluffy Frosting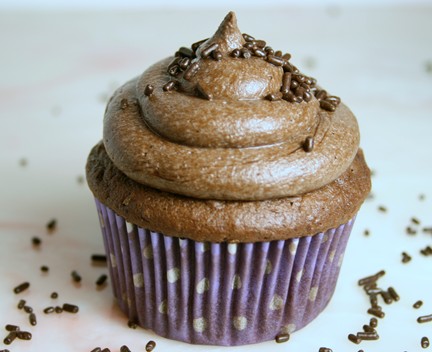 Chocolate Fluffy Frosting with Chocolate Cupcakes
I usually am not a frosting person, did you gasp when you read that? I am one of those that likes my cake just plain usually. We have a great cupcake bakery by the house and they have more frosting than cake, usually I take most of it off. However I loved this frosting and I think you will also.
I baked cupcakes from a box and added a snickers bar to the cupcakes which fell to the bottom despite the fact I placed them on top of the batter. I was hoping it wouldn't fall all the way down but it did. As soon as I figure out how to keep the candy bar from dropping all the all the way down, I will let you know.
When I make a box cake batter I always add margarine to it, it keeps the batter really moist. I don't care what brand it is, I use 1 1/4 cups water, 3 eggs and a stick of margarine. Butter doesn't work as well for some reason, it tends to be a drier cake than with the margarine so I buy margarine for when I need to make a quick cake.
Chocolate Fluffy Frosting
Creamy chocolate frosting, my favorite.
Ingredients
2/3 cup cocoa
1/2 cup whipping cream
1/2 cup butter
pinch of salt
1 teaspoon vanilla
4 cups confectioners sugar
Instructions
Heat whipping cream to a boil. Add cocoa to your mixing bowl and pour whipped cream over it. Stir well to blend. Let the mixture cool.
Add butter a tablespoon at a time. Add vanilla and salt.
Add confectioners sugar and whip until the desired consistency. (about 5 minutes)
 Maybe you'd like to try?