Tender pierogies stuffed with mashed potatoes, cheddar cheese and onions, served with sour cream.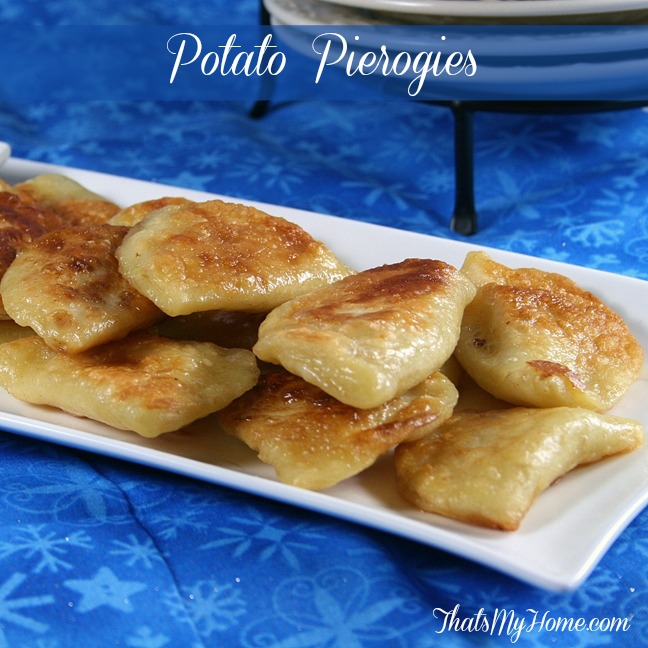 Pierogis with Mashed Potato Filling
I was going thru my recipe box a few days ago and ran across this recipe I developed years ago for pierogi. This is a wonderful dough to work with, it is soft and supple.
I cooked them all when I finished rolling them out. Any leftover ones can be put in a plastic bag with waxed paper between them. To fry them I used a combination of butter and oil.
Pierogis with Mashed Potato Filling
Prep time:
Cook time:
Total time:
Pierogies stuffed with mashed potatoes and cheese.
Ingredients
1 cup sour cream
2 1/4 cups flour - may need more
1 tablespoon butter
1 tablespoon oil
2 eggs
1 teaspoon salt
Filling
3 cups leftover mashed potatoes
1/2 cup of chopped onions
1 cup cheddar cheese
salt and pepper to taste
To Fry
1/2 stick butter
4 tablespoons oil
Instructions
In a food processor combine all the ingredients. Process the dough until it comes almost to a ball. Remove the dough and put the counter and add additional flour if needed to make a ball. I used White Lily flour when I made these and needed another 1/2 cup of flour. Cover dough and let sit for about 30 minutes.
Make the filling. Saute the onions in a teaspoon of butter. Add to the mashed potatoes with the cheese, salt and pepper.
Roll out dough to the thickness of a pie crust using half of the dough. Using a 2 1/2 inch cutter cut the dough into circles. Place a teaspoon of the filling in the center of the circle and fold the dough in half. Press the edges together.
Bring a large pan of water to a boil. Add 1 tablespoon salt to water. Add pierogis to pan. When the are done they will come to the top. I leave them there an extra minutes. Put in a strainer to drain. Lay them out on a baking pan.
When ready to fry add oil and butter to a frying pan. Lay pierogis in a single layer. Brown on both sides.
Serve with sour cream if desired.
Maybe you'd like to try our?