Moist and delicious chocolate cake with a chocolate ganache frosting.

Chocolate Cake with Chocolate Ganache Frosting
I had a craving for chocolate cake the other day and went thru the stack of recipes on my desk I am always intending to make but somehow never do. I had a recipe for this chocolate cake by Hershey's that has been around forever. It did not disappoint. I served it about 3 hours after I made it and it was as moist and chocolaty as could be and was even better the second day. When you make the batter don't be alarmed at how thin it is, it will be just fine. I remember the first time I made this cake being alarmed and was tempted to add more flour, don't! It will be fine.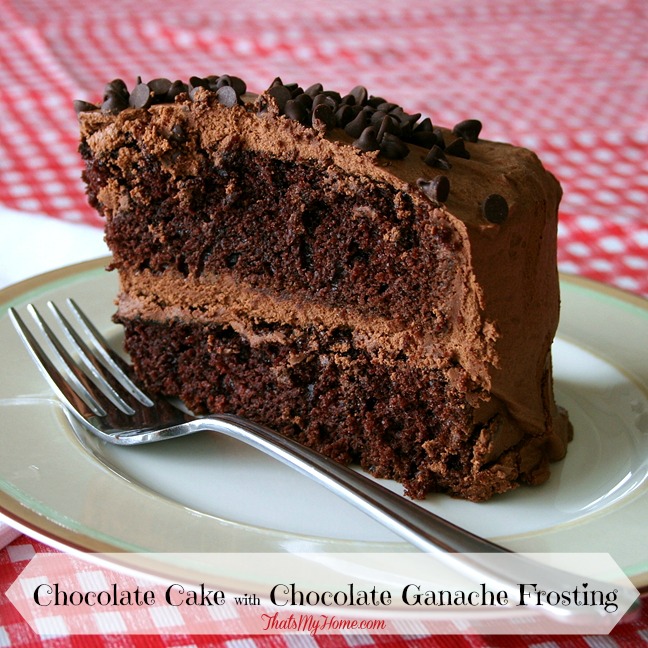 The frosting I used was close to what I would make if I was making truffles only in frosting form. This is the perfect frosting for this cake, so creamy and full of chocolate in every bite. I would make the frosting first when I make this again to give it time to chill so that it will whip quickly. If you don't put a bath of ice cubes under the mixer bowl while you are beating it, that is how I did it.
Chocolate Cake with Chocolate Ganache Frosting
Prep time:
Cook time:
Total time:
Moist and delicious chocolate cake with a chocolate ganache frosting.
Ingredients
2 cups sugar
1-3/4 cups all-purpose flour
3/4 cup cocoa
1-1/2 teaspoons baking powder
1-1/2 teaspoons baking soda
1 teaspoon salt
2 eggs
1 cup milk
1/2 cup vegetable oil
2 teaspoons vanilla
1 cup boiling water
Instructions
Heat oven to 350°F. Grease and flour two 9-inch round baking pans.
Add the sugar, flour, cocoa, baking powder, baking soda and salt to your mixer bowl fitted with the whisk attachment. Give it a couple of whirls until all of the dry ingredients are mixed together.
Add eggs, milk, oil and vanilla; beat on medium speed of mixer 2 minutes.
Stir in boiling water (batter will be really thin). Pour batter into prepared pans.
Bake 30 to 35 minutes or until wooden pick inserted in center comes out clean.
Cool 10 minutes, remove from pans to wire racks. Completely cool before frosting.
Chocolate Ganache Frosting
Ingredients
Frosting
16 oz. chocolate chips
1 cup heavy cream
1 teaspoon vanilla
dash salt
Instructions
Heat the heavy cream until just below a boil. Pour over chocolate chips and stir until melted. Let set until cooled, at least 45 minutes.
Whip the mixture with your whisk attachment on your mixer until the consistency of frosting. The colder the mixture is when you whip it the shorter time it will take to whip this frosting. It should hold soft peaks when it is ready to frost the cake.
Refrigerate cake until ready to serve. Let set out for at least 10 minutes before cutting and serving.
Cake is from Hershey's, frosting is my recipe.
 Maybe you'd like to try?
Chocolate Chocolate Oreo Ooey Gooey Butter Cake