Ground turkey meatballs, veggies and rich broth make up this Turkey Meatball Soup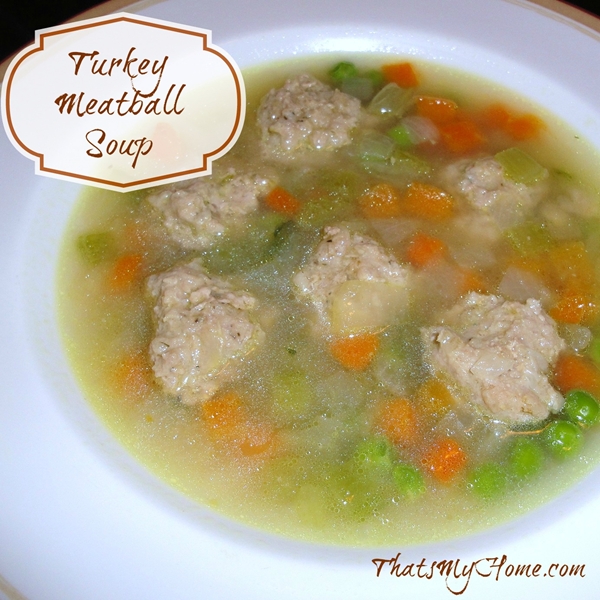 Turkey Meatball Soup Recipe
I made a quick and easy turkey meatball soup for dinner tonight and it is only 4 weight watcher points a serving. I actually did a short cut and used a 12 oz. bag of frozen Mirepox vegetables that you can get at Kroger in place of the carrots, celery and onion.
The meatballs are made of ground turkey, oatmeal, eggbeaters and a spice called Mural of Flavor from Penzey's. It is one of my go to all purpose seasonings. It has basil, garlic, lemon, shallots and a few other spices. It really is a nice all purpose blend and I use it all of the time. I don't miss the salt at all.
I met with a trainer today at the Fitness Center and we are good to go. My first session is next Tuesday in the pool. Can't wait to get going!
Turkey Meatball Soup
Prep time:
Cook time:
Total time:
Ground turkey meatballs, veggies and rich broth make up this Turkey Meatball Soup
Ingredients
5 cup(s) fat-free chicken broth
2 cup(s) frozen peas and carrots
1 1/2 cup(s) celery
1 1/2 cup(s) frozen chopped onions
10 oz Turkey, ground, 93% lean/7% fat, raw
1/4 cup(s) uncooked oatmeal
1/4 cup(s) Egg substitute
salt and pepper
Mural of Flavor (Penzeys)
Instructions
Add broth and vegetables (except peas) to pan. Bring to a boil and cook for 20 minutes over medium heat.
Add ground turkey, egg substitute, oatmeal and seasoning (salt, pepper and any spices you like) to a bowl. Mix well.
Drop meatballs into broth and cook another 15 minutes. Add peas during last 5 minutes of cooking.
Enjoy!
Mary Ellen