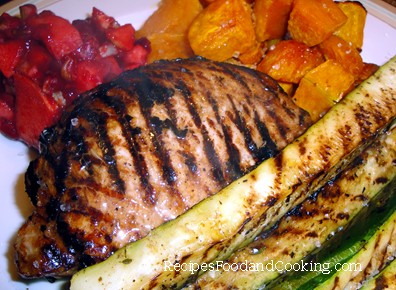 What journey you say? Week 2 of Weight Watcher's started today and I have to admit last week was easier than I thought it would be and I lost more than 5 lbs. I am surprised at the quality of the pre-packed Weight Watcher foods you can buy.
I remember the last time I bought a low fat cream cheese it went straight into the garbage. The Weight Watcher cream cheese is actually edible! Today I bought some Mini Dark Chocolate Raspberry Bars and I would buy these again even if I wasn't trying to lose weight and they are only 1 point.
So tonight for dinner we had grilled pork loin center cut chops, roasted butternut squash, cranberry apple salad and some grilled zucchini. Dinner tonight was 9 points.
I loved the Cranberry Apple Salad and luckily I had some frozen cranberries. Sugar free jello can really be your friend. LOL This salad would be really good with chicken also. I can see this as a staple in my fridge. A cup of this salad is 1 point.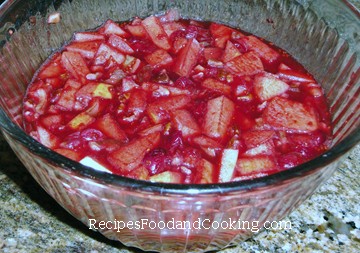 The grilled zucchini is easy to do, cut it into spears, spray lightly with Pam. Season with salt, pepper and any spices you like. I tend to use a spice by Penzeys called Mural of Flavor, a salt free seasoning they make. We love it and I use it often.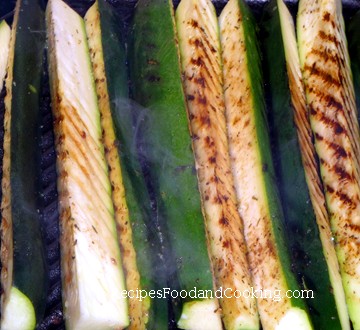 I roasted the squash for about 30 minutes at 400 degrees in a convection oven. I sprayed again lightly with Pam and added salt and pepper. One cup of this is one point also.

Apple Cranberry Salad
Ingredients
1 cup(s) cranberries
1 cup(s) water
6 packet(s) Sweet 'N Low Granulated Sugar Substitute
1 serving(s) cranberry sugar free jello
3/4 cup(s) celery
1 medium apple(s)
1/4 tsp table salt
14 pecan halves
Instructions
Cook cranberries in water until they pop. Add sweetener and cook 3 minutes. Remove from heat and add Jell-O to hot cranberries.
Add celery, apple, nuts and salt.
Pour into serving bowl and refrigerate until set.
Lemon Orzo Salad