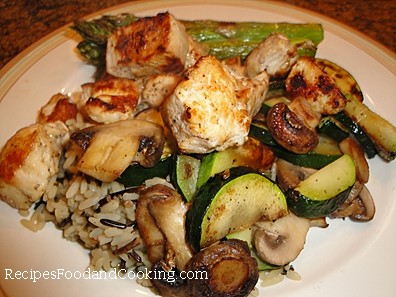 Chicken and Vegetable Dinner
Tonights dinner was grilled chicken, zucchinni, mushrooms served over wild rice with roasted asparagus. It was yummy.
I cooked the vegetables and chicken on a grill pan made by LeCreuset that I have had for a very long time. One of the good things about it is that because it gets to a very high heat the vegetables and chicken get a nice crust on them. I seasoned everything with Mural of Flavor a seasoning made by Penzey's without salt.
We also had some roasted asparagus with dinner, I had some I needed to cook. To roast asparagus takes about 15 minutes in a 450 degree convection oven. I use a pan with holes in it and at about 10 minutes I give the pan a shake to just toss them a little. I spray the asparagus with Pam before cooking and sprinkle a little sea salt on them.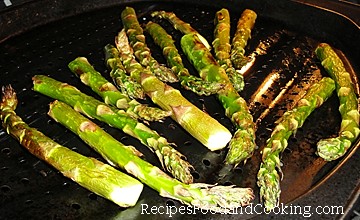 This dinner takes about 20 minutes to prepare so it is quick and easy enough to do on a worknight. I used Uncle Ben's Wild Rice and prepared it without the butter to save a point.