Spicy, southwestern chicken chowder made in less than an hour.

Southwestern Chicken Chowder
Love, loved this chowder. It is pretty quick to make and can be made with leftover chicken which would help cut the cooking time by 15 minutes. You could also use store bought rotisserie chicken. Another shortcut would be frozen vegetables in place of the onions, celery and carrots.
The one surprise in this recipe might be Greek Seasoning. While I was making this I decided this chowder needed something else. I started looking in my spice cupboard and when I put my hand on the Greek seasoning to move it out of the way I decided that might be exactly what I was looking for. Penzey's Greek seasoning has salt, Turkish oregano, garlic, lemon peel, Tellicherry pepper and marjoram and it added just the right balance I was looking for. I almost always use Penzey's spices and if you haven't tried them I can tell you I rarely buy anything else. Their spices are high quality and reasonably priced, they also do mail order if one is not close to you. Their cinnamon's are one of my favorite spices. They have 5 different types of cinnamon! One of the things I love about their stores is that they have sample jars of all the spices out for you to see and smell. And no they did not pay me to say anything about their spices, I just honestly love them.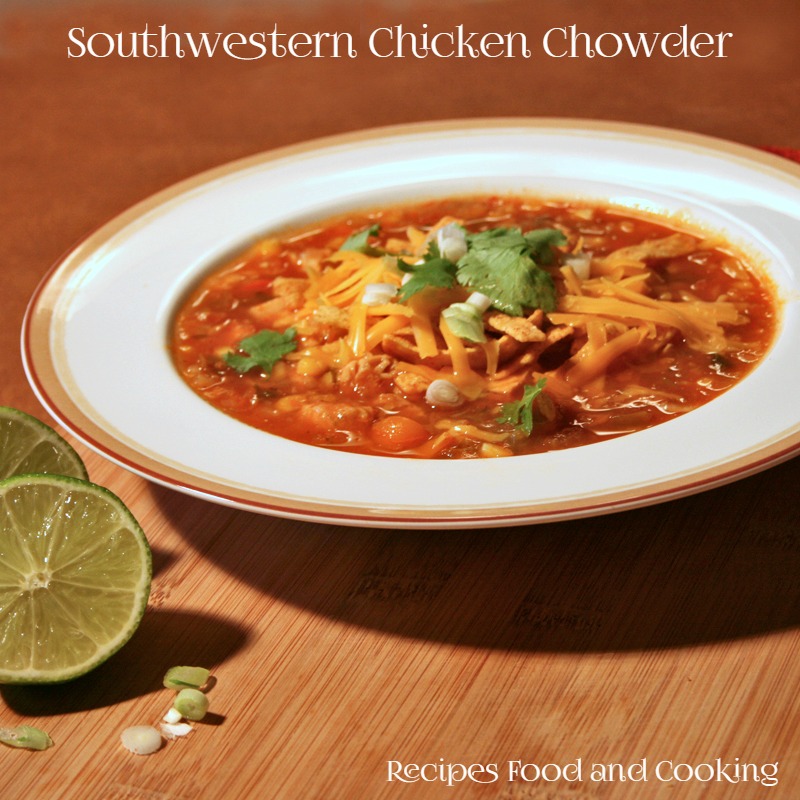 When you read the recipe you will see that I tell you to mash the vegetables with a potato masher when the vegetables are tender. In case you are wondering why, I wanted to add a little creaminess without adding cream. You will notice I add the salsa after that step just to get some texture back into the soup. You could also blend half of the soup if desired for a creamier texture. I hope you enjoy the soup, leave me a comment if you try it. I'd love to hear from you!
Follow me on Facebook, Google+ , Instagram or Pinterest to see when I post or share something new!
Southwestern Chicken Chowder
Prep time:
Cook time:
Total time:
Spicy, southwestern chicken chowder made in less than an hour.
Ingredients
2 chicken breasts
4 cups chicken stock
4 tablespoons taco seasoning
1 1/2 cups diced onion
2 cloves minced garlic
1 cup diced celery
1 cup diced sweet peppers
1 diced carrot
3 cups diced potatoes
2 jalapeno peppers
2 cups corn
1 cup medium salsa
1 - 2 tablespoons lime juice
1/4 teaspoon cumin
1/2 teaspoon Greek seasoning
1 teaspoon salt
1/2 teaspoon pepper
fresh cilantro
To serve
strips of corn tortillas
cheddar cheese
green onions - optional
Instructions
Add the taco seasoning, salt, pepper, garlic, cumin and Greek seasoning to the chicken broth. Add the chicken breasts and cook for 15 minutes over medium heat in the chicken stock. Remove from broth, cover and let cool.
Add the onions, peppers and celery to the chicken stock. Cook for 10 minutes over medium heat.
Add the potatoes, carrot, corn and jalapeno peppers to the broth. Cook until tender, about 15 minutes. Using a potato masher, mash up the vegetables until you have small pieces of vegetables.
Dice the chicken and add with the salsa and cook for another 10 minutes.
Just before serving add the cilantro and lime juice. Taste to adjust seasoning.
Serve with corn taco strips, cheddar cheese and green onions.
To make corn tortilla strips, preheat oven to 400 degrees. Cut corn tortillas into thin strips. Spray with cooking spray. Add a little salt. Put the strips on a greased cookie sheet. Bake for 10 - 15 minutes until crispy. Watch carefully that they do not burn.
www.thatsmyhome.com
Maybe you'd like to try