Tomato Poblano Soup is full of tomatoes, onions, celery and a poblano pepper. Dinner is ready in about a hour.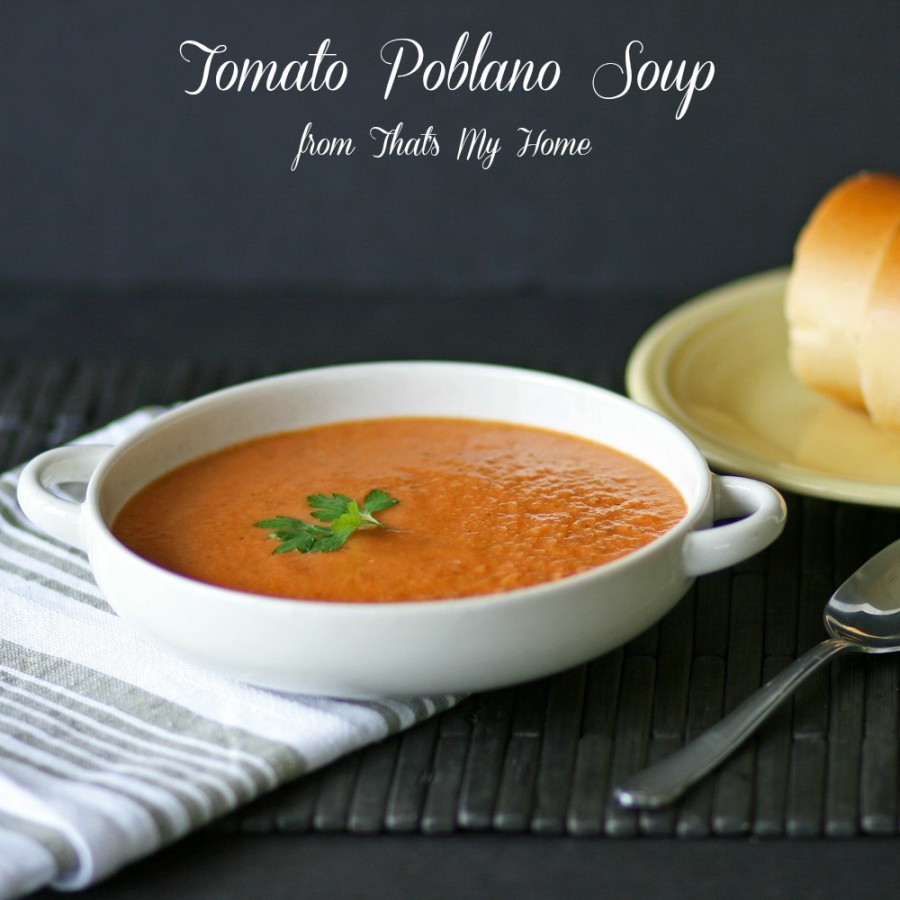 Tomato Poblano Soup
It's that time of year again when I get out the soup pot and make soup again. I am one of those people that even when it's hot outside I can eat a bowl of soup. I especially start to think about tomato soup at this time of year when you see all of the fresh tomatoes. Living in Florida it is just about time to be putting a garden in. It is too hot in the summer to have a garden, I tried herbs but they couldn't survive without being watered multiple times a day and that was just too high maintenance for me. I did but 5 pots of herbs and they live out in the carport and they are doing well there.
So many changes to figure out living here. Like fresh delicious strawberries in the middle of the winter. I can't wait for the oranges to be ready in November. I found the best oranges at the flea market here last year and I am going to be stalking that guy this year while I wait for them to be available.
Back to the soup, this one is easy to make and can be ready to eat in less than an hour. I had some poblano peppers I needed to use up so I decided to add one and see what happened. We loved it! It added a different taste to this tomato soup.  If you don't have a poblano pepper, don't stress. This will still make a wonderful bowl of tomato soup.
I use Minors chicken base instead of buying chicken stock. If you have never used it if you try it you'll be hooked. It isn't full of salt like some of them. It also is kind of like a paste and you keep it in the refrigerator. It comes in a 16 oz. container and you can find it usually where restaurant supplies are sold. Gordon's also sells it. There are also other flavors than the chicken, I keep both the beef and chicken on hand all of the time.  You could add just a can of chicken stock and forget the water.
Tomato Poblano Soup
Prep time:
Cook time:
Total time:
Creamy tomato soup flavored with onion, celery, and polblano pepper.
Ingredients
2 14,5 oz. cans petite diced tomatoes
1 medium onion
2 stalks celery
1 poblano pepper
1 can of water from the tomatoes
2 tablespoons chicken base
1/2 cup heavy cream
salt
pepper
Instructions
Add the tomatoes and water to the soup pot. Chop the celery, onions and poblano peppers into pieces. Add the water, and chicken base.
Bring everything to a boil and turn down to medium low and let everything simmer until tender, about 30 minutes.
Use and immersion blender or blender and blend soup until smooth.
Add cream and seasonings. Bring to just before a bowl and let simmer for 10 minutes. Taste to adjust seasonings.
Here is another tomato based soup that is one of my favorites. It is a German Tomato Soup and unless it is because it has cabbage in it, I have no idea why it's German. The recipe came from a restaurant in my hometown. When I sold real estate I listed the cook's house and because this was my mom's favorite soup she shared the recipe with me.