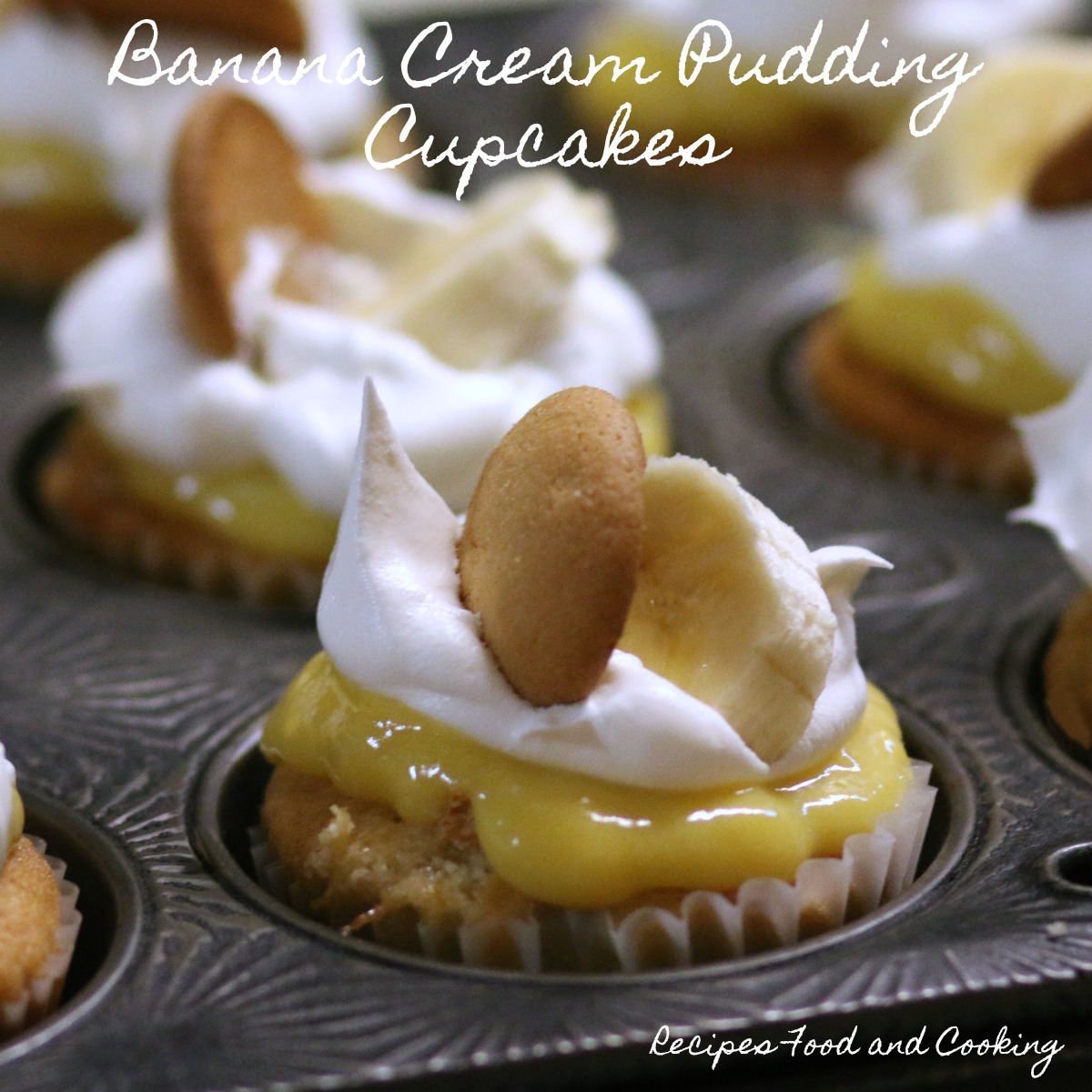 Banana Cream Pudding Cupcakes
Here's another dessert I took to the guys at the VFW, I love having so many taste testers! A few of them even said we should start selling them. These cupcakes are perfect made with those overripe bananas you might have. It seems I always buy to many so could make these weekly sometimes. The cupcakes are light and fluffy, I loved the texture of these. They aren't heavy and dense like banana bread but still have lots of great banana flavor.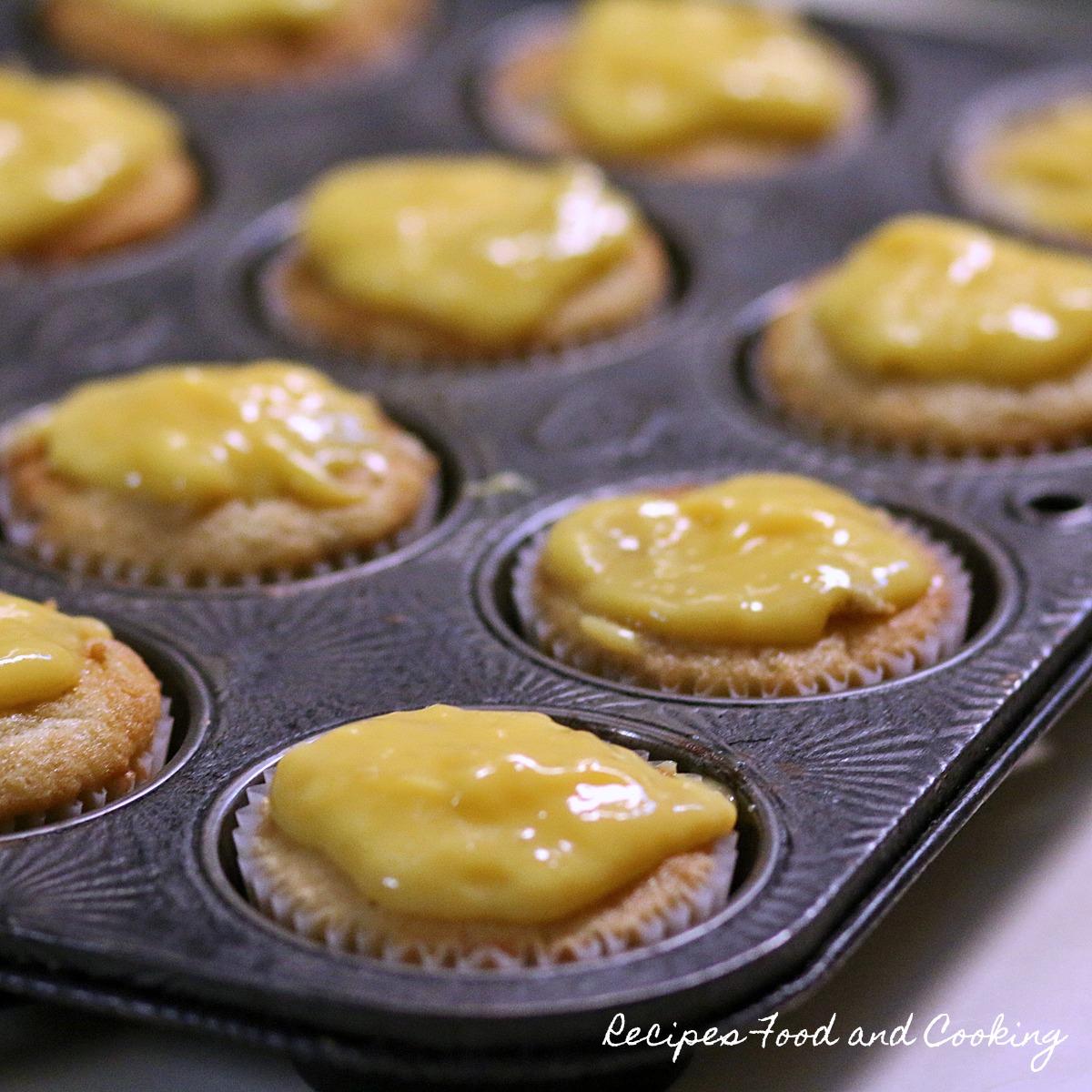 The filling is simple and easy, I made it ahead of time so it was ready when I was to assemble the cupcakes. They go together quickly after you remove some of the center of the cupcake for the filling to go into. A melon baller makes quick work of it but a tablespoon will also get the job done. I saved the centers in a small bowl and added my little bit of leftover filling to it and it was darn good!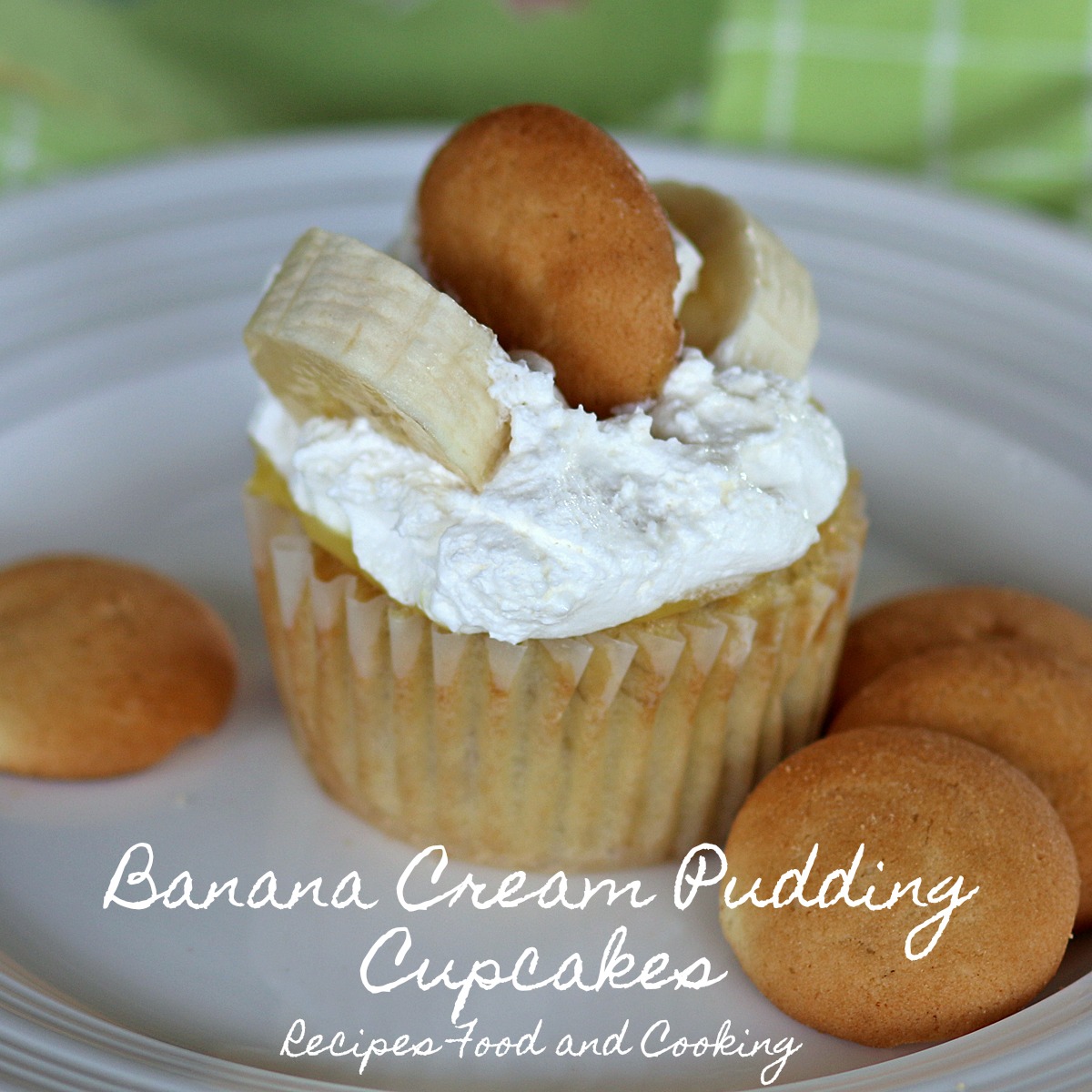 After you fill the cupcakes add a little whipped topping or homemade whipped cream. Top with a slice of banana and a vanilla wafer.
Banana Cream Pudding Cupcakes
Author:
Mary Ellen @ Recipes Food and Cooking
Recipe type:
Cupcakes, Cake, Dessert
Prep time:
Cook time:
Total time:
Banana Cream Pudding Cupcakes are homemade banana cupcakes filled with banana pudding, topped with whipped cream and bananas.
Ingredients
Cupcakes
3/4 cup butter
1 1/2 cups white sugar
3 eggs
1 teaspoon vanilla
3/4 cup sour milk
1 1/2 cups mashed bananas
2 3/4 cups all-purpose flour
1/2 teaspoon salt
1/2 teaspoon baking soda
1 teaspoon baking powder
Filling
1 package instant banana or french vanilla pudding.
1 3/4 cup milk
1/2 cup mashed banana.
To assemble:
1 carton whipped topping
vanilla wafers
bananas
Instructions
Cupcakes
Cream together butter and sugar until light and fluffy.
Add eggs one at a time until mixed in. Add vanilla.
Mash bananas with a fork. Add to creamed mixture.
Mix together flour, salt, baking soda and baking powder.
Add half of the flour mixture alternatively with the milk until incorporated.
Fill cupcake holders almost 3/4 full.
Bake at 325 degrees for about 15 minutes, until cupcakes spring back when touched in the center. Cool.
Filling
Add milk to instant pudding. Whisk well. When it starts to thicken add the bananas, Chill until ready to assemble.
To assemble:
Remove a little of the center of the cupcake. Fill with pudding and spread on top. Top with whipped topping, a slice of banana and a vanilla wafer.
Maybe you'd like to try our recipe for?
Blueberry Cupcakes with Blueberry Frosting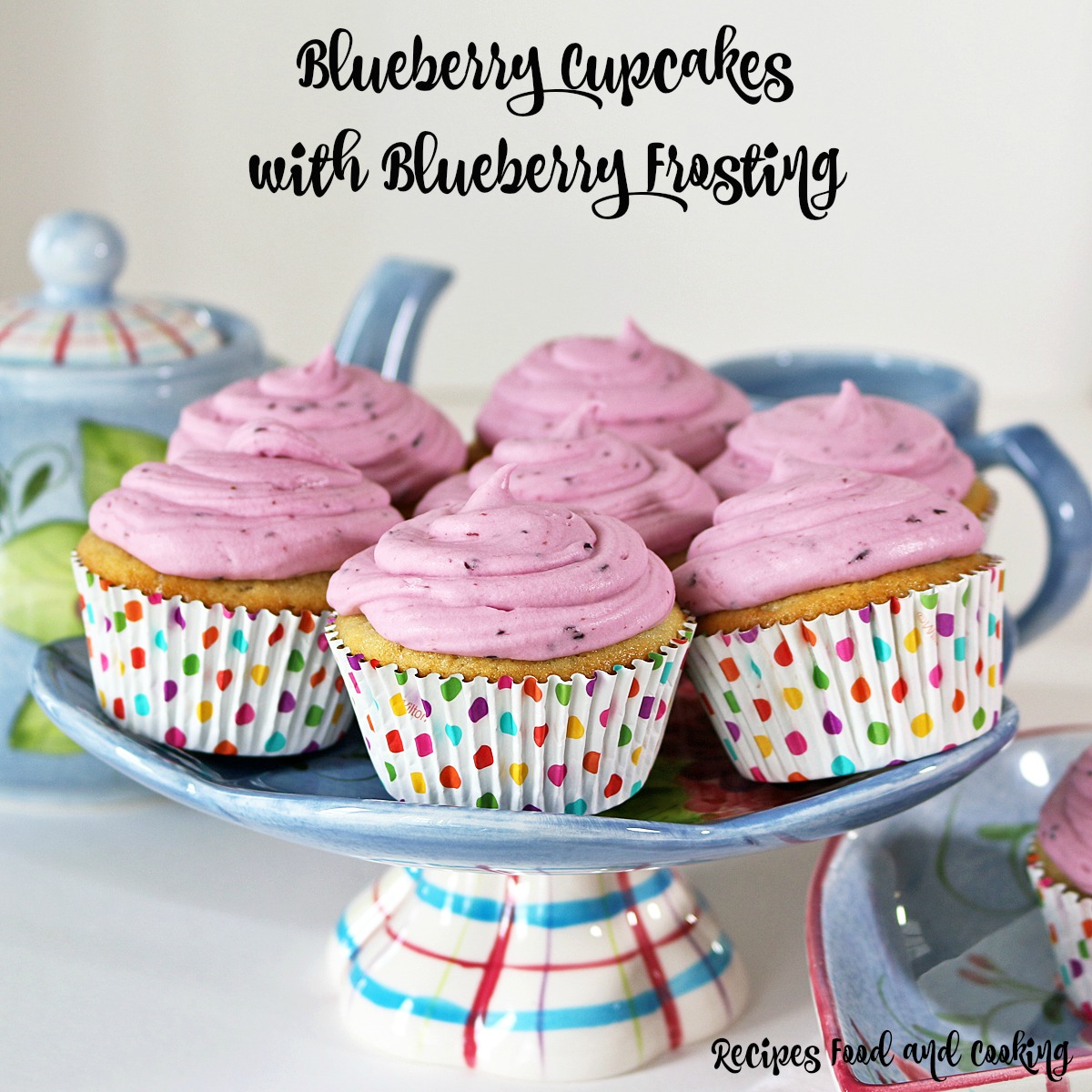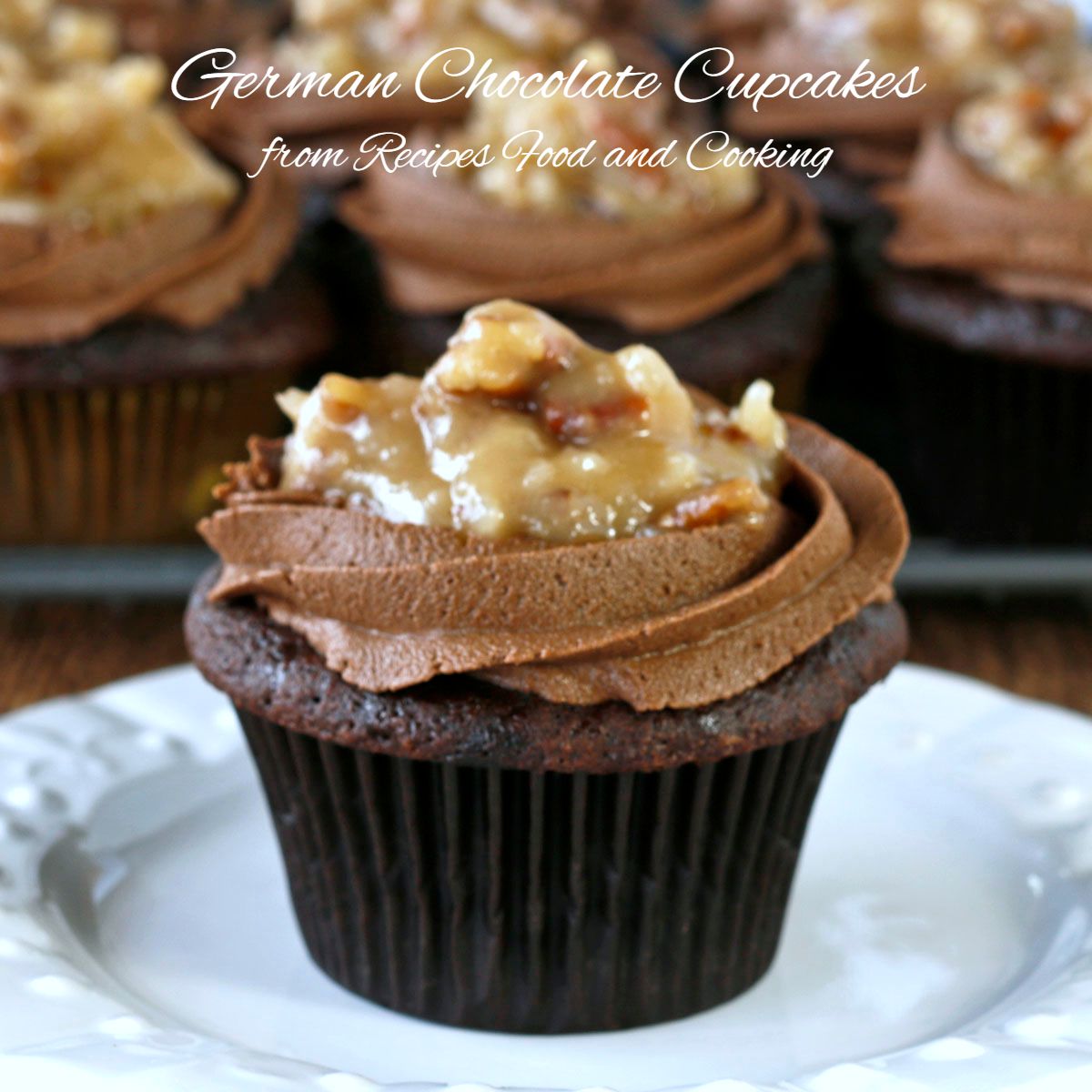 Peanut Butter Chocolate Cupcakes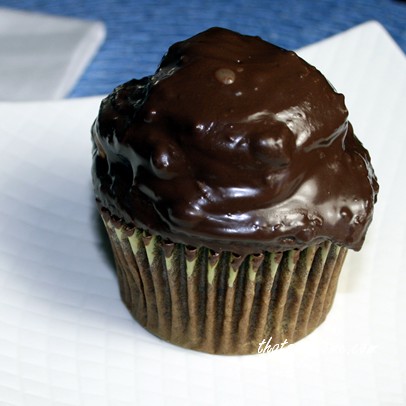 Pin It!