This shop has been compensated by Collective Bias, Inc. and its advertiser. All opinions are mine alone. #QualityFreshPork #Walmart #CollectiveBias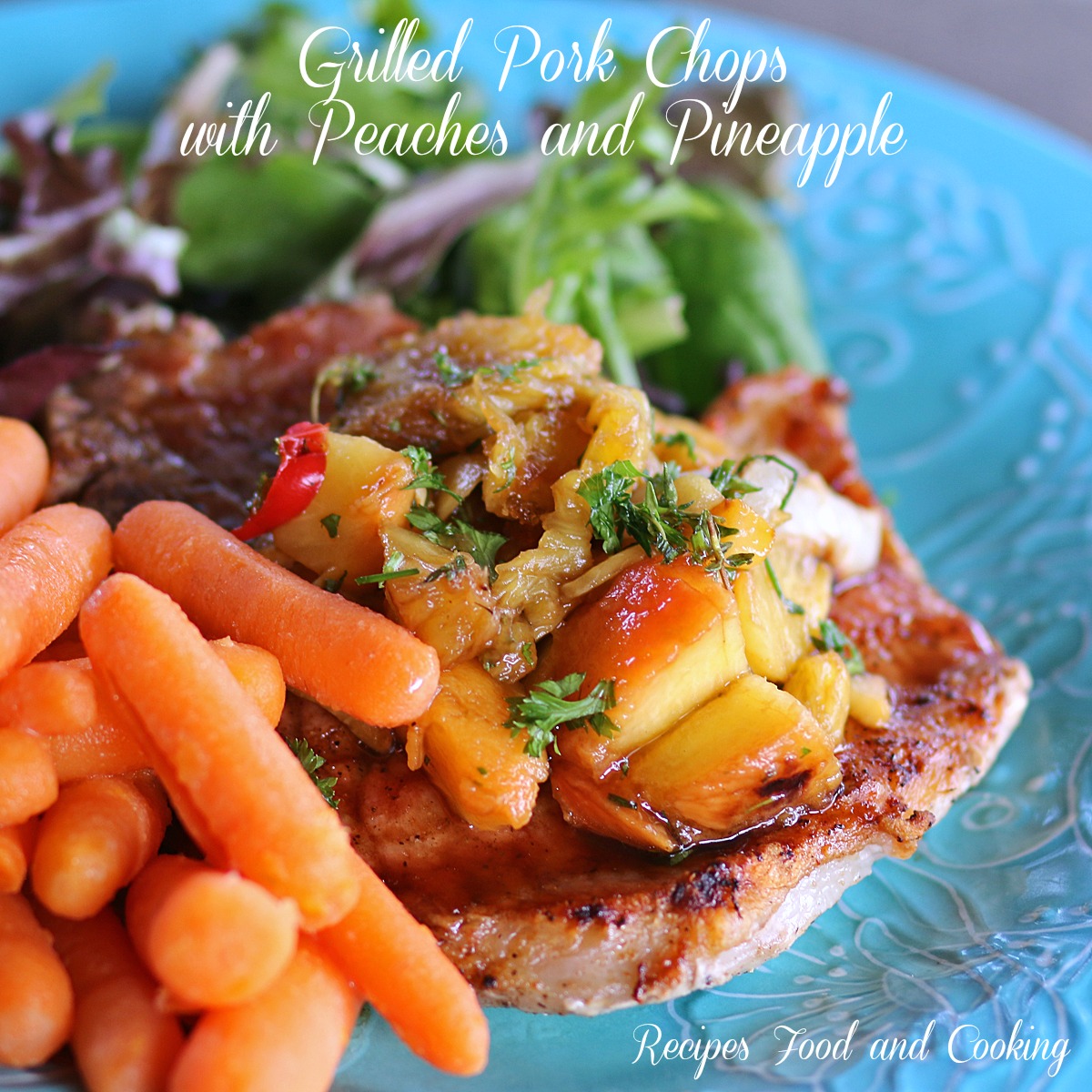 Grilled Pork Chops with Peaches and Pineapple
What do you do when it's time for dinner and you didn't plan anything? It's one of those days when it seems like all you've done is run and got nothing done. You also don't want another fast food meal so this is one of my go to dinners when I have a day like that. It can be prepared in about 30 minutes and is summer on a plate! I buy the 100% Fresh All Natural Pork Chops that I can get at my local Walmart® store that has been proudly raised here in the USA. Did you know that Walmart® stands behind the quality of their meat with a 100% freshness guarantee?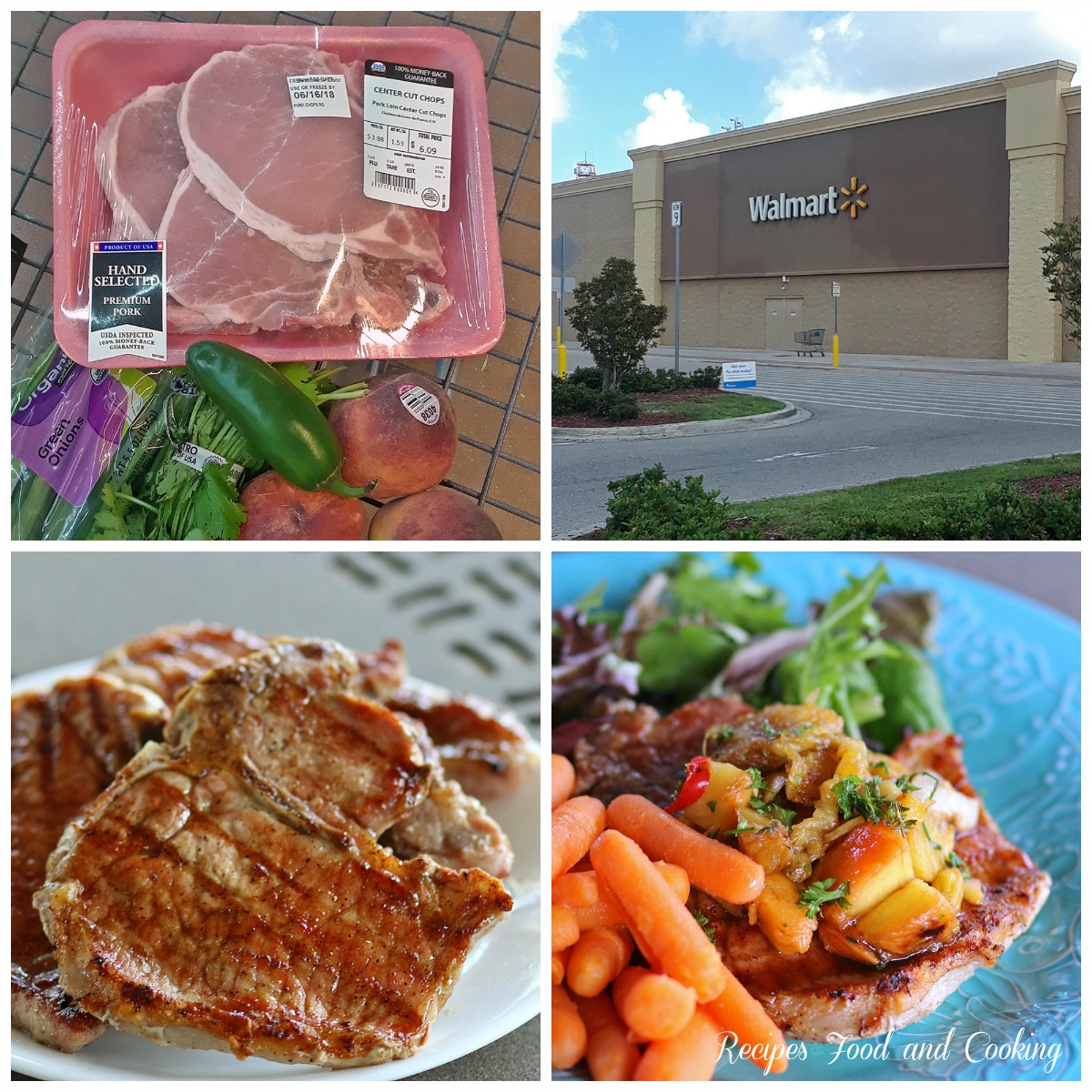 I love pairing it with fresh peaches which are in season right now along with pineapple which I also can get at my Walmart® store. I grill them for about 10 minutes to bring out even more sweetness before chopping them up and adding honey, balsamic vinegar and fresh herbs. When buying peaches for this you don't want them to be super ripe. They need to be a little firm or they will break up while grilling. I'd used fresh pineapple that I had cut with a pineapple corer so my pieces were in quarters. You could even use canned slices. If you'd like a little heat throw a jalapeno pepper on the grill with the fruits and let cook until tender. Even though this dish is so easy to prepare it is perfect for entertaining also.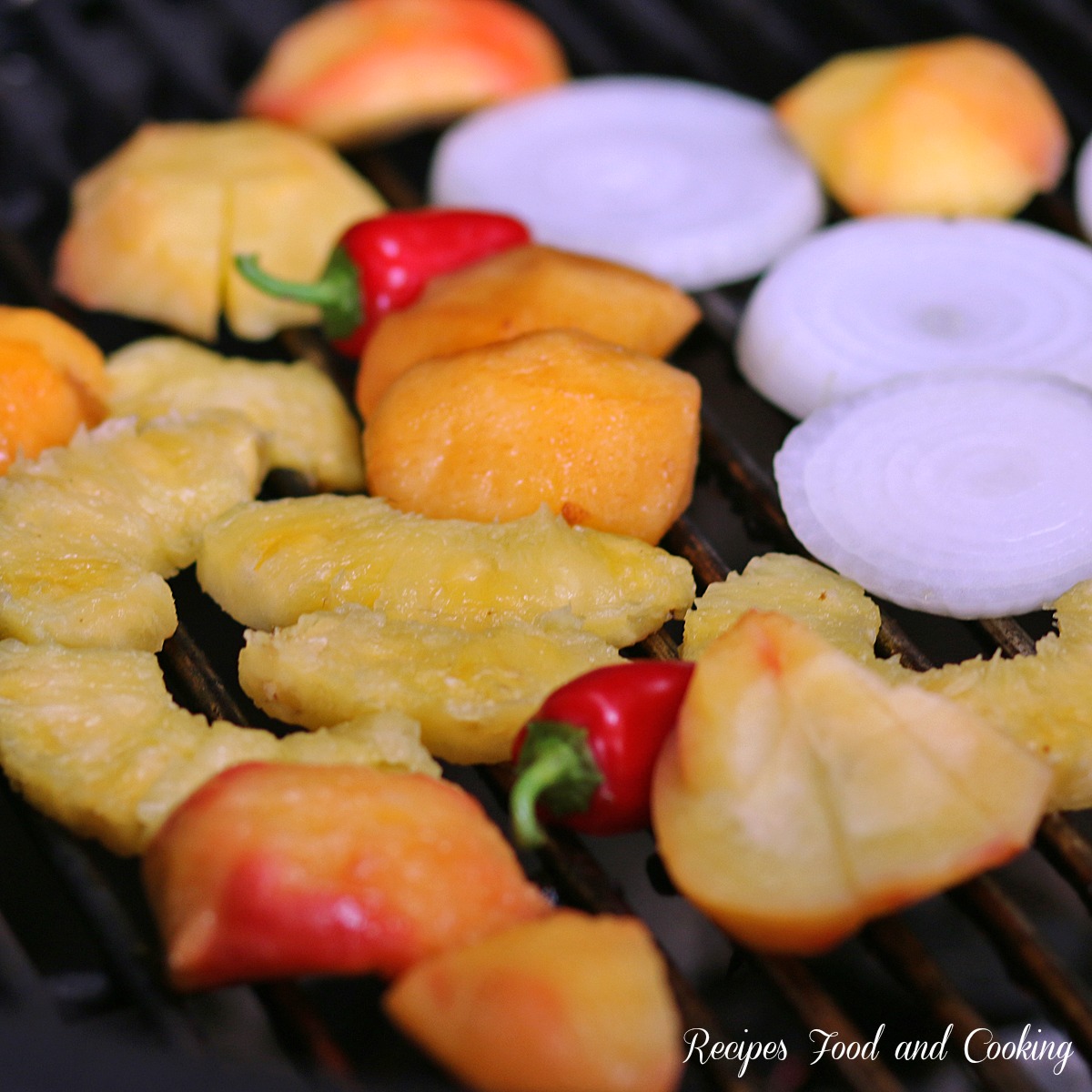 The pork chops are brushed with a mixture of honey and balsamic vinegar. I also used a little of it on the fruit after it was grilled.
Look at these beautiful pork chops, they are moist and tender every time I cook them and Walmart® has partnered with national brands to ensure their products are all natural and hand selected for quality. You'll see the Hand Selected Black Label in the corner of the package when you go looking for these pork chops. These pork chops could also be made in a saute pan on the stove in the same amount of time. I always cook them longer on the first side to get nice browning and then flip to finish quickly.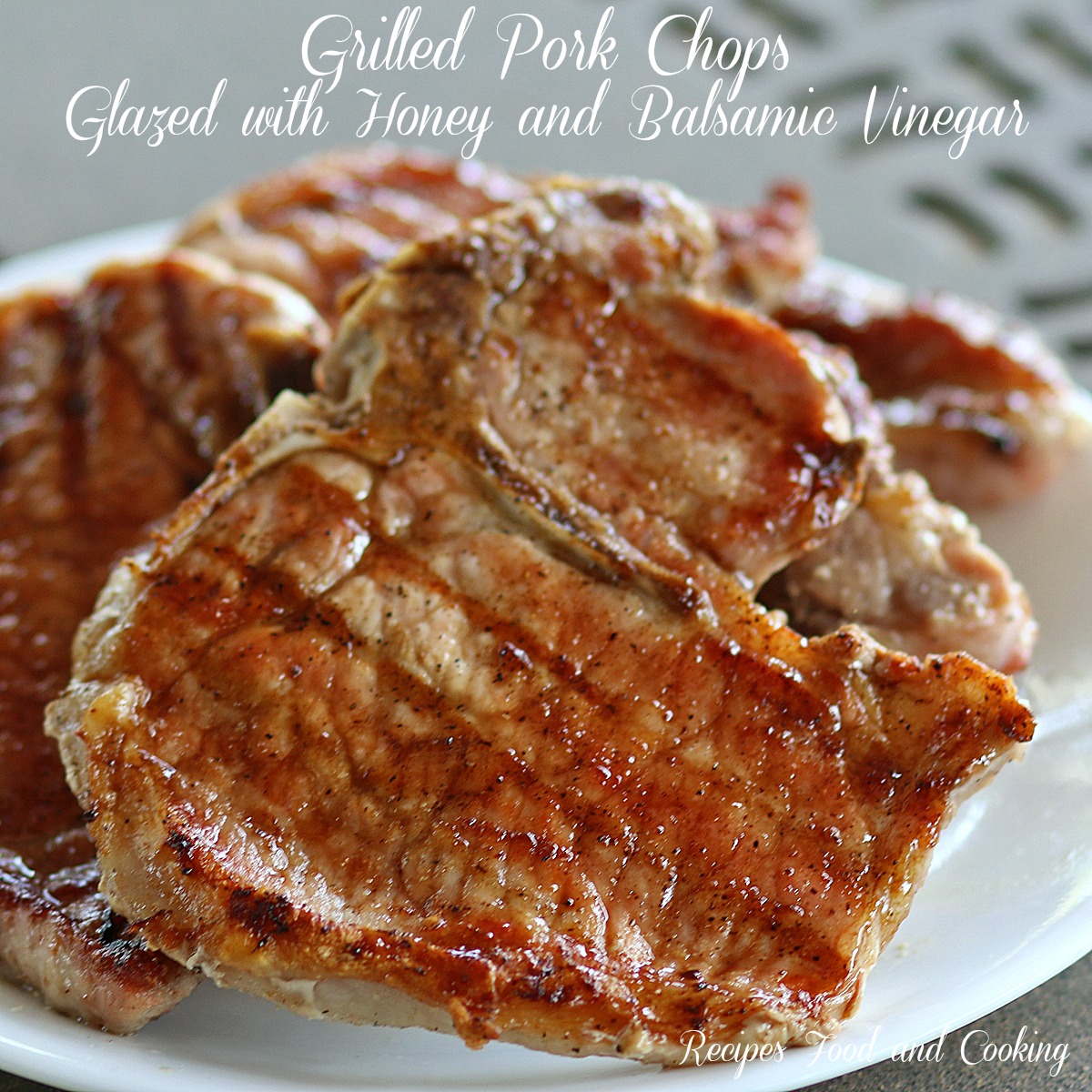 I have to tell you that because I was only cooking for 2 that we had a couple of these left over. I'd intended to cut them into strips for a salad the next day when at about 11 that night we had a strong craving for another taste of them. Yep, we ate them right out of the refrigerator cold! They were finger lickin' good.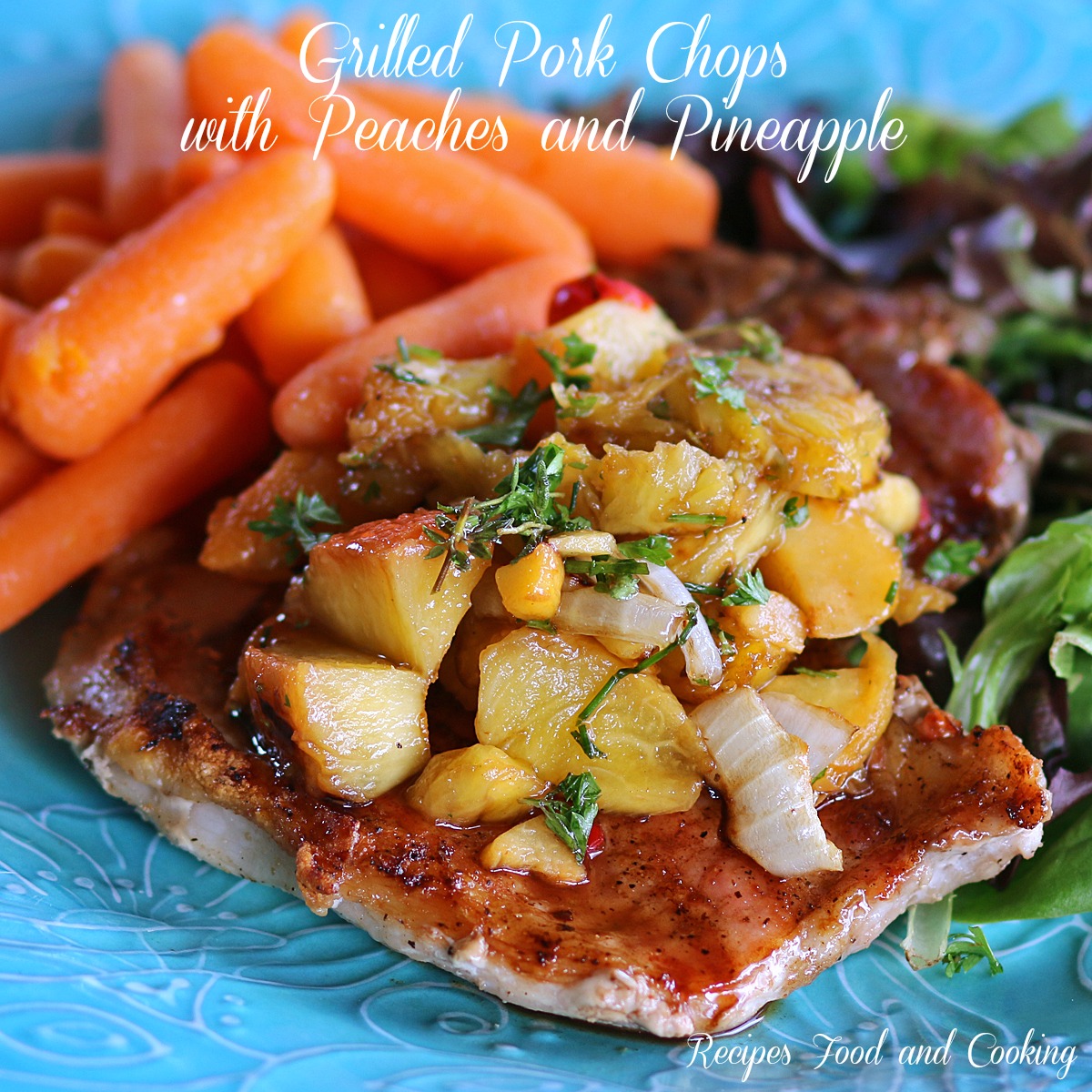 Grilled Pork Chops with Peaches and Pineapple
Author:
Mary Ellen @ Recipes Food and Cooking
Recipe type:
Pork, Grilling, Main
Prep time:
Cook time:
Total time:
Tender and moist pork chops brushed with a honey and balsamic vinegar glaze topped with fresh grilled peaches and pineapple with fresh herbs.
Ingredients
1 package Fresh Bone-in Pork Chops at Walmart
salt and pepper
4 peaches
1 cup pineapple rings
1 sweet onion
1/4 cup red pepper
4 tablespoons honey
4 tablespoons balsamic vinegar
fresh herbs - I used thyme, chives and parsley
Instructions
Start grill.
If you are going to serve with baby carrots start cooking them now in a little water with salt added covered. When tender remove from heat, about 15 minutes. Add a little butter and keep hot until ready to serve.
Blanch the peaches in a pan of boiling water. When water boils again remove from water and run under cold water. Remove skins with a paring knife. Cut peaches into quarters
Cut onions into slices.
Cut peppers into strips if using a whole one or use 3 baby red peppers.
Season pork chops with salt and pepper. Set aside.
Cook the fruits on the grill until you get grill marks and they soften slightly. Remove from heat. Put in a bowl and chop up into bite size pieces.
Mix together the balsamic vinegar and honey. Pour 2 tablespoons over the warm fruit. Chop the herbs you're using and stir all. Let set while the pork chops cook.
Grill the pork chops over medium heat. Cook for about 7 minutes on the first side. Flip and brush with honey and balsamic glaze. Cook about another 5 minutes until pork chops are done. Top with fruit to serve.
Visit Walmart® on Facebook. You can even get free grocery pickup now when you use their app for saving even more time on those busy days!
Pin It!