These cupcakes taste better than a Reese's Cup if that is possible!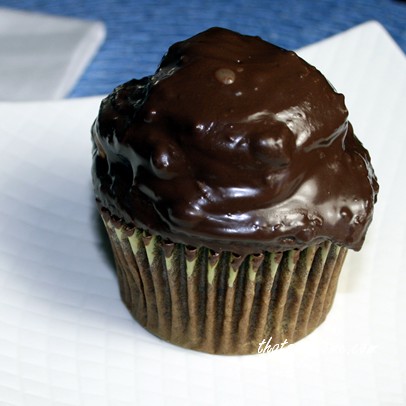 These cupcakes taste better than a Reese's Cup if that is possible. I sent some home with a friend yesterday and today all she could say about them was "OMG". This peanut butter buttcream is the stuff dreams are made of if you are a peanut butter lover. I seem to be on a peanut butter and chocolate kick lately, last week it was a peanut butter chocolate cream pie. Do you have any idea how hard it is to be on a diet and do food blogging? I try to send as much of it away as I can.
When you are ready to coat the cupcakes with the chocolate, make sure you put the chocolate into a bowl that is deep enough to dip the cupcakes in. Make sure you chocolate is not too hot or it will melt the buttercream. It should be around 80 degrees more or less.
Peanut Butter Chocolate Cupcakes
Author:
Mary Ellen @ Recipes Food and Cooking
Recipe type:
Cupcake, Dessert
Prep time:
Cook time:
Total time:
These cupcakes taste better than a Reese's Cup if that is possible!
Ingredients
Cake
1/2 cup cocoa
1 oz. unsweetened chocolate
1 cup boiling water
1 3/4 cups plus 2 tablespoons cake flour
1/2 teaspoon salt
1 teaspoon baking soda
1 1/2 cups brown sugar
1 cup butter
1/4 cup sour cream
2 eggs
2 egg yolks
Peanut Butter Buttercream
1/2 cup granulated sugar
2 large egg whites
1/8 teaspoon salt
12 tablespoons softened unsalted butter, cut into 1/2-inch pieces
1 cup peanut butter
2 teaspoons pure vanilla extract
Chocolate Topping
8 oz. semi-sweet chocolate
2 tablespoons vegetable oil
Instructions
To make the cake:
Preheat oven to 350 degrees. Add cocoa and unsweetened cocoa to boiling water, stir to disolve. Set aside to cool completely. You can put it in the refrigerator but stir it a couple of times.
Mix together flour, salt, baking powder and brown sugar in your mixing bowl. Add the butter and beat until it resembles dough. Add the cooled chocolate mixture and blend it until mixed thoroughly.
Mix together the eggs and sour cream. Add it slowly to the dough mix, then mix for about 2 minutes until it is light and fluffy.
Bake for 18 -20 minutes. While cupcakes are cooling, prepare the buttercream.
Peanut Butter Frosting
In bowl of standing mixer, whisk sugar, egg whites, and salt until combined. Set bowl over pan of simmering water and gently whisk until mixture registers 160 degrees F on instant read thermometer. Immediately transfer to mixer fitted with whisk attachment. Whip on medium-high speed until mixture is just cool. On medium speed, whip in butter, one piece at a time, until combined and creamy. Add peanut butter and vanilla and beat until smooth. Pipe buttercream on top of cupcakes. Place in refrigerator for 1 hour.
To prepare the chocolate topping:
Melt chocolate with oil over a double boiler over very low heat. Dip cupcakes into chocolate and set aside to harden.
Pipe about 1/3 cup frosting onto each cupcake. Chill cupcakes in fridge until buttercream is completely firm, about 1 hour.
Maybe you'd like to try our recipe for?