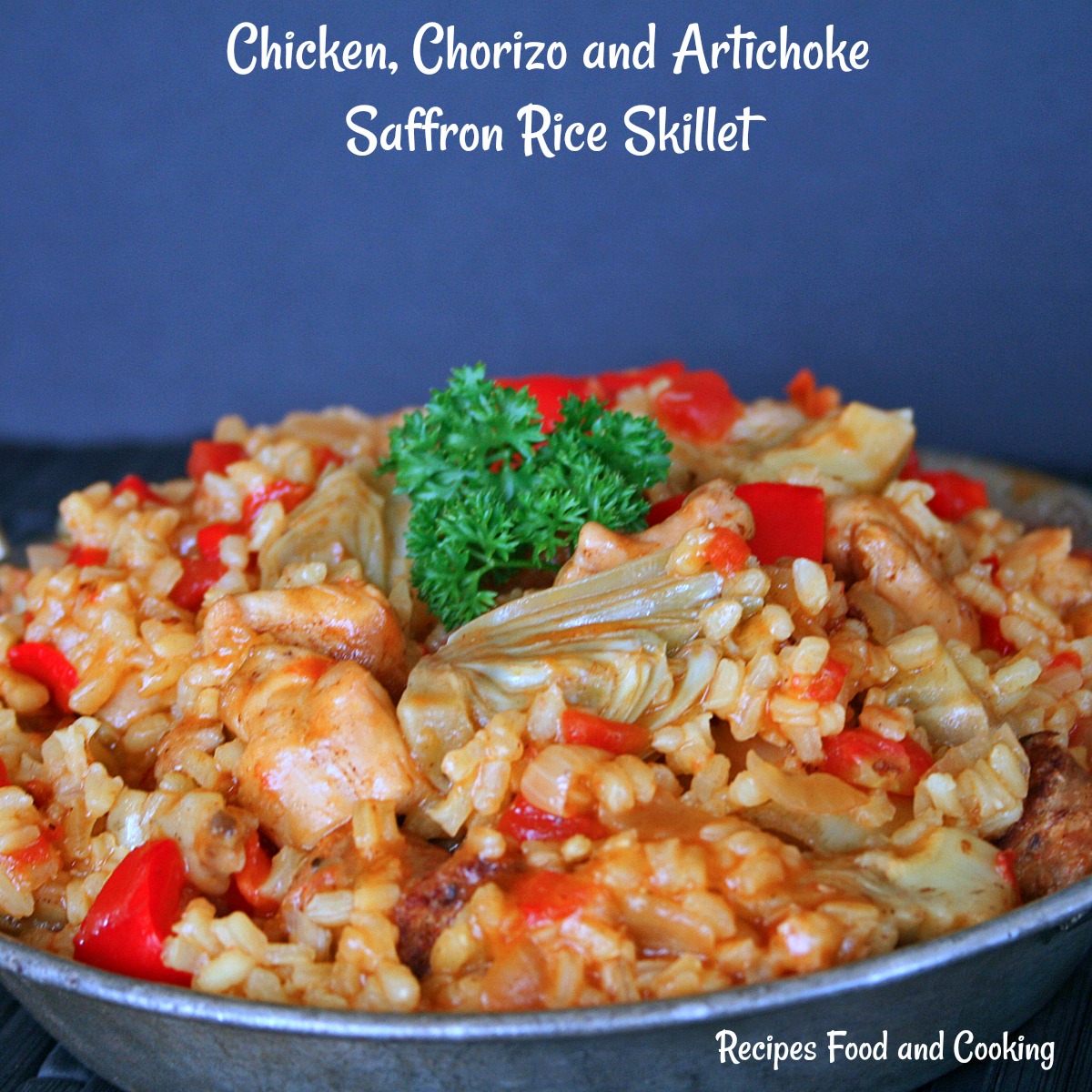 Chicken, Chorizo and Artichoke Saffron Rice Skillet
This is one of the tastiest dishes I have made in a long time, I loved all of the flavors. This skillet dish is full of bold flavors, lots of garlic, spicy chorizo and saffron. I used chicken thighs and chorizo in this dish but seafood would work really well also. If you decide to add shrimp or fish add it in the last 5 minutes of cooking.
I used a short grained rice in this dish, use either Valencia or Arborio rice. Valencia is a lot cheaper and works just as well as Arborio. This rice is really short and fat so don't mix it up with regular white rice. I found it today at Publix for under $1.25 so it isn't that expensive. It soaks in all of the wonderful flavors in this dish without getting mushy as I am afraid regular white rice might do if you use it in this dish.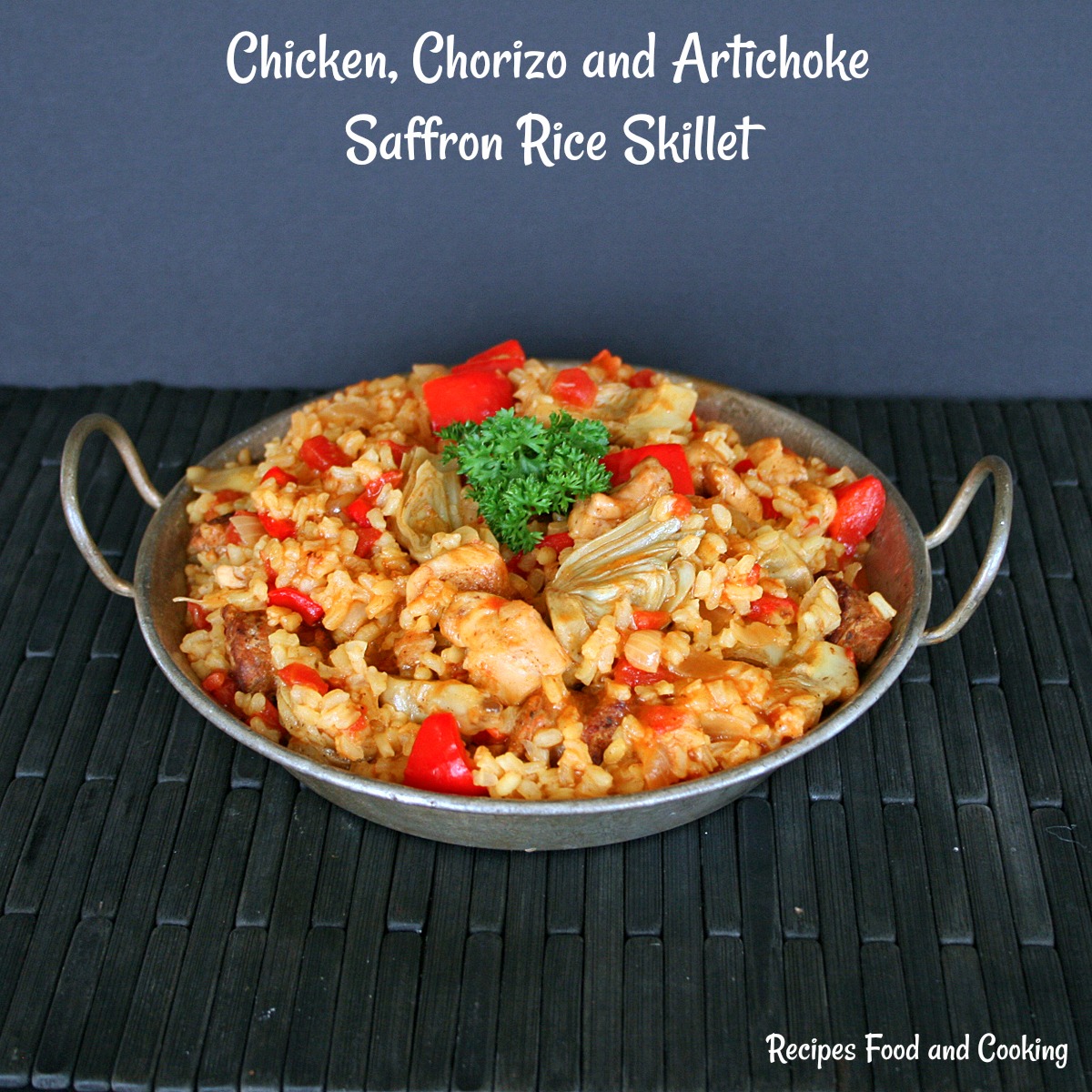 I also found a powdered saffron that was really reasonable in the Spanish section at the grocery store. I used it in this dish.
Chicken, Chorizo and Artichoke Saffron Rice Skillet
Author:
Mary Ellen @ Recipes Food and Cooking
Recipe type:
Chicken, Rice, Main Dish
Prep time:
Cook time:
Total time:
Ingredients
1 lb. boneless chicken thighs
1 lb. chorizo
2 large red peppers
1 large onion
6 - 8 garlic cloves - fine
1 teaspoon salt
pepper
1/2 cup white wine (optional)
3 cups chicken broth
1 14.5 oz. can petite diced tomatoes
2 - 3 tablespoons olive oil
1 teaspoon saffron
2-3 bay leaves
1 bag frozen artichoke pieces or 1 cup frozen peas
2 cups Valencia or Arborio rice
Instructions
Cut the red peppers and onions into 1/2 inch diced size pieces. Saute in a tablespoon of olive oil for 3 minutes with the garlic. Remove from heat into a bowl.
Cut the chicken into bite size pieces. Salt and pepper to season the pieces. Add to the pan where your fried the peppers with additional oil as needed. Quickly brown over high heat on each side but do not cook thru. Remove to bowl.
Cut chorizo into 1/2 inch pieces. Quickly brown the chorizo. Add to the bowl with the peppers and chicken.
Add the tomatoes and chicken broth to the skillet. Bring to a boil. Add the saffron and bay leaves. Stir in the rice. Cook for about 5 minutes. Then add everything in the bowl to the rice. Continue to cook over medium heat until rice is tender, about 12 - 15 more minutes. Remove bay leaves before serving.
Maybe you'd like to try our recipe for?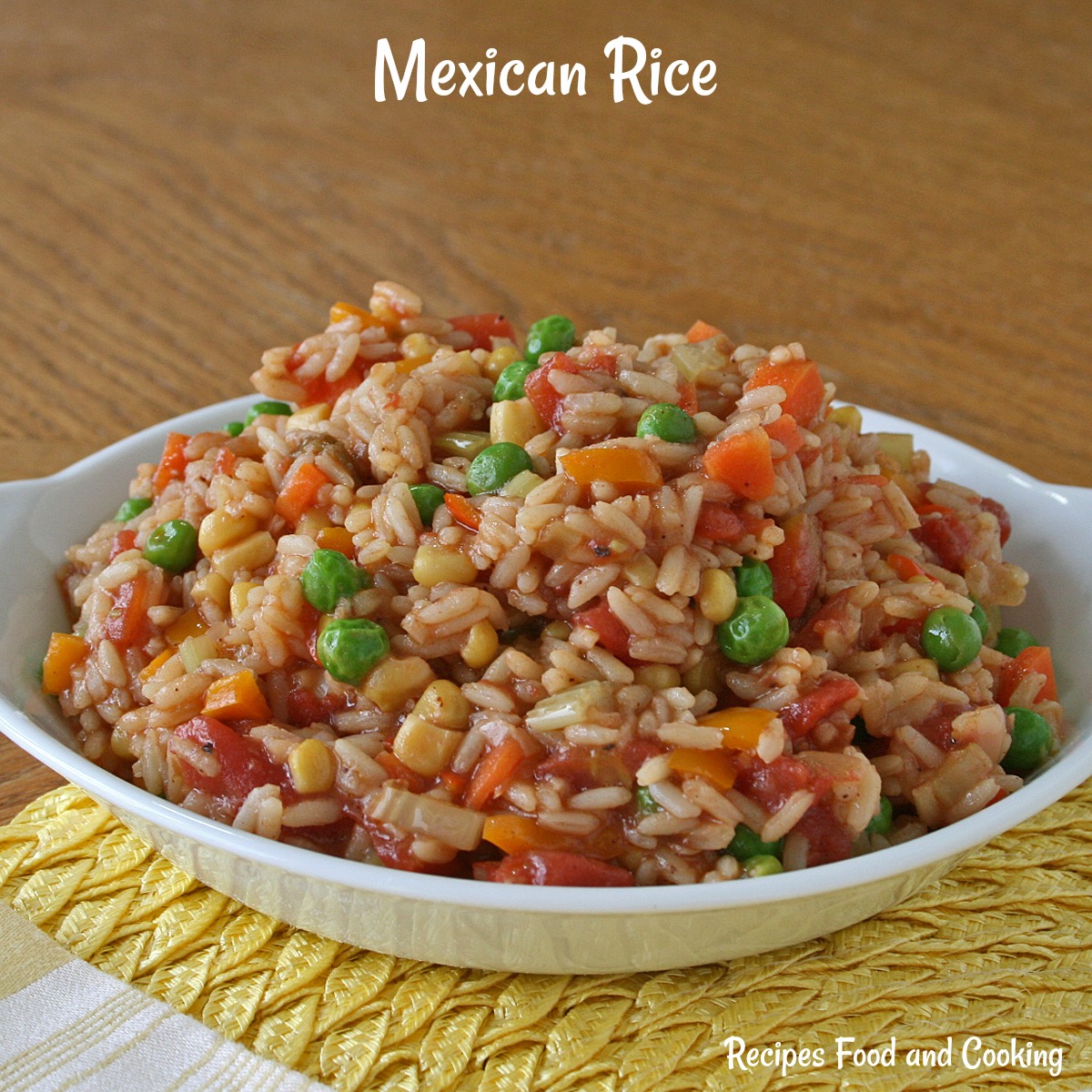 Chicken with Brown Rice and Mushrooms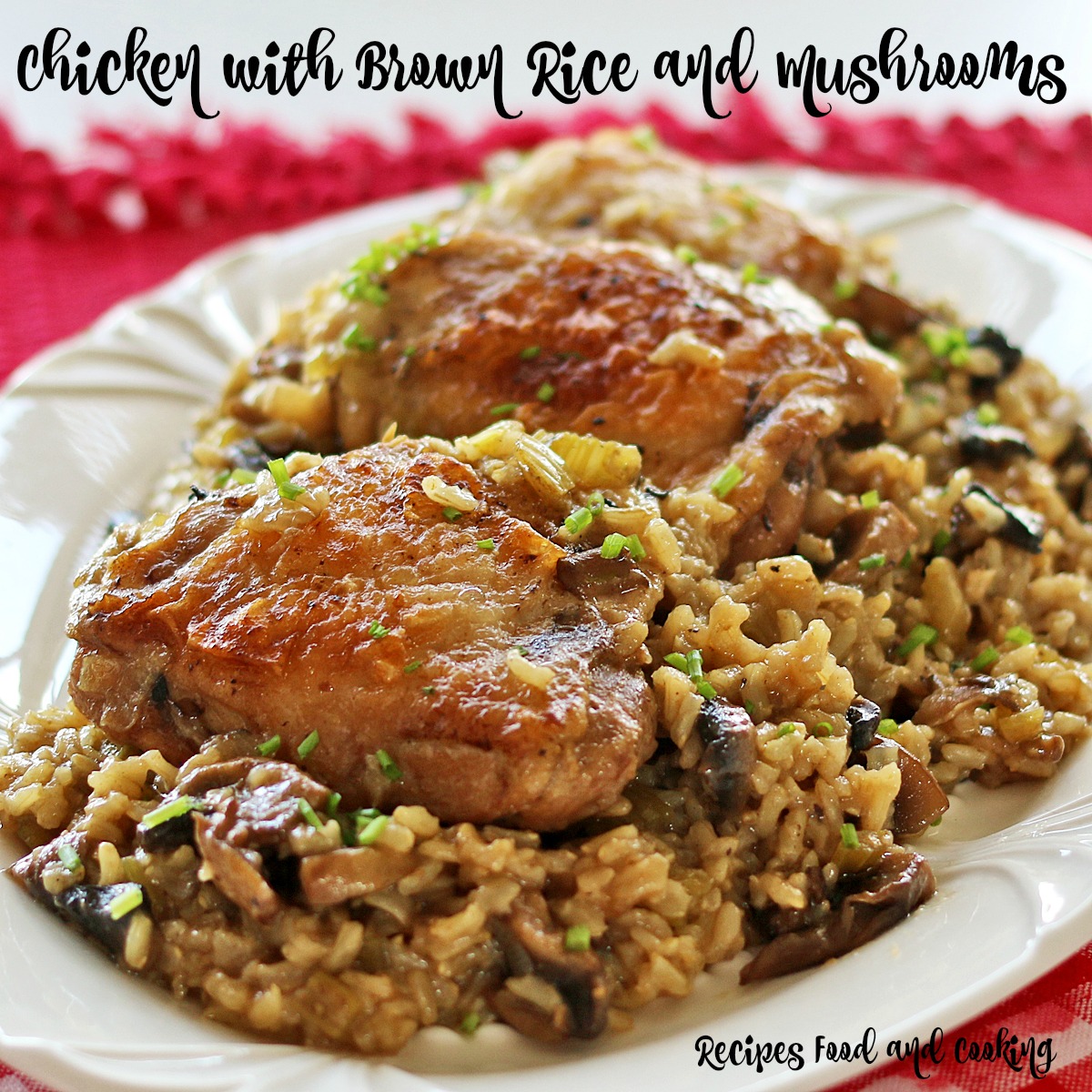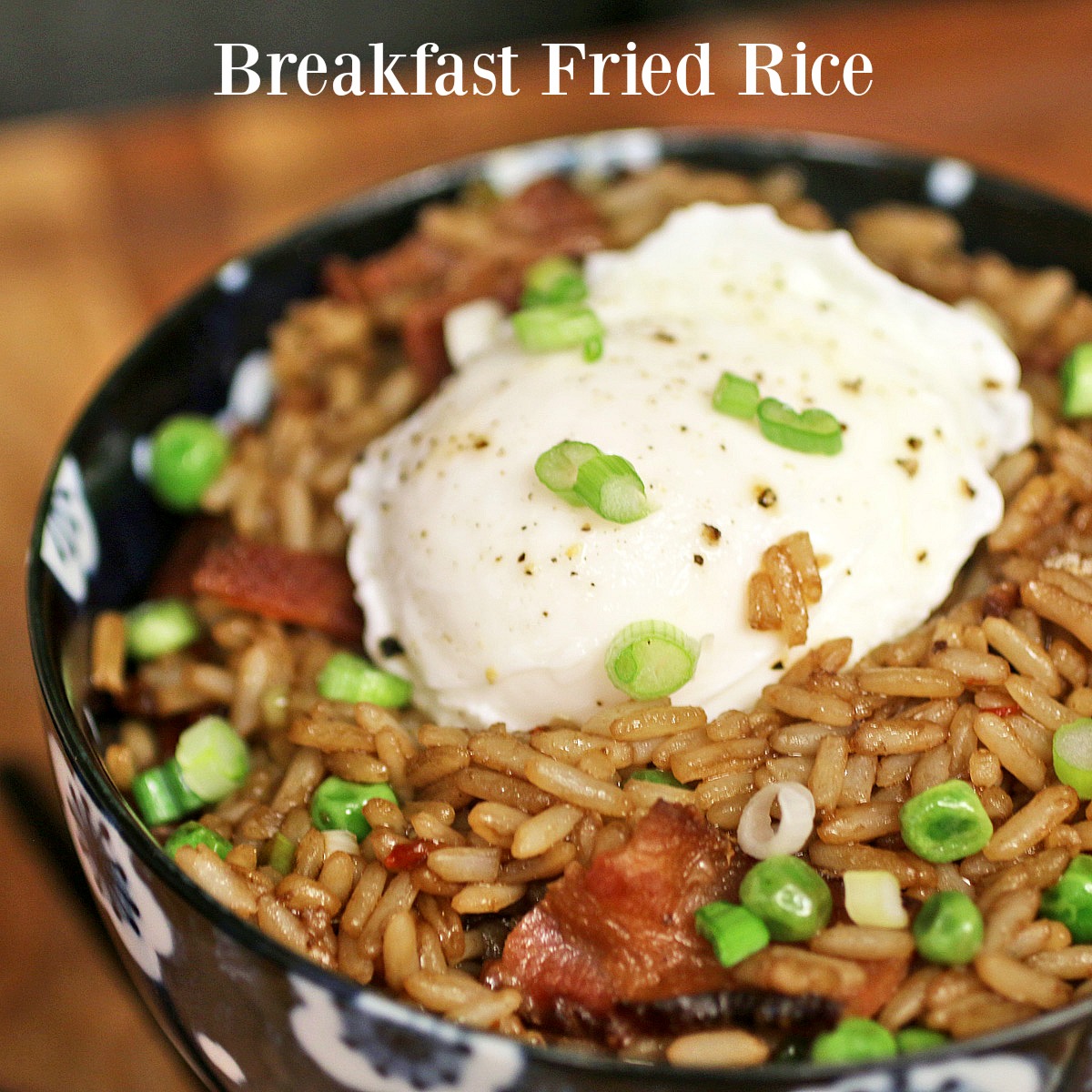 Pin It!