Stuffed Peppers
I was the lucky recipient of a bag of peppers from my cousins garden when she came to visit. Now it is very hard for one person to use up as many as she gave me but I am giving it a try. I made this batch of stuffed peppers and am going to put a couple in the freezer for one of those nights I don't feel like cooking. OK gasp! Yes, I have those days along with everyone else.
I made my mom's Spanish rice to stuff them with. The recipe below will make 6 half stuffed green peppers, I did 4 and froze the extra Spanish rice for an easy lunch one day. This is how I get around cooking for 1 or 2 people. It can be so hard to do when you are used to cooking for many and I want to share something with you several times during the week.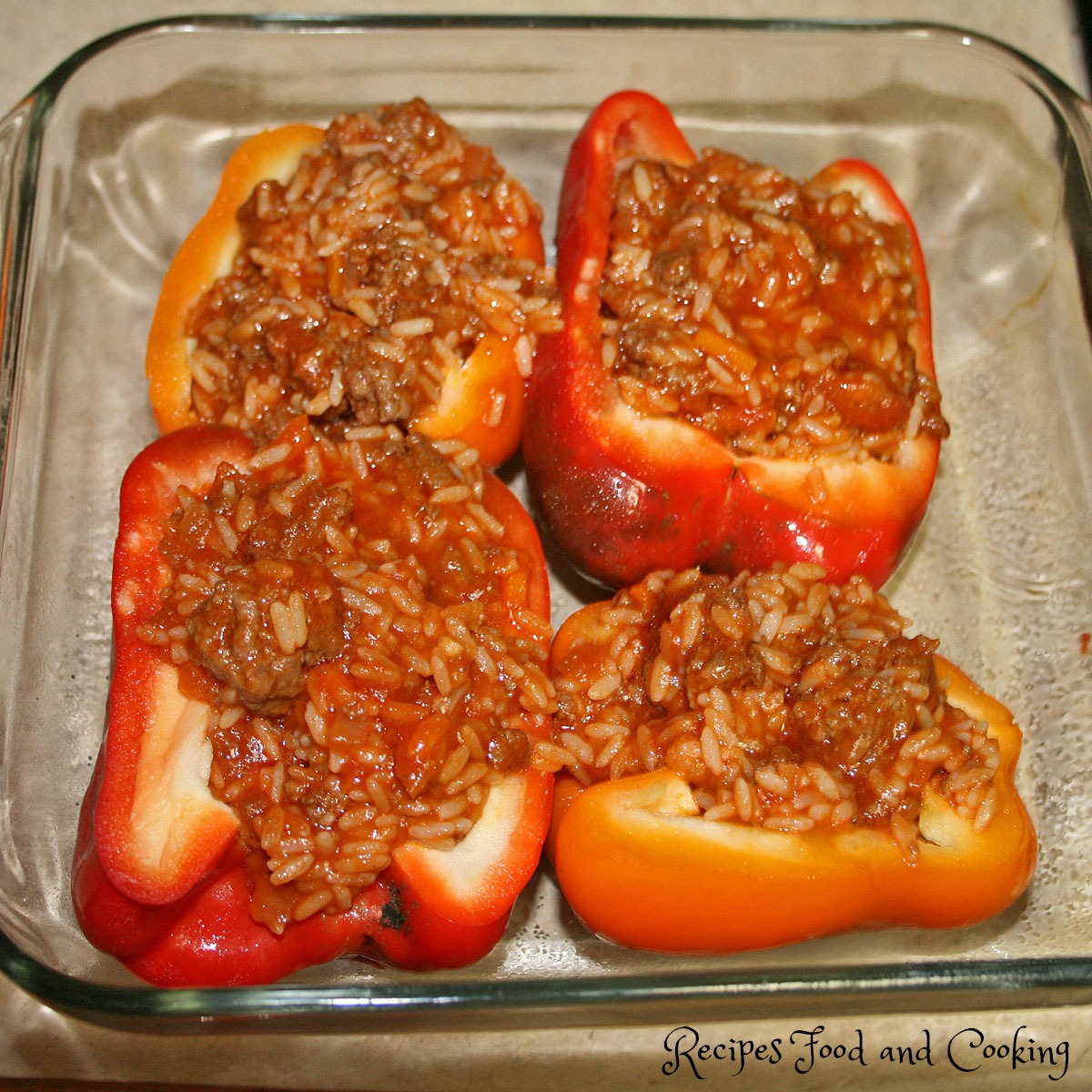 Stuffed Peppers Before They Went Into the Oven
You can see above I sliced the peppers down the center lengthwise. I always used to just take off the top and stuff the whole pepper. Unless you can find smaller peppers they are just too big it seems so I started doing them this way and for me it seems to work better. I also only cook the rice 10 minutes before stuffing the peppers. This way it won't overcook in the peppers.
You'll notice in the pictures my peppers weren't green. Green peppers work well but when you see these colors of the peppers, they are usually sweeter and more mature. Red, orange or yellow peppers are just a more mature green pepper. When buying peppers look for one that are firm, shiny and wrinkle free.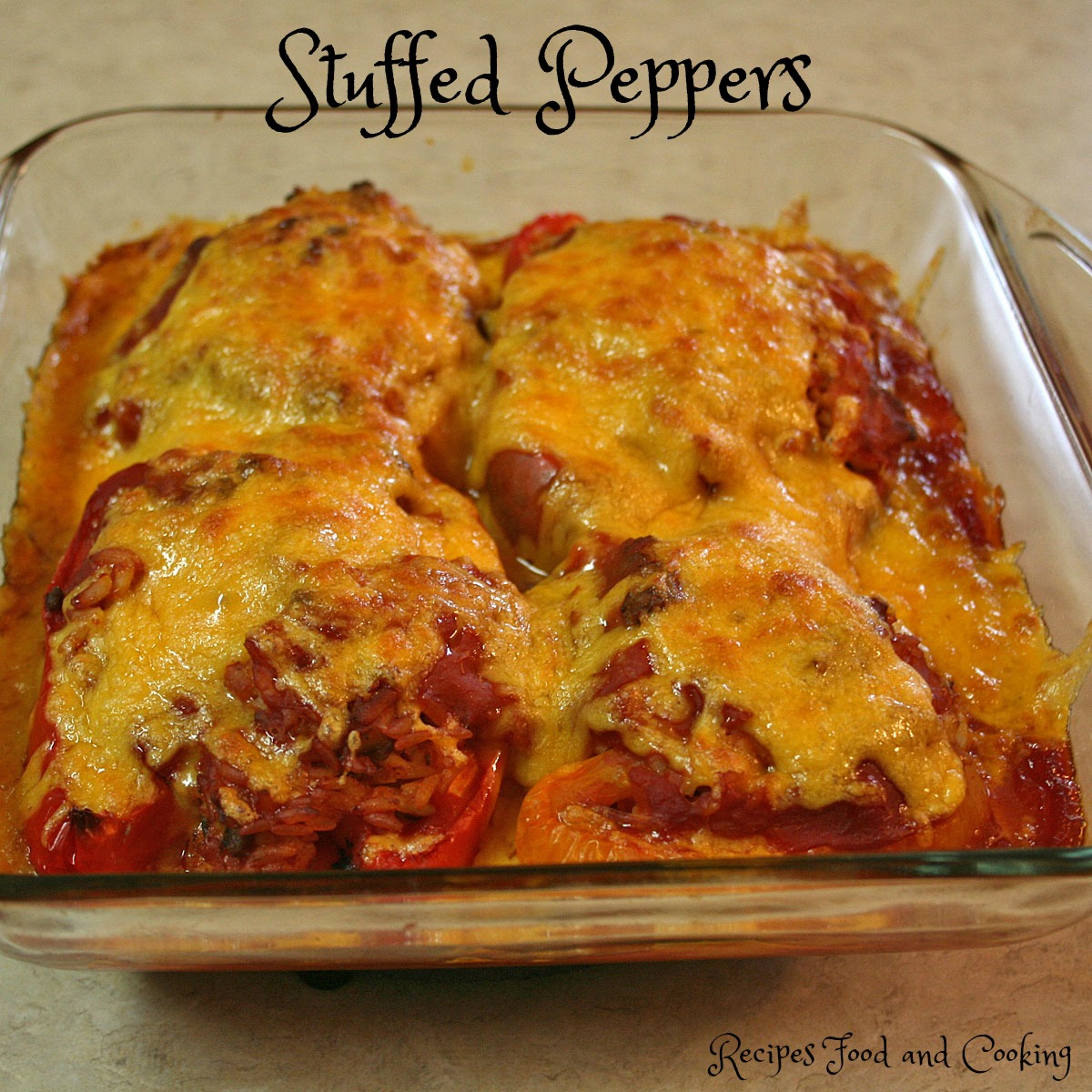 How to Make - Stuffed Peppers!
Recipe type:
Beef, Main Dish
Prep time:
Cook time:
Total time:
Serves:
6 stuffed peppers
Stuffed Peppers are made with savory spanish rice stuffed in peppers, topped with cheddar cheese.
Ingredients
1 1/4 lbs. ground beef
1 onion - diced
2 garlic cloves
1 small can tomato paste
3 cups water
1 cup Uncle Ben's rice - not quick rice
salt and pepper
1 teaspoon basil
1/2 teaspoon oregano
3 green, red or yellow peppers

1 can tomato soup

1 soup can water
1 cup sharp cheddar cheese
Instructions
Brown ground beef in a pan over medium heat. Add onion and cook until softened. Add the spices, tomato paste and water. Cook for 15 minutes. Add rice and cook another 10 minutes.
Preheat oven to 375 degrees.
Cut peppers in half, (through the stem) and remove seeds. Remove the stem from each of the halves. Place cut side up in a greased casserole dish that will fit all of your peppers in a flat layer.
Spoon in Spanish rice mixture level with the tops of the peppers. Mix the soup with the water. Pour the soup over the peppers and any remaining in the bottom of the dish. Cover dish tightly with a lid or aluminum foil. Bake for about 1 hour. Check to make sure peppers are tender.

Sprinkle with cheddar cheese. Place under broiler until cheese melts.
Maybe you'd like to try our recipe for?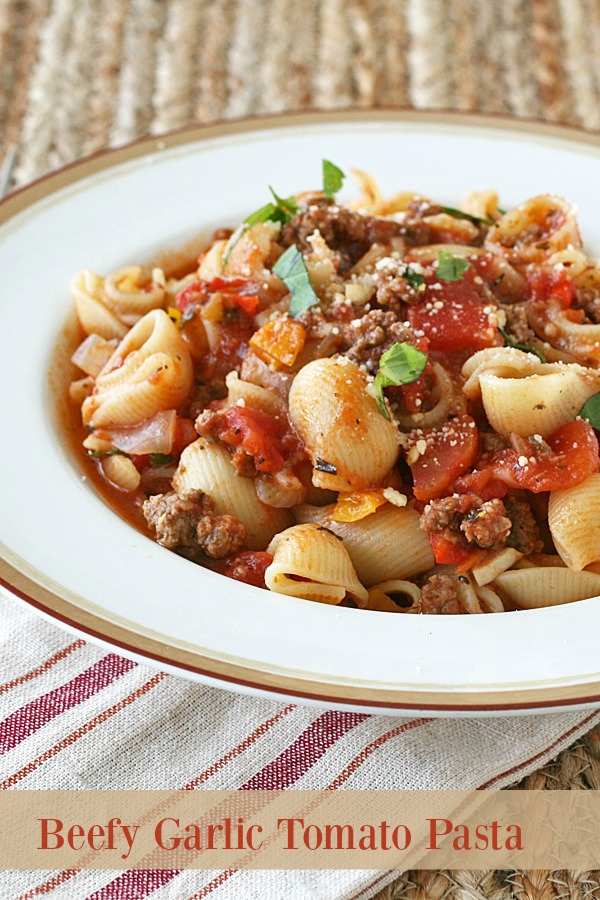 Beef Tenderloin Tips with Brown Rice and Asparagus
Pin It!