Pumpkin Ooey Gooey Butter Cake
It's that time of year when the colors start to change and we all start thinking about apple and pumpkin recipes. I decided to start September out right with a new Ooey Gooey Butter Cake this time made with pumpkin. I hope you love it as much as we did.
You start out with a cake mix bottom, then a pumpkin cream cheese topping, topped off with whipped cream and toffee bits! You can put this together in less than 15 minutes and it bakes in a little over an hour depending on your oven. This kind of cake is better at room temperature and it does need to be refrigerated. Be sure to take it out of the refrigerator at least 30 minutes before serving.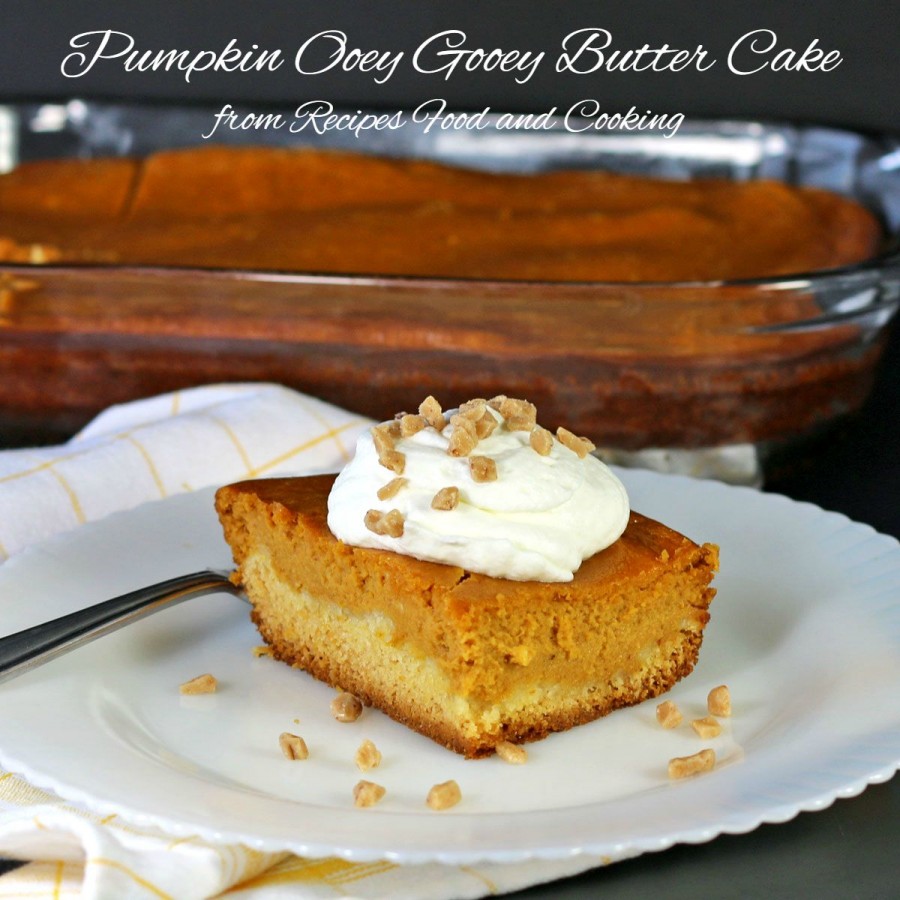 Sometimes because of the long baking times of these cakes I get lots of questions about them. I start checking them at about 50 minutes into the baking time. This one baked for 1 hour and 10 minutes in my oven. All ovens are different and baking times can be different from one oven to another. A tester will pull out clean when it is done. It will also be slightly puffed in the center. Here is a pic of when mine came out of the oven. They tend to also fall a bit in the center as they cool. See my other 8 Ooey Gooey Butter Cakes here. I love baking these cakes! They are always a hit when served.
One thing that can help keep any kind of cake like this level is to use Wilton Bake Strips. To use them just wet them and wrap them around the outside of the pan. I love using them and they will make a difference in baking cakes if you use them. Today I forgot to use them until I got this cake in the oven so this cake was baked without them. It looks level now because it just came out of the oven but it will fall in the center slightly as it cools.
Pumpkin Ooey Gooey Butter Cake
Recipe type:
Cake, Dessert
Prep time:
Cook time:
Total time:
Cake bottom layer with a creamy pumpkin cheesecake filling. Top with whipped cream to serve.
Ingredients
Cake layer
1 yellow cake mix
1/2 cup butter melted
1 egg
1/4 cup water
Topping
8 oz. cream cheese at room temperature
1 16 oz. can of pumpkin
3 eggs
1/4 cup butter
1/2 cup sugar
2 1/2 cups confectionery sugar
1/2 cup heavy cream
2 teaspoons cinnamon
1/2 teaspoon ginger
few sprinkles nutmeg
Whipped Cream
1 cup heavy cream
1 teaspoon vanilla
1/3 cup sugar
Toffee Bits
Instructions
Preheat oven to 325 degrees.
Put the cake mix, butter, egg and water in a mixing bowl. Beat until thoroughly mixed. Spread on the bottom of a 9 x 12 pan.
Put all of the topping ingredients in a mixer bowl. Mix until everything is thoroughly combined. Pour over the cake layer.
Bake for about 60 minutes. Mixture will be puffed in the center when done and a cake tester or toothpick will pull out clean.
To serve whip the heavy cream with the vanilla and sugar until soft peaks form. Top cake and then sprinkle on a few toffee bits.
Notes
This cake baked for 1 hour and 10 minutes. I started checking it at 50 minutes and in 10 minute intervals after that. Every oven bakes differently. A tester will pull clean when the cake is done and center will be slightly puffed.
Maybe you'd like to try our recipe for?
 3 Ingredient Pumpkin Cake with Apple Cider Glaze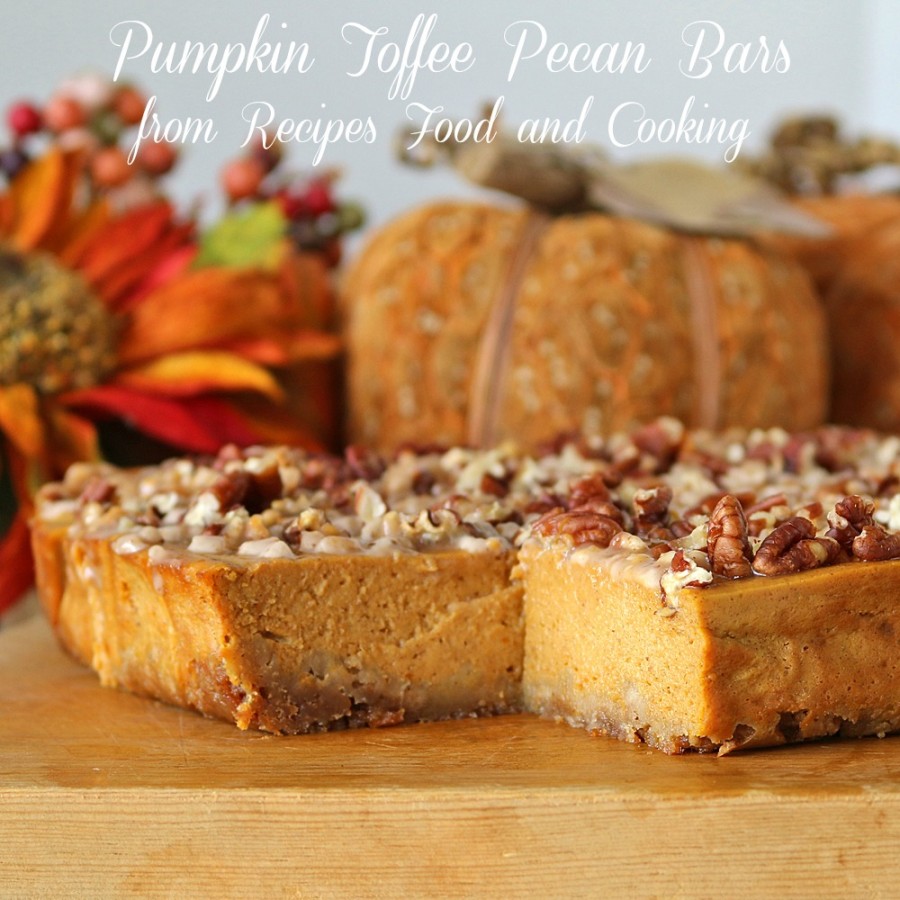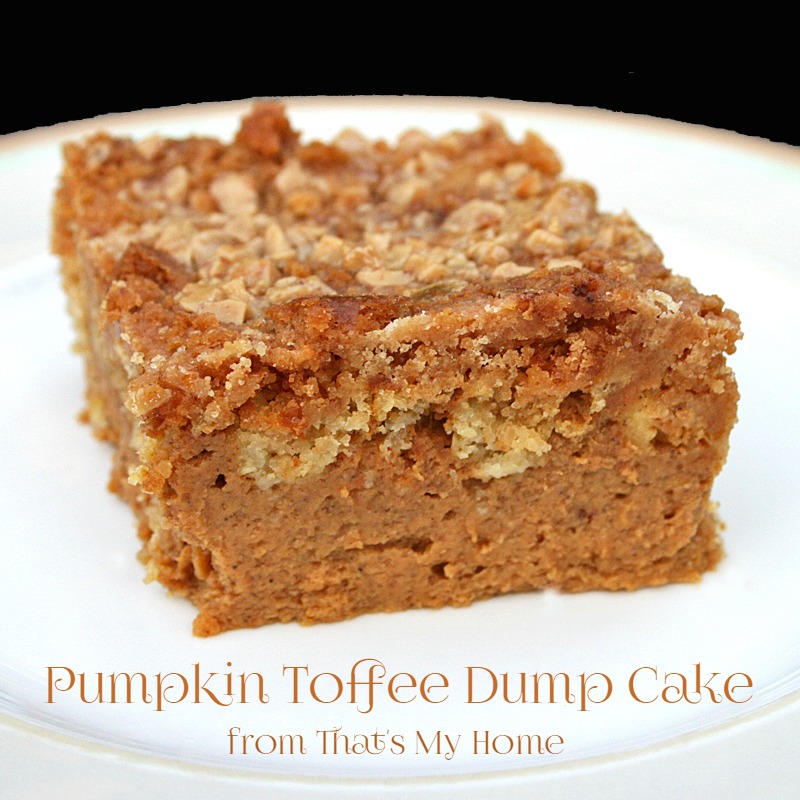 Pin It!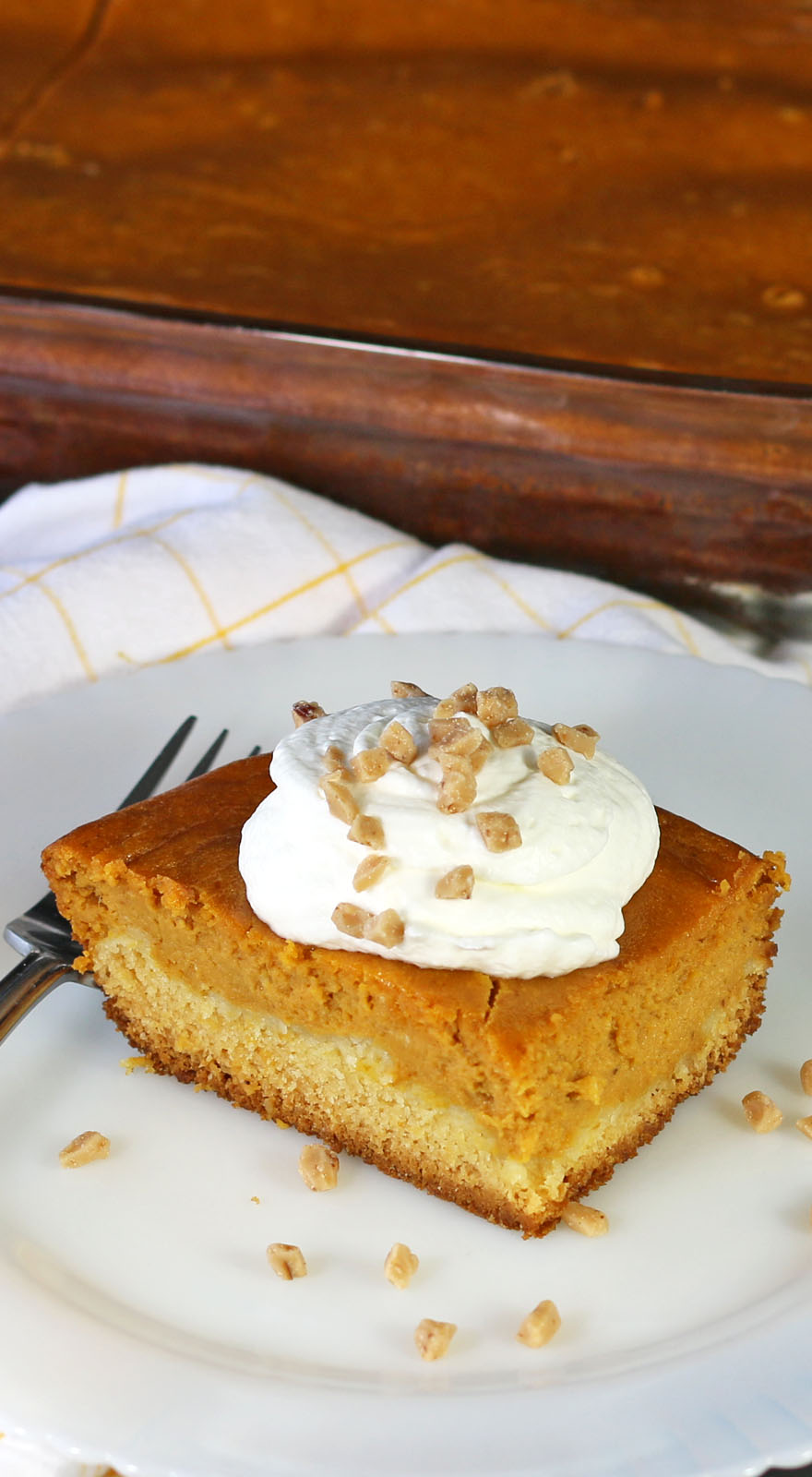 I'd love it if you followed me!
Facebook//Google+ //Pinterest//Twitter