3 Ingredient Pumpkin Cake with Apple Cider Glaze.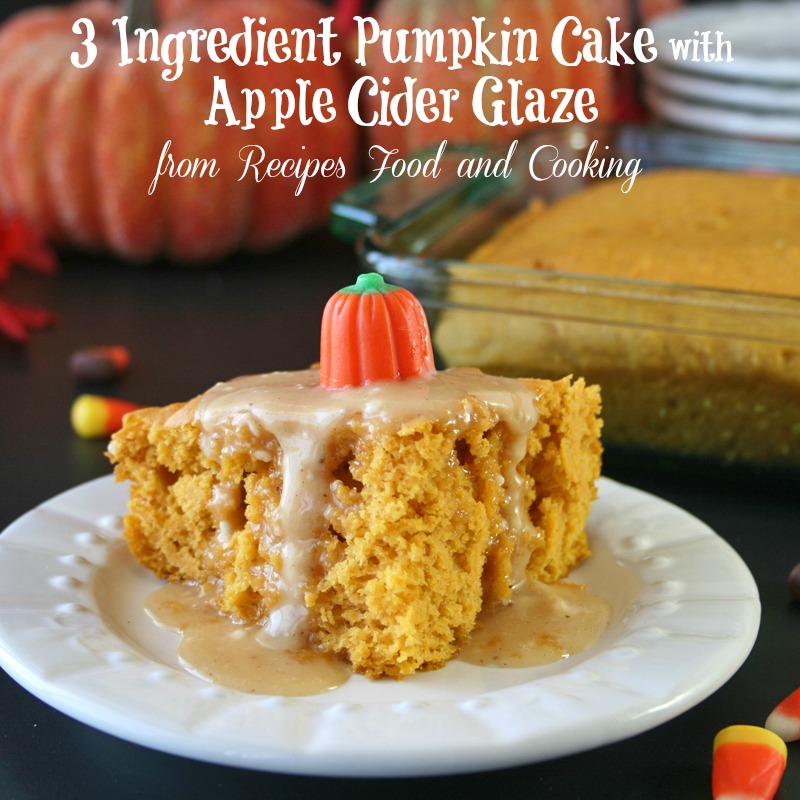 3 Ingredient Pumpkin Cake with Apple Cider Glaze
Need a fast dessert? This just might be it! It only has 3 ingredients in it, a yellow cake mix, a can of pumpkin and eggs! It is so light and delicious no one will believe how simple it was.
The apple cider glaze is made after reducing a little bit of cider to really enhance the flavor. Reducing cider is one of the best ways I know to enhance the flavor or whatever you are adding it too for a fresh apple taste. It will take less than 5 minutes to reduce the cider needed for this recipe but watch it carefully towards the end as it can burn very quickly. When you see those large bubbles form it is done. I am actually now reducing cider a couple of cups at a time and keeping it in the refrigerator so I can add it to anything. It is amazing what a flavor enhancer this is.
I have been meaning to try adding the cake baking strips I use around my pans when baking a cake to keep it from getting such a rounded center. They make the cake bake way more evenly, I rarely bake a cake without using them. I think they might have one large enough for a 9 x 13 pan available but I just put mine together and then tightened them around my glass pan. There was a little gap compared to how well they fit on a round pan but they worked well. I was so excited to see it worked! My cake was almost level all the way across. If you have never used them you might want to consider buying them.
3 Ingredient Pumpkin Cake
Prep time:
Cook time:
Total time:
3 Ingredient Pumpkin cake is easy to make and so delicious when topped with our apple cider glaze.
Ingredients
1 yellow cake mix
1 15 oz. can pumpkin - not pie mix
2 eggs
Glaze
1/3 cup apple cider
1/3 cup milk
1 1/2 cups confectioner's sugar
1/2 teaspoon pumpkin pie spice
Instructions
Mix the cake mix, pumpkin and eggs together. It will be thick. Spread the batter out in a greased 9 x 13 pan. Bake for about 35 minutes at 325 degrees if baking in a glass pan or 350 degrees in any other pan.
Reduce the cider by half. Add milk, pumpkin pie spice and confectioner's sugar when cider is cool, If glaze is too thick add a little more cider and stir until the right consistency. Set aside until ready to use.
Maybe you'd like to try?