Aunt Jennie's Sugar Cookies have a hint of lemon and are rolled in sugar.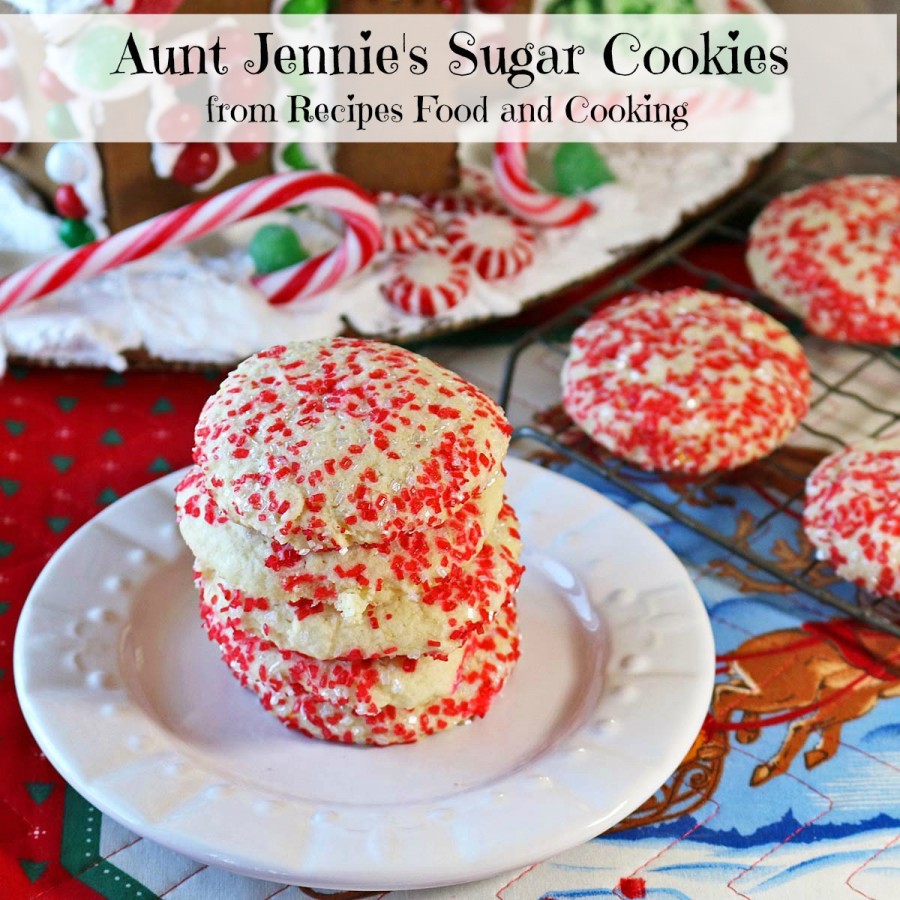 Aunt Jennie's Sugar Cookies
This recipe has been passed down and until recently I could never figure out who Aunt Jenny was. A look at the family tree revealed no clues. No matter how hard you shook that family tree there was no Aunt Jennie was.  One day I was browsing on Ebay looking for old cook booklets that brands did and I saw a brand of shortening called Aunt Jennie. Could it be I had found our missing aunt? I waited patiently for the booklet to come and sure enough on the inside cover was Aunt Jennie's Sugar Cookies. I had found our so called missing relative.
I think Aunt Jennie's shortening was popular in the 1950's in the south, I don't believe it is available now. The good news is this recipe lives on. It is a very simple sugar cookie to make and the secret to them is not to add to much flour. If you add additional flour you will have a dry cookie and that's not a good thing. I dressed these up for Christmas with some red sanding sugar mixed with a little regular sugar.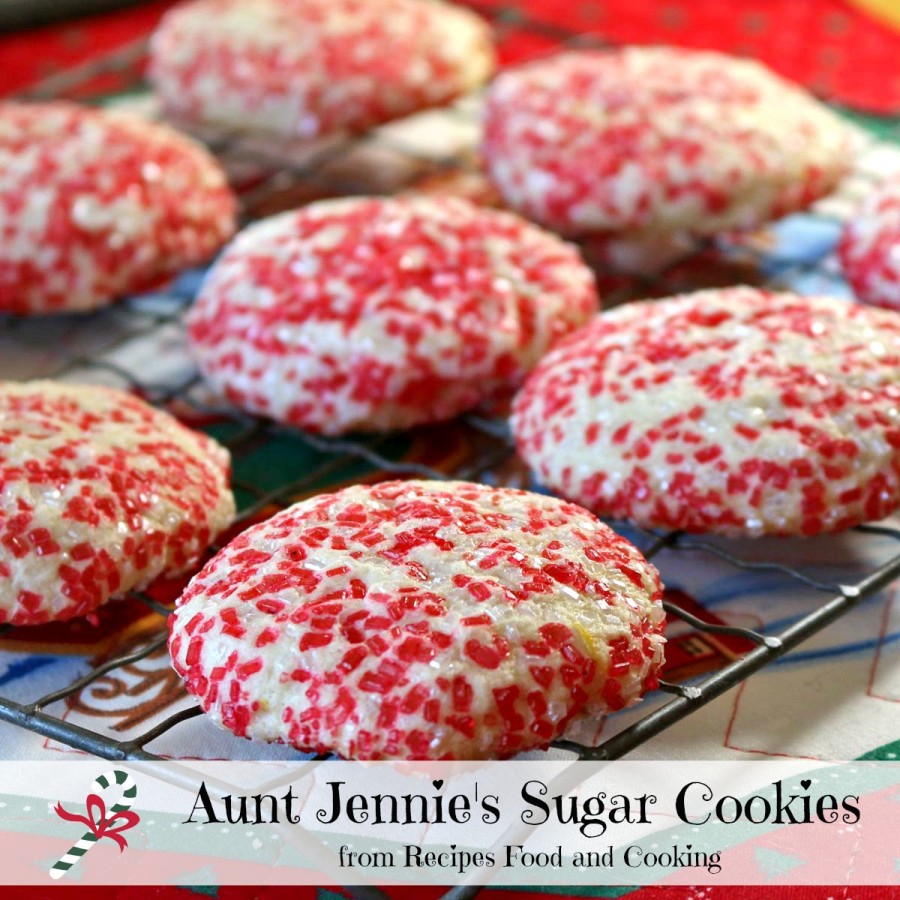 This is a great recipe for a budding cook to try out because they really are an easy cookie to make. To ensure I make all of my cookies the same size I use a small scoop to portion out the dough. Makes easy work of it and ensures all cookies require the same baking time.
Aunt Jennie's Sugar Cookies
Prep time:
Cook time:
Total time:
Aunt Jennie's Sugar Cookies have a hint of lemon and are rolled in sugar.
Ingredients
1/2 cup shortening
1/2 teaspoon lemon rind
1/2 teaspoon nutmeg
1/2 teaspoon salt
1 cup sugar
2 eggs, well beaten
2 tablespoons milk
2 cup flour
1 teaspoon baking powder
1/2 teaspoon soda
Instructions
Combine crisco, lemon rind, nutmeg and salt. Add sugar gradually, add beaten eggs and milk. Mix well. Add flour sifted with baking powder and soda. Mix well.
Drop from a teaspoon onto a greased cookie sheet. Roll in sugar
Let stand a few minutes, then flatten with a damp cloth-covered glass that is dipped in the sugar.
Bake at 375°F. for 8-12 minutes.
Maybe you'd like to try?