Pumpkin Stuffing Bread flavored with sage, thyme and rosemary.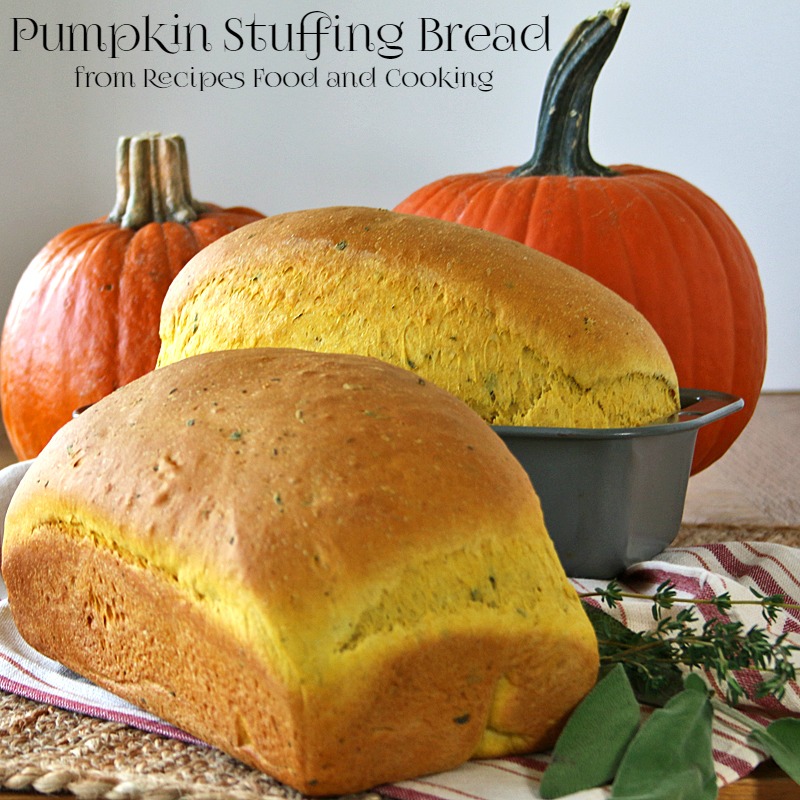 Pumpkin Stuffing Bread
I made this recipe last week and used some of it for a stuffing mix for a turkey I cooked over the weekend. The texture is perfect for stuffing or even sandwiches. What I didn't do when I made it last week was to add fresh herbs to the dough when I made it yesterday. I used lots of fresh sage, some rosemary and thyme. It was about 1/3 cup of fresh herbs with the bulk of it being the sage.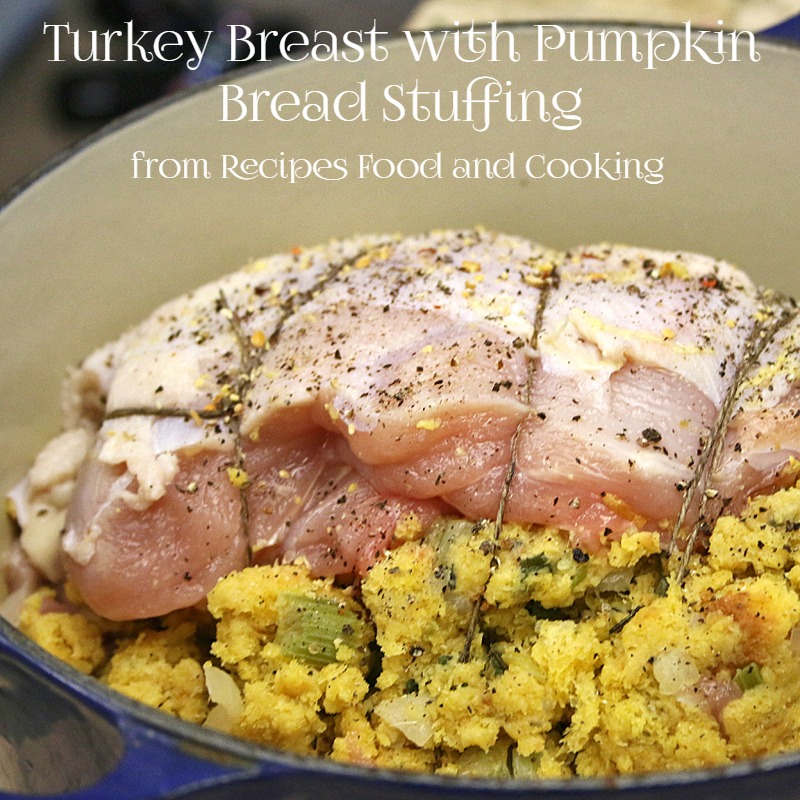 Here is the stuffing I made using the pumpkin bread. It tasted amazing and I love the flavor of the pumpkin. Above is a boned turkey breast with stuffing in between the halves, it was then tied before baking. For a small family a turkey breast like this one is perfect for Thanksgiving Day, with 4 people you should have some leftovers. If you are looking to change something up for your Thanksgiving dinner this pumpkin stuffing bread might just be your answer. I'll be sharing this recipe later in the week.
Note: If you don't have fresh herbs on hand for this recipe you could substitute with the herbs used in the Herbed Turkey Stuffing Bread recipe below.
Pumpkin Stuffing Bread
Prep time:
Cook time:
Total time:
Serves:
2 loaves of bread
Loaves of pumpkin bread with fresh sage, rosemary and thyme, perfect for stuffing or sandwiches.
Ingredients
2/3 cup warm milk
6 tablespoons butter
2 eggs
1 cup solid pack pumpkin
2 packages instant yeast
1/4 cup warm water - 100 - 115 degrees
5 cups all purpose flour - may need a little more
2 tablespoons sugar
1 teaspoon salt
10 - 12 large sage leaves
3 sprigs of thyme
1 stem of rosemary - about 4 inches long
Instructions
Chop the herbs and set aside.
Melt the butter in the microwave. Add the milk and microwave for 15 seconds until milk is barely warm.
Add 1 teaspoon of the sugar, yeast and warm water to a small bowl. Stir to combine and let set for 5 minutes until mixture is bubbly.
Add the flour, sugar and salt to your work bowl. Give it a stir using a spoon or a dough hook to combine all.
Beat the eggs in a separate bowl.
Add the milk mixture, eggs, herbs and pumpkin to the flour mixture. Stir until the mixture is thoroughly combined. Knead the bread on a floured surface or use the dough hook and beat the dough at least 5 minutes. Dough should pull away from the sides of the bowl and become satiny.
Cover the bowl and let dough rise until doubled. If you have time punch the dough down and let the dough rise a second time.
Divide the dough in half and shape into loaves. Put loaves in a greased bread pan.
Preheat oven to 350 degrees.
Bake for about 40 minutes or until the loaves sound hollow when you tap on them.
Maybe you'd like to try?