Boneless Turkey Breast with Pumpkin and Sage Stuffing.

Boneless Turkey Breast with Pumpkin Stuffing
Pumpkin Stuffing? Sure enough and wait until you taste it! I have been making my own stuffing bread for years and this year when I made some pumpkin dinner rolls for a blogger dinner I am in, I had a light bulb moment and decided to make stuffing bread with pumpkin in it. I love the color but the flavor is so good, there is just a hint of pumpkin flavor but the herbs in the bread really stand out. I think fresh sage is one of my favorite flavors of fall.
I bought a bone in  turkey breast and removed it from the bone. If you've never done it before, it is pretty easy once you do it a few times. You basically let the knife follow the structure of the breast bones. Cut across the top so that you have 2 halves. I find it easier to start at the bottom and then following the bones go up to the top. As you can see the stuffing is overflowing and that's to be expected if you want enough stuffing to make sure everyone gets some. When you put the turkey together, make sure that you put one side down, then some stuffing and flip the other piece on top. This way you have a thick end and thin end on the same side. It makes the breast cook more evenly. Tie the pieces together and place in the covered pan you are going to cook it in. I am using my Dutch oven.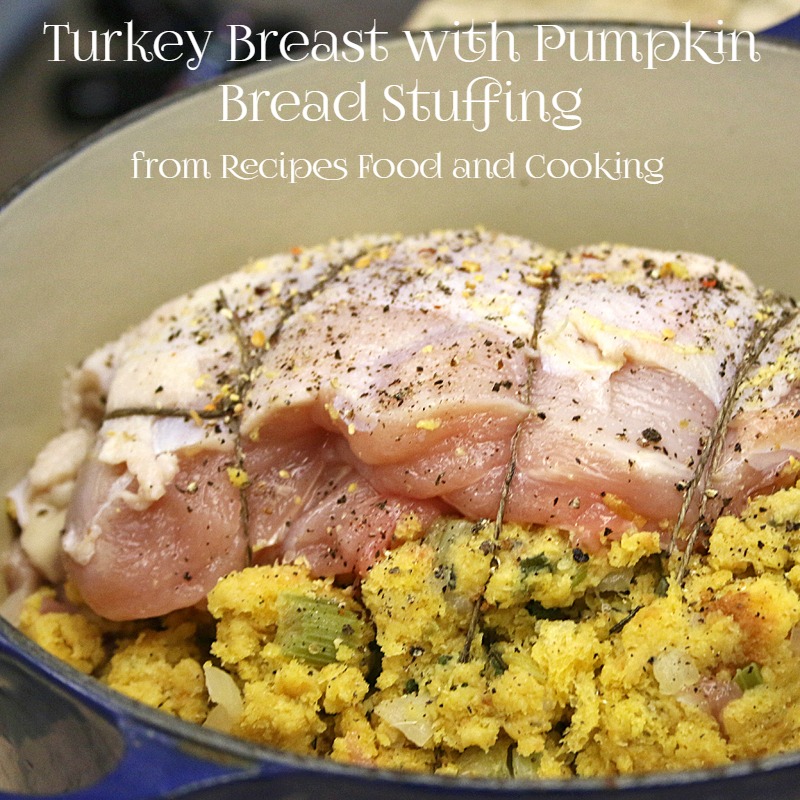 Make sure to season your turkey breast well. You can see how much the stuffing expanded by comparing the pictures. I cooked this at 300 degrees for just over 3 hours until the temperature of the thickest part of the breast was 170° F. This was just over a 5 lb. turkey breast before boning it. If boning a turkey is something you don't feel comfortable doing, don't! Season the breast well and pack the stuffing into the cavity the best you can. I find it so much easier to cut and serve when it's boned.
If you're looking for Turkey and Stuffing Recipes, be sure to check out Razzle Dazzle Recipes.
Boneless Turkey Breast with Pumpkin Stuffing
Prep time:
Cook time:
Total time:
Boneless turkey breast stuffed with a tasty pumpkin and sage dressing.
Ingredients
5 lb. turkey breast boned
1/2 loaf pumpkin stuffing bread
2 stalks celery
1 cup chopped onion
1 tablespoon butter
1/4 - 1/2 cup chicken stock
6 sage leaves - chopped
1 sprig thyme
salt and pepper
1/2 cup water
Instructions
Saute the chopped celery and onion in the butter until softened with the sage and thyme.
Tear the bread into bite size pieces. Add the vegetables and 1/4 cup chicken stock. If needed add additional chicken stock until dressing is moist, but not wet.
Season the turkey breast halves with salt and pepper. I also used Trader Joe's Everyday Seasoning.
Take one of the turkey breast halves and lay it on a cutting board. Place the stuffing on top of the turkey breast. Flip the remaining turkey breast on top of the stuffing so that you have one skinny and one fat end. Tie the meat and stuffing together.
Place in a covered pan that can go in the oven. Add water. Cover and roast turkey at 300 degrees until it reaches 170 in the thickest part of the turkey breast or 165 if the thermometer is placed in the center the stuffing.
Maybe you'd like to try?