Delicious loaf of Apple Streusel Pecan Bread with shredded apples, cinnamon and pecans.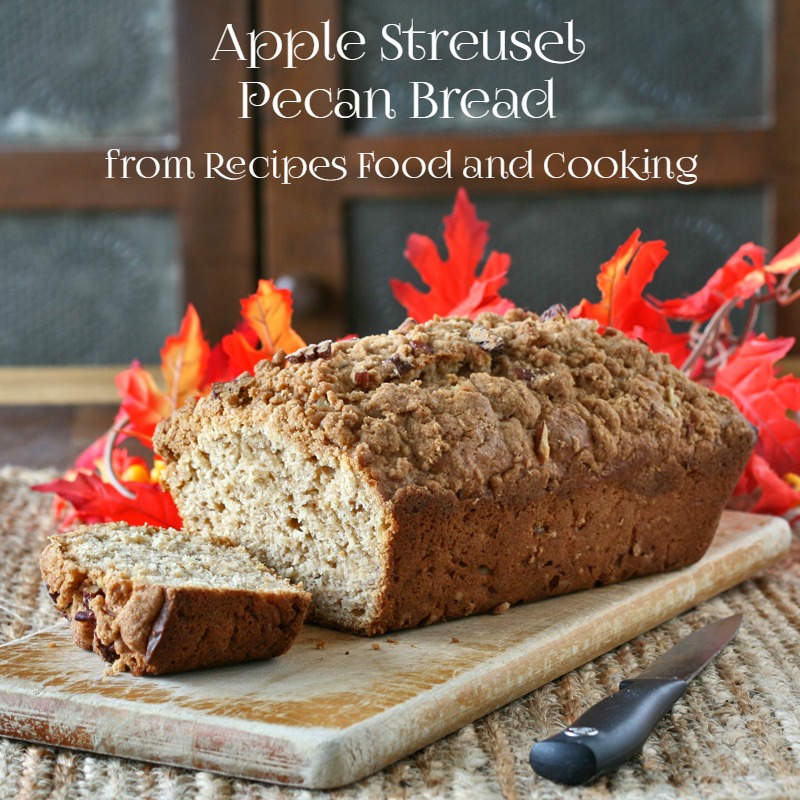 Apple Streusel Pecan Bread
Fall and apples go hand in hand to me. You can't have one without the other unless you live in Florida and there aren't any trips to the cider mill or changing leaves. So what do I do to get in the mood? I look for bags of apples from Michigan! Hard to believe I'm admitting this out loud but a girl has to do what a girl needs to do. It helps and I buy every variety I can find. I have a whole shelf in my refrigerator right now with only apples on it. Today I made this delicious Apple Streusel Pecan Bread and some fake fried apples. If you're wondering what fake fried apples are, there was no frying allowed instead they took a bath in some apple cider I found from Michigan. In case you're wondering what's the deal with Michigan, that is where I grew up.
We went to the cider mill on the weekends and got the best warm donuts in cinnamon sugar. We'd watch them crushing the apples to make cider which at the time was only 10 cents a glass. I think donuts were 5 cents. Yes. I'm old….. LOL
This is an easy bread to put together. You can use a hand mixer or a stand mixer. If it wasn't for having to cream the butter and sugars I'd say just a bowl and spoon will work too but it will take a bit of effort. The apples are grated so the apple flavor is in every bite, especially the second day. I used both Granny Smith and Galas in my bread.
Apple Streusel Pecan Bread
Prep time:
Cook time:
Total time:
Delicious loaf of Apple Streusel Pecan Bread with shredded apples, cinnamon and pecans.
Ingredients
Batter
1/2 cup butter, softened
1/2 cup sugar
1/2 cup brown sugar
1/4 cup buttermilk
2 teaspoons baking powder
2 eggs
1 1/2 teaspoon vanilla
2 cups flour
2 teaspoons cinnamon
1/2 teaspoon salt
2 cups apple - shredded, peeled
1/2 cup chopped pecans
Streusel Topping
1/4 cup brown sugar
3 tablespoons flour
1/4 teaspoon cinnamon
2 tablespoons butter
1/4 cup pecans - chopped
Instructions
Preheat oven to 350 degrees. Spray a bread pan with cooking spray.
Mix together topping ingredients in a small bowl and set aside.
Cream together the butter and sugars in a mixing bowl.
Add the eggs and vanilla and mix until incorporated.
Add the buttermilk and mix well.
Add the flour, cinnamon, baking powder and salt. Mix together.
Add apples and pecans. Mix until just incorporated.
Bake for about 60 minutes or until a tester comes out clean.
Maybe you'd like to try?
One of my favorite recipes for Apple Chips