Banana Cream Cheese Bread – Banana bread with a cream cheese filling.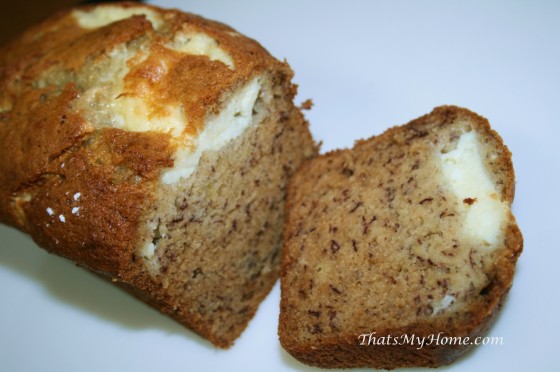 Banana Cream Cheese Bread
I had some really ripe bananas and had seen a recipe by Joanna Chang that uses oil in it instead of the butter I would of normally used. I never really thought butter added that much to this bread so I figured I would try this and see. It did not disappoint! I always had thought banana bread was better the second day but with this recipe you don't need to wait. The bread is very moist and when you add the cream cheese filling it is over the top.
I actually made 2 loaves with this recipe as you can see in the picture below. I also didn't take a picture of the bigger loaf and in that one the cream cheese filling was more centered. I had concerns that the cream cheese would go to the bottom of the pan so I tried it both ways to see. Much to my surprise the cream cheese filling stays where you put it, no sinking!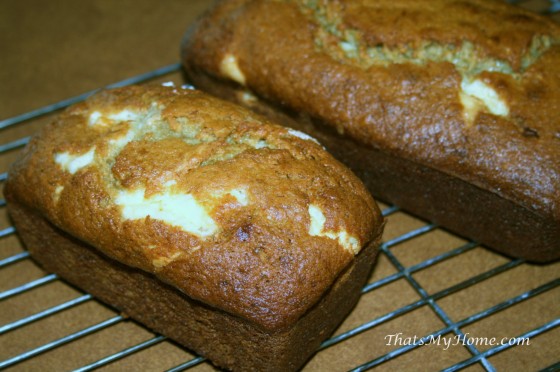 Banana Cream Cheese Bread
Prep time:
Cook time:
Total time:
Banana bread with a cream cheese filling.
Ingredients
2 cups all-purpose flour
1 teaspoon baking soda
1/4 teaspoon ground cinnamon
1/2 teaspoon salt
1 cup plus 2 tablespoons sugar
2 eggs
1/2 cup oil
3 1/2 bananas, very ripe, mashed
2 tablespoons sour cream
1 teaspoon vanilla extract
2/3 cup walnuts, toasted and chopped
Filling
8 oz. cream cheese
1/3 cup sugar
1 egg
1 teaspoon vanilla
dash salt
Instructions
Set oven to 350 degrees F. Line the bottom of a loaf pan with parchment paper.
Make filling first and set aside. Mix all ingredients together in a bowl until smooth and creamy.
Sift together the flour, baking soda, cinnamon and salt. Beat sugar and eggs with a whisk until light and fluffy, about 10 minutes. Drizzle in oil. Add mashed bananas, sour cream, and vanilla. Fold in dry ingredients and nuts.
Pour half of the batter into pan. Spoon filling over batter. Top with remaining batter.
Pour into a lined loaf pan and bake for about 45 minutes to 1 hour.
Notes
Baking time could be as long as 60 minutes

Banana Bread recipe modified from Flour - by Joanna Chang
Cinnamon Sugar Bread