Spiced Apple Ooey Gooey Butter Cake has a cake bottom, a spicy apple filling and topped with an ooey gooey cream cheese mixture.

Spiced Apple Ooey Gooey Butter Cake
Well is still doesn't feel like fall here in Florida, but I am going to bake like it is. If nothing else I'll be ready when the weather finally cooperates and cools down. This recipe is another take on an Ooey Gooey Butter Cake. I made one earlier in the summer with blueberries and it quickly turned into the hottest recipe of the summer for me. I love the addition of fruit to this cake as it takes away some of overly sweet taste this cake can have.
Fruit in it makes it a perfect dessert. As you can see a sprinkle of confectioner's sugar dresses this cake right up.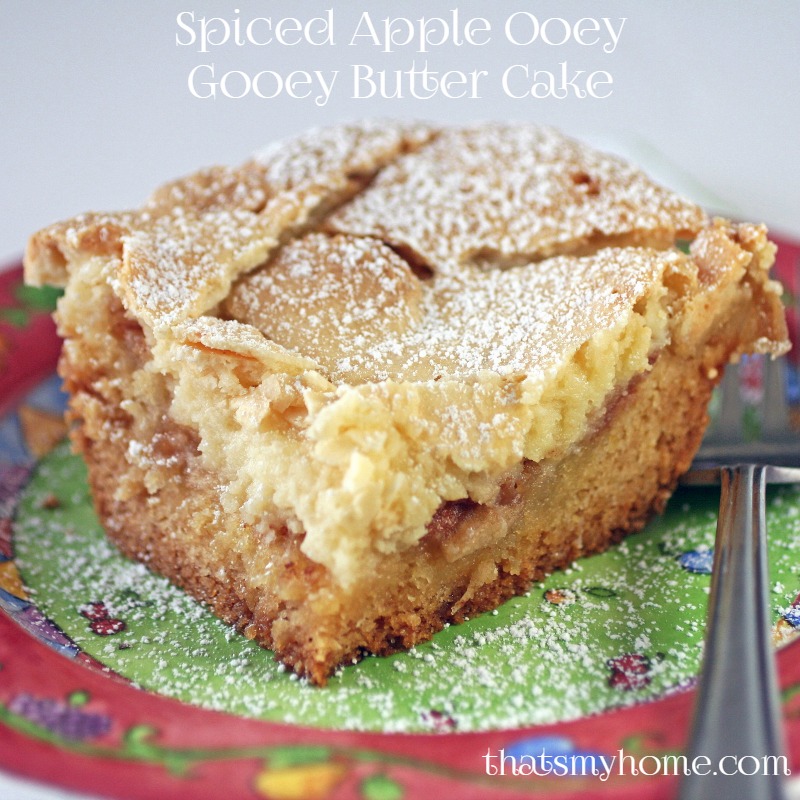 I used a mixture of Paula Reds and Granny Smith apples in this cake. I baked mine in a glass pan. Remember when baking in a glass pan to lower the temperature of your oven by 25 degrees. You may have to increase the baking time a little.
Spiced Apple Ooey Gooey Butter Cake
Prep time:
Cook time:
Total time:
Cake with a spicy apple filling and topped with cream cheese.
Ingredients
Cake
1 16.25 oz. box yellow cake mix
1 egg
6 tablespoons butter, melted
2 tablespoons water
Filling
4 cups diced apples
1/2 cup brown sugar
1 1/2 teaspoons cinnamon
1/2 teaspoon ginger
1/4 teaspoon nutmeg
Topping
1 8 oz. package of cream cheese softened
2 eggs
1 teaspoon vanilla
3 cups confectionery sugar
1/2 cup butter at room temperature
Instructions
Combine cake mix, egg and butter with an electric mixer. Pat into a lightly greased 9 x 13 x 2 pan.
Peel apples. Dice and put in a small bowl with brown sugar, cinnamon, ginger and nutmeg. Mix together. Spread out over the cake mixture in the pan.
Next, using an electric mixer, beat cream cheese and butter until smooth, add eggs and vanilla. Add confectionery sugar.. Mix well.Pour onto cake mixture and spread evenly.
Bake at 350* for 60 minutes. It should remain a little gooey in the center. Cool completely and cut into squares. I baked mine at 325 and it took just over an hour. I started checking it at 45 minutes.
Notes
If baking in a glass pan bake at 325 instead of 350.