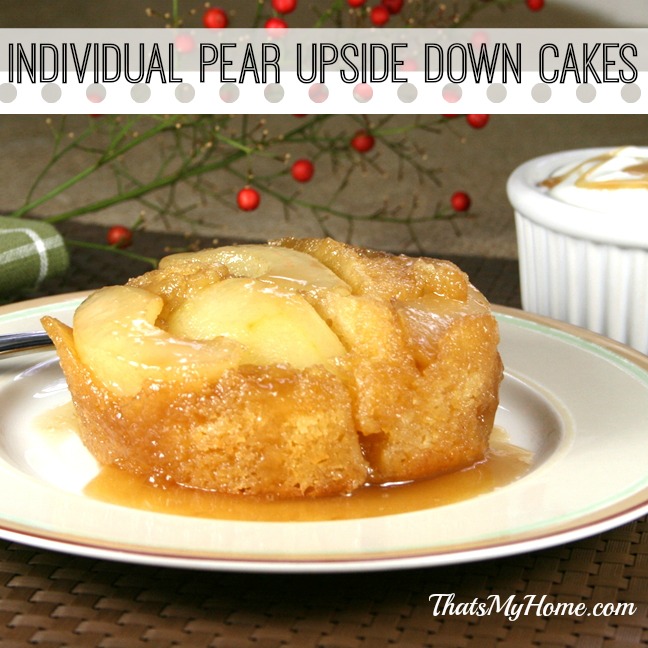 Individual Pear Upside Down Cakes
This is my first time using pears to make individual upside down cakes. I think we often forget to bake with pears in the fall. Pears are one of my favorite fruits in the fall and I can't tell you why I don't bake with them more. I made this Gooey Butter Pear Cake a few years ago and totally forgot about it until now.
When you make this, make sure that the pears are on the bottom of the ramekins, they won't caramelize or cook completely thru if on top of each other. Just fit the pears the best you can on the bottom, it's all good! I have some homemade caramel sauce I keep in the refrigerator that I on top of the pictured one when I flipped them out of the ramekins, mostly for the picture. They were plenty sweet enough without it.
These are best eaten the day they are made. They might warm up okay in the microwave the next day, I didn't try it. It is really good the day you make them, try and serve them warm, yum!
Individual Pear Upside Down Cakes
Prep time:
Cook time:
Total time:
Individual Pear Upside Down Cakes with caramelized pears and vanilla cake, topped with whipped cream.
Ingredients
For the Topping:
1/2 cup light brown sugar
4 tablespoons butter
3 pears, peeled, halved, and cored
For the Cake:
1 cup all purpose flour
1/2 cup granulated sugar
1/2 teaspoon baking powder
1/4 teaspoon salt
1/4 cup butter, cold
1/2 cup buttermilk
1 egg
1/2 teaspoon vanilla
For serving
sweetened whipped cream
caramel sauce
Instructions
Preheat the oven to 350 degrees. Butter 4 ramekins well and set aside.
Peel, core and slice pears in half. Using a melon baller take out the seed. Cut each quarter into 3 pieces. Line the bottoms of the ramekins with the pears.
Put the butter and brown sugar in a small sauté pan. Heat until the sugar melts. Pour over the pears dividing the mixture between the 4 ramekins.
To make the cake, in a small mixing bowl mix the sugar and butter together. Add the egg, vanilla and buttermilk. Mix until combined.
Add the flour, baking powder, and salt and mix until it is combined. Divide the cake batter between the 4 ramekins.
Bake for about 25 minutes or until a tester into the center of the cakes comes out clean. Let set for several minutes. Run a knife around the outside of the ramekin and turn it over onto the serving plate.
Serve with additional caramel sauce and whipped cream if desired.
www.thatsmyhome.com
Maybe you'd like to try?