No Bake Praline Cookies are filled with pecans, coconuts and quick oats. This is one of the best no bake cookies I have ever made.

No Bake Praline Cookies
These no bake cookies are so good! I don't even like coconut and I love these cookies…. These for sure are going to be made often at my house. My grandmothers chocolate no bake cookies have long been a favorite in my house and these cookies might just make them move over and take top spot. These cookies are full of pecans, coconut and quick oats. These are seriously good!
You can make these cookies in less than 30 minutes. The original recipe called for cooking the mixture for 3 minutes at a full rolling boil. Do you know what a full rolling boil is? If is a boil that when you stir the mixture it still continues to boil. If you can stir the mixture and the boil goes away you don't have a full boil. That is why I decided to put a temperature to this this recipe. I don't like leaving it to chance because if the mixture isn't cooked enough you will have flat, runny cookies and if it is cooked too much the cookies will be hard and brittle. These cookies have a soft, creamy consistency when cooked properly. The temperature you want is between 235 and 238 degrees F. If you don't have a candy thermometer put some very cold water in a coffee cup. Drop a tablespoon of the mixture into the cold water and then move the mixture so that it forms a soft ball when you push it together. If it isn't quite there, get some more fresh cold water and test again after 30 seconds or a minute.  Be sure to stir the mixture the entire time it is cooking because it does scorch very easily. Ask me how I know that? Yep, I did it. I thought I could break up the pecans a few steps away and did just that even though I was stirring every 30 seconds. I had to toss the first sugar mixture out. So stir, stir, stir! LOL Stir again when you add  the additions before spooning out the mixture. When it starts to thicken, start spooning!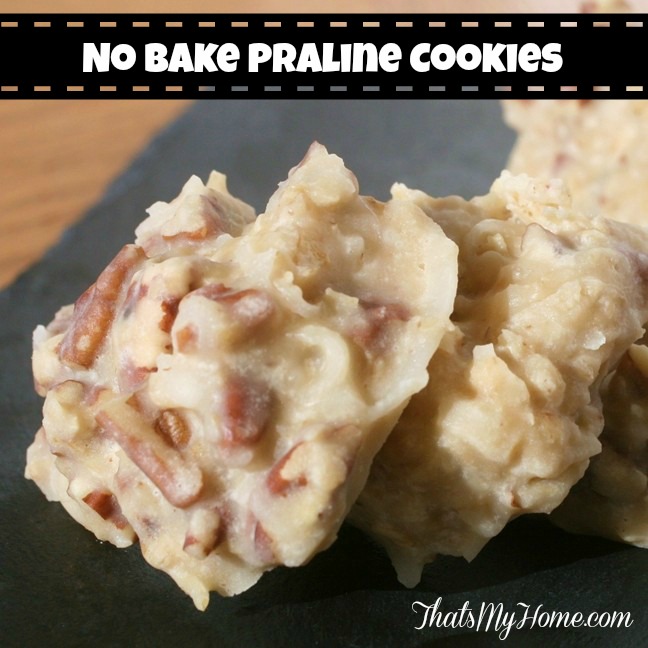 No Bake Praline Cookies
Prep time:
Cook time:
Total time:
No Bake Praline Cookies are filled with pecans, coconuts and quick oats. This is one of the best no bake cookies I have ever made.
Ingredients
2 1/2 cups sugar
1/2 cup evaporated milk
1/2 cup corn syrup
1/2 cup butter
1 teaspoon vanilla
2 cups chopped pecans
1 cup coconut
1 cup quick oats
Instructions
Place a piece of parchment paper on the counter. Spray very lightly with cooking spray. Set aside.
Put sugar, evaporated milk, corn syrup and butter in a heavy bottom pan. Put over medium heat and bring to a full rolling boil. Boil for 3 minutes, stirring all of the time or it can/will scorch. I checked the temperature at the end of the 3 minutes and it was 236 degrees.
Take off the heat and add the vanilla, pecans, coconut and quick oats. Stir for 2 - 3 minutes. The mixture will begin to thicken and change color slightly.
Using a tablespoon drop the batter onto the parchment. I use a teaspoon to help get it off of the spoon.
Let set for 30 minutes until they harden. Store in an airtight container.