Pumpkin, cinnamon, ginger and molasses in these delicious low-fat muffins are sure to become a family favorite.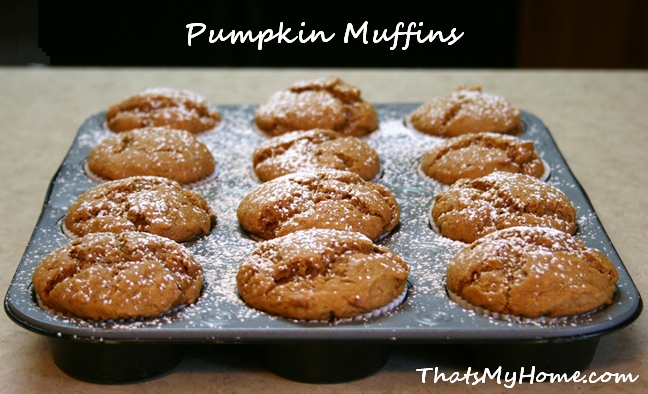 Pumpkin Muffins
It's getting to be that time of year again when the gardens of full of delicious squashes and pumpkins and you can leave the windows open again. I love this time of year, don't you? I made a pumpkin roll for tomorrow's dinner and had some leftover pumpkin to use, so I made these healthier pumpkin muffins I enjoy. They are lower in fat than most and because of the moist pumpkin in the recipe, the fat is not missed at all. The added benefit is the house smells of sugar and spice while they bake.
I made these without any add ins, but you could certainly add a cup of walnuts, raisins or white chocolate chips. I also used self rising flour but if you don't use it, use regular flour, 1/2 teaspoon salt and 1 1/2 teaspoons baking soda instead.
Muffin Tips
Low-fat muffins will stick to paper liners while warm, but will peel right off when the muffins cool. If you want to eat the muffins while warm, coat the liners with vegetable-oil spray.
Get some new baking powder and baking soda — these get stale and don't do as good a job puffing up your baked goods when they are older than six months. Label each box with the date you buy it and write on it "replace in 6 months."
The best muffin tins are the nonstick ones or well-seasoned cast-iron ones, if you have them. If you have ever tried to scrub baked-on muffin or cupcake batter off the old-style aluminum kind, you will appreciate being able to sponge off the newer nonstick kind.
Add-ins such as nuts and fruit should be tossed with the dry ingredients before the wet ingredients are added. Coating the pieces with flour prevents them from sinking to the bottom of the muffins.
To adapt a regular muffin recipe for mini-muffin tins, simply bake the mini muffins less. Mini muffins bake in 15 to 20 minutes, while regular muffins bake in 20 to 30 minutes.
Muffins are done when the top springs back when gently touched with a finger.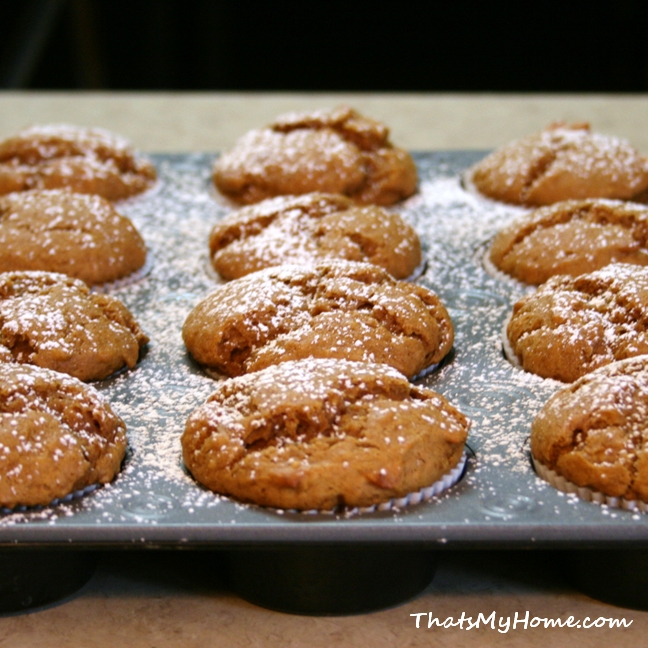 Follow me on Facebook, Google+ , Instagram or Pinterest to see when I post or share something new!
Pumpkin Muffins
Prep time:
Cook time:
Total time:
Pumpkin, cinnamon, ginger and molasses in these delicious low-fat muffins are sure to become a family favorite.
Ingredients
2 1/4 cups self rising flour
2 teaspoons cinnamon
1 teaspoon ground ginger
1 cup packed brown sugar
1 cup canned pumpkin
1/3 cup buttermilk
1/3 cup oil
1/3 cup molasses
1 teaspoon vanilla
2 large eggs
confectionary sugar - optional
Instructions
Prepare a muffin tin with paper liners, set aside. Preheat oven to 375 degrees.
In a bowl, add the brown sugar and eggs, beat with a whisk for several minutes. Then add the spices, oil, buttermilk, molasses, pumpkin and vanilla. Whisk until well combined.
Add the self rising flour and blend in until everything is combined. (I use a spatula and fold it in) Do not over mix.
Add the batter to the prepared muffin tins. Bake for 15 minutes or until a wooden pick inserted in center comes out clean. Remove muffins from pans immediately; cool on a wire rack. Sprinkle with confectionery sugar.
Pumpkin Cream Cheese Muffins