Pumpkin Cheesecake Muffins are lightly spiced with a cream cheese filling.

Pumpkin Cheesecake Muffins are lightly spiced with a cream cheese filling.
Last week was fall break here for the kids and they got the whole week off. How things have changed since I went to school, our big break was at Christmas. I decided it might be fun to take the girls to the Tate Pumpkin Farm one day. It was a gorgeous fall day so off we went. They had a hay bale maze, petting farm, a big inflatable the girls could jump on, corn train, hay rides and of course pumpkins. Did you know that when looking for a pumpkin to carve you want one that is heavy for its size? That means the rind is thick and although it will be a little harder to carve, it will last longer. A easier way than cutting off the top of the pumpkin to put the candle in is to cut a square in the bottom of the pumpkin and place the pumpkin over the candle.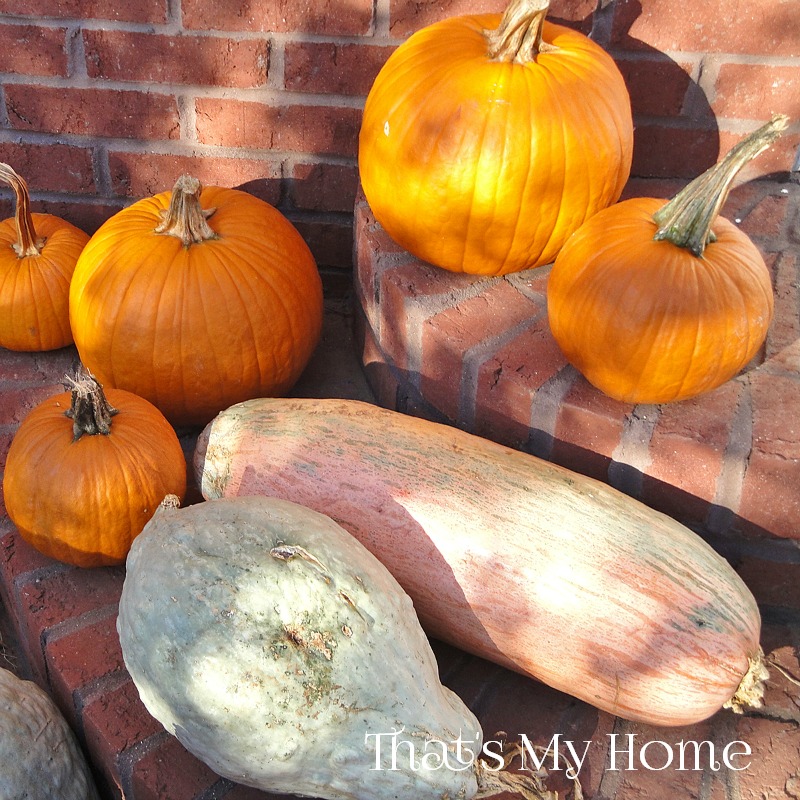 They also had a small farm stand where you could buy all kinds of squashes, pumpkins and fall ornamentals. One of the most interesting squashes I bought was called a Georgia Peach squash. It is the long squash in the picture above. I was told to quarter it and bake it in the oven until tender and then use as I would any other squash in my recipes. It is supposed to be super sweet and it is. It just might be my favorite squash ever. If you see one grab it, they can be hard to find. All of the ladies at the farm stand say they use it for pies instead of sweet potatoes. The light gray colored squash is a Hubbard Squash, one my grandmother would make every Thanksgiving. They are a really tough squash and I remember my grandmother on the back porch with a hammer and a screwdriver working to split it open. She would then clean them and bake the pieces. When it came out of the oven she would remove the tender squash from it's shell and add lots of butter and brown sugar when she mashed it. Then it would get a final bake of about 20 minutes. Yum!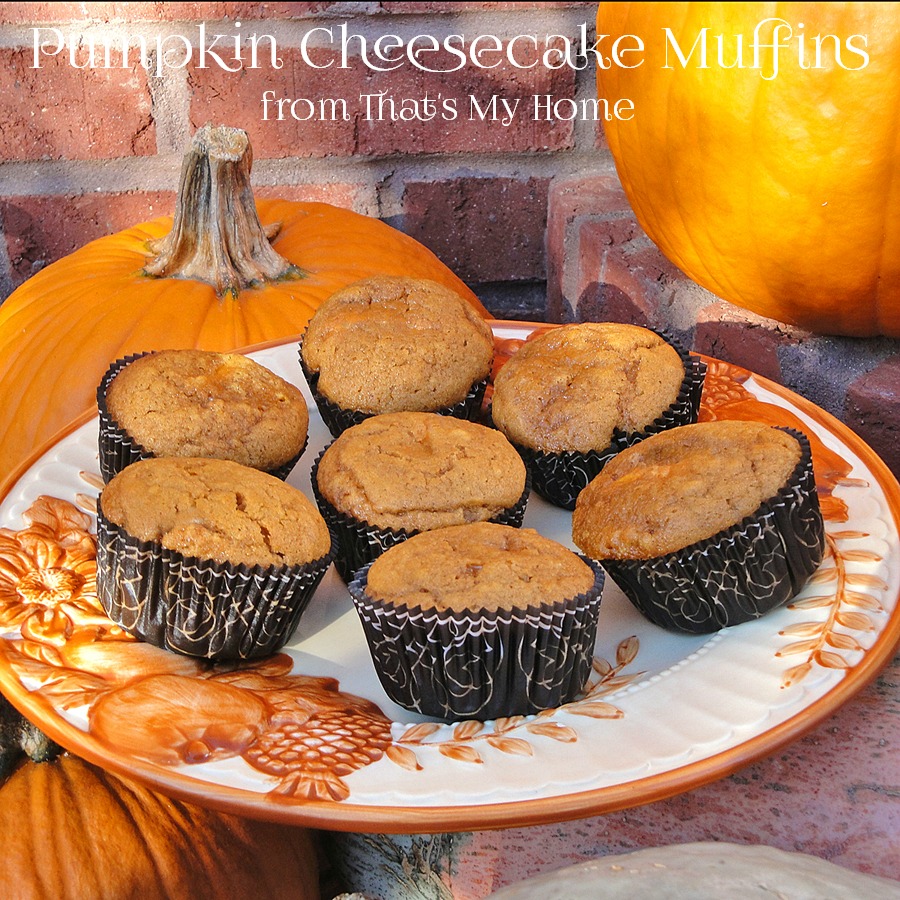 Now that I have lots of pumpkins I decided to bake some Pumpkin muffins yesterday filled with cream cheese. They are lightly spicy, moist and will keep well.
A Trip to the Pumpkin Farm
Prep time:
Cook time:
Total time:
Pumpkin Cheesecake Muffins Recipe Type : Muffins Author: Mary Ellen Prep time: 15 mins Cook time: 20 mins Total time: 35 mins Serves: 24 muffins Pumpkin Cheesecake Muffins are lightly spiced with a cream cheese filling.
Ingredients
3 cups flour
3 teaspoons cinnamon
1 teaspoon pumpkin pie spice
1 teaspoon salt
1 teaspoon baking soda
4 eggs
1 ¼ cups vegetable oil
2 cups sugar
1- 15 oz. can pure pumpkin
Filling
8 ounces cream cheese, softened
½ cup powdered sugar
½ teaspoon vanilla
Instructions
Filling:
Combine the cream cheese, vanilla and powdered sugar. Mix until well combined. Form into a log about an 1 ½ inches around on plastic wrap. Place log in freezer for at least an hour.
Preheat the oven to 350°. Place cupcake liners in pan.
Muffins:
Combine flour, spices, salt, soda in a bowl. Whisk together and set aside.
Combine the sugar, oil, eggs and pumpkin. Mix well.
Add dry ingredients and mix until flour is combined. Do not overbeat.
Fill each muffin cup halfway with muffin batter. Slice the cheesecake log into 24 pieces. Put a slice in each cup. Top the muffins with remaining batter to cover up the cheesecake pieces.
Bake for 20-25 minutes. Cool completely before serving. Refrigerate any leftovers.
Makes 24 muffins
Notes
Bake time is 18 - 25 minutes depending on your oven.
3.4.3177
Pumpkin Dump Cake