Heritage tomatoes, olive oil, garlic and fresh basil.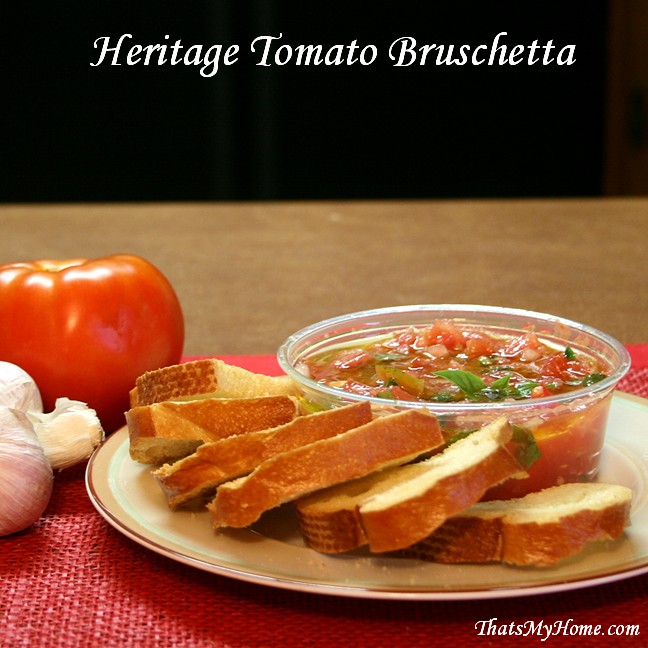 Heritage Tomato Bruschetta
My friend Debbie shared this recipe with me years ago and I look forward to making it every summer. To me it is the essence of summer in a bowl and I usually don't like tomatoes. I take them out of everything so for me to love this dish so it kind of amazes me every time I make it. I made it for our picnic at the jazz concert we went to over the weekend.
We also had cold Almost Chick fil A Chicken, Green Beans, Roasted Corn Salad, a cheese tray, Blackberry Cobbler Dessert (I still need to share) and Sangria. It was perfect! The concert was held in a limestone quarry and a 65 degree breeze was coming from the caves. Such an awesome setting for some really fantastic jazz by Tom Braxton.
A note about this bruschetta: The amounts I gave you are approximate, it all depends on the tomatoes you use. Really ripe sweet tomatoes will work best and then the recipe should be close, more or a little less of any of the other ingredients. I like to start with a little less than I think I need and then taste it, adjust and let set another 15 minutes before serving. This can be refrigerated if you need to. I made this about 4 hours before the concert and refrigerated it. Bruschetta is best served at room temperature.
I serve it with Italian bread that is sliced into thin slices, bake at 400 degrees for 6 – 10 minutes until lightly brown. For extra garlic flavor rub a garlic bulb over the toasted bread.
Follow me on Facebook, Google+ , Instagram or Pinterest to see when I post or share something new!
Heritage Tomato Bruschetta
Heritage tomatoes, olive oil, garlic and fresh basil, YUM!
Ingredients
2 lbs. heritage tomatoes
1/3 cup olive oil
2 - 3 garlic cloves
1 teaspoon salt
1/3 cup basil leaves - torn in pieces
Instructions
Cut all of the tomatoes into small pieces. Squeeze the tomatoes with your hands to release the juices.
Add everything else to the bowl. Taste to adjust seasoning.
Green Bean, Roasted Corn and Black Bean Salad