Blueberry Coffeecake – Sour cream coffeecake with a blueberry cheesecake layer and topped with a cinnamon streusel.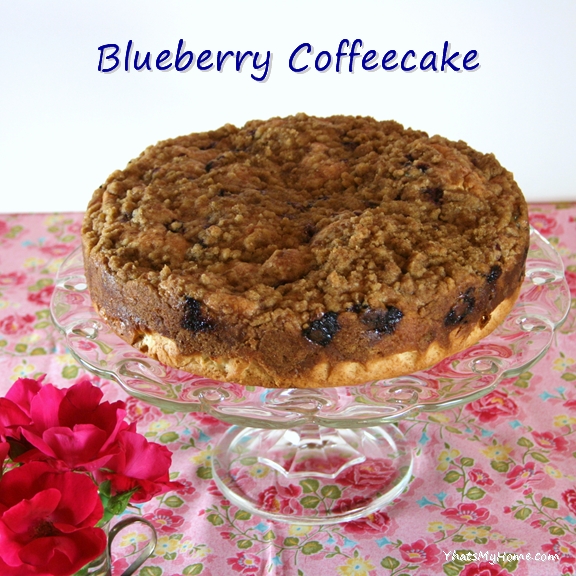 Blueberry Coffeecake
So, one more blueberry recipe for you this week. It's a blueberry coffeecake with a cream cheese filling with blueberries and a streusel topping with cinnamon. It's not too sweet but very moist, perfect for break time or breakfast.
The sour cream in the batter makes the cake part of this super moist. Adding in the blueberries and the cream cheese topping makes this coffeecake perfection!
You can use fresh or frozen blueberries in this recipe, just don't thaw the frozen ones first if you are using them.
Some tips for making a better baking
1. Use the best ingredients you can.
2. Have everything at the temperature the recipe tells you to.
3. When you recipe contains flour do you know  that you need to fluff it first. The most accurate way to measure anything is by weight, but we usually don't bake that way in home kitchen. The next time you go to measure flour give it a stir and fluff it up before you dip that cup in.
4. Make sure you oven is at the correct temperature. If you find when you bake you are consistently not close to the times the recipe recommends I would buy an over thermometer to be sure my oven is at the correct temp when you bake.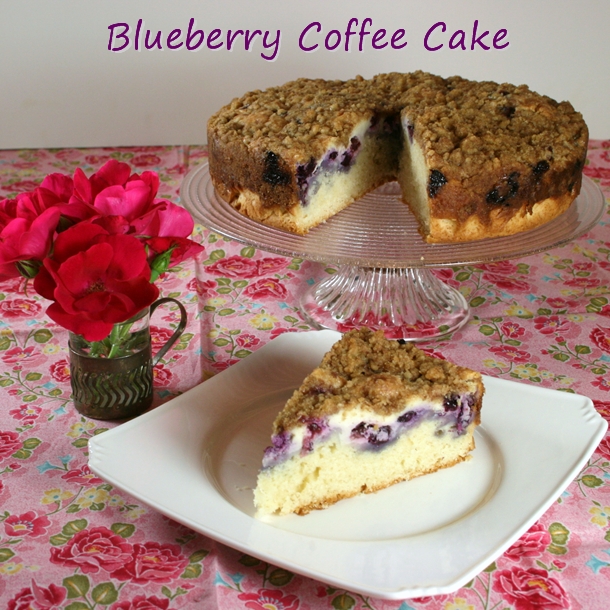 When buying blueberries look for berries that are plump, firm, dry and uniform in size. Avoid blueberries that are soft or mushy. Blueberries have a silverfish sheen to them that is a natural waxy coating to protect them. If you see stains on the container it means the fruit may be bruised. Berries that have a red tint to them are not ripe but you can cook with them just fine.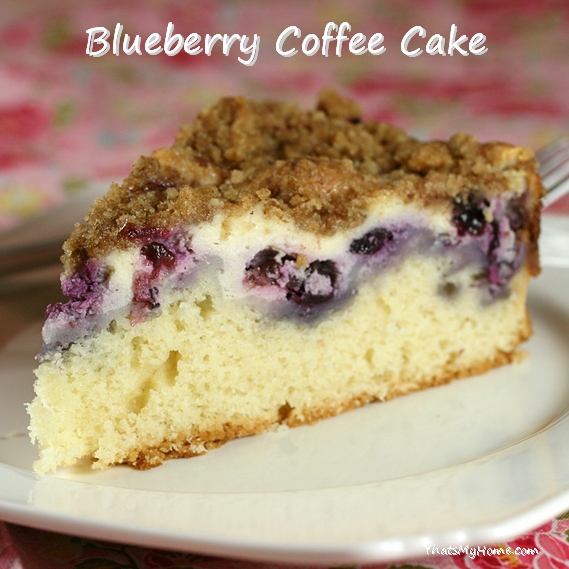 Blueberry Coffeecake
Prep time:
Cook time:
Total time:
Sour cream coffeecake with a blueberry cheesecake layer and topped with a cinnamon streusel.
Ingredients
Coffee Cake
1/2 cup butter, room temperature
1/2 cup sugar
1 large egg
1/4 cup sour cream
1 teaspoon vanilla
2 cups flour
2 1/2 teaspoons baking powder
1/4 teaspoon salt
1/2 cup milk
Cheesecake Topping
8 oz. cream cheese, room temperature
1/3 cup sugar
1 teaspoon vanilla
1 large egg
1 1/2 cups blueberries
Streusel Topping
1/3 cup brown sugar
1/3 cup all-purpose flour
1/2 teaspoon cinnamon
3 tablespoons butter
Instructions
For the Coffeecake: Cream together butter and sugar until light and fluffy. Beat in egg and vanilla. Add sour cream and milk. Mix together until incorporated.
Add the flour, baking powder and salt. Mix just until incorporated. Spread evenly into a greased 9 inch cake pan (I used a springform pan).
For the Cheesecake Topping:
Beat cream cheese with sugar until incorporated. Add vanilla and egg. Fold in blueberries. Spread on top of coffee cake layer.
For the Streusel Topping:
Mix together sugar, flour and cinnamon. Using a fork blend in butter until it is about the size of peas. Sprinkle on top of cream cheese layer.
Bake at 350 degrees for 45-55 min. or until a toothpick inserted in the center comes out clean. Allow to cool completely before serving.
Blueberry Pancakes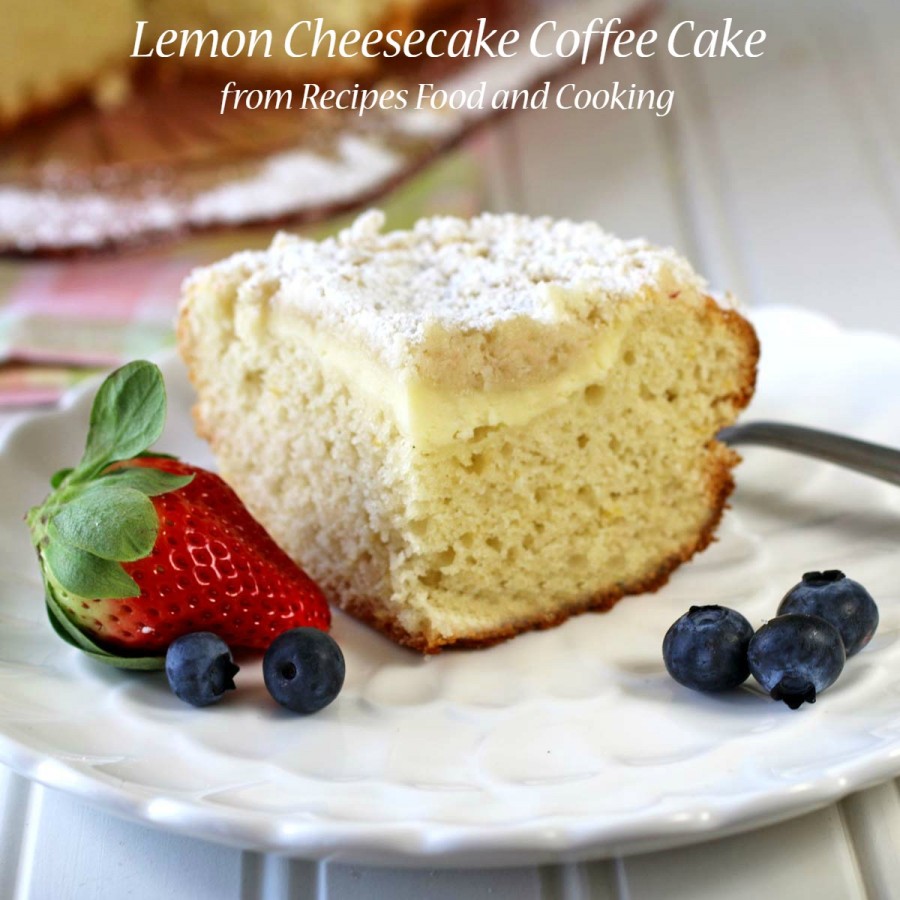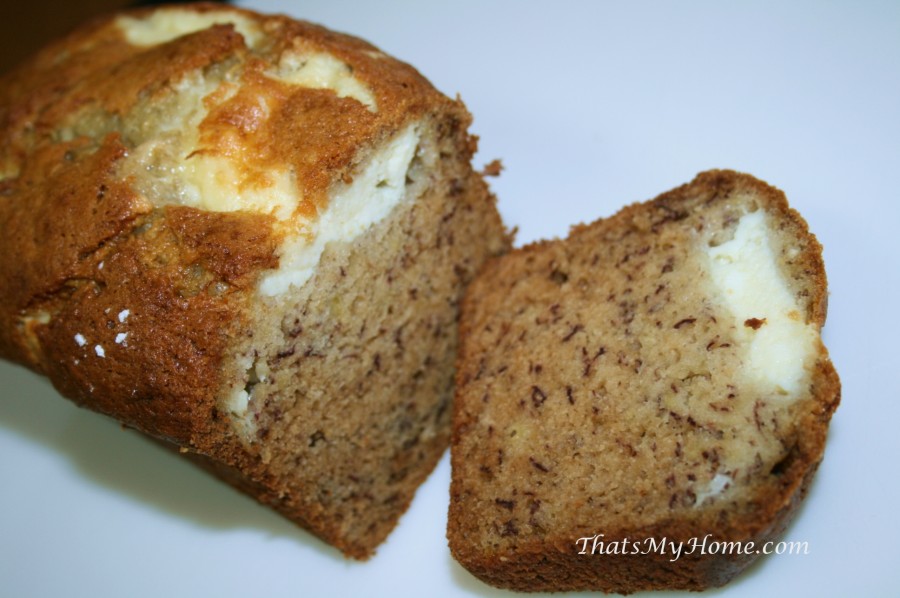 Follow me on Facebook, Google+ , Instagram or Pinterest to see when I post or share something new!