Light and fluffy Blueberry Pancakes.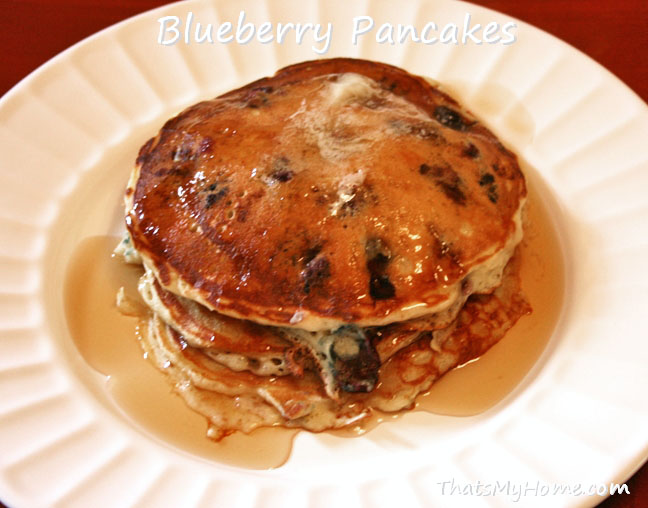 These extra light pancakes are bursting with fresh, juicy blueberries. You can make these pancakes immediately after mixing the batter or make the batter the night before. Whichever method you choose a light hand with the batter will insure fluffy pancakes. You can add a little lemon zest and a couple tablespoons of lemon juice for a blueberry pancake with a lemony twist or maybe raspberries in place of the blueberries?
See the pancakes below? See those big bubbles forming? See the ones that look like holes? When you see this starting to form near the center it is time to flip them. Right after I flip them I like to take my spatula and put a small hole in the center of the pancake to allow the steam to escape. Do this and you will never have uncooked, doughy pancakes again.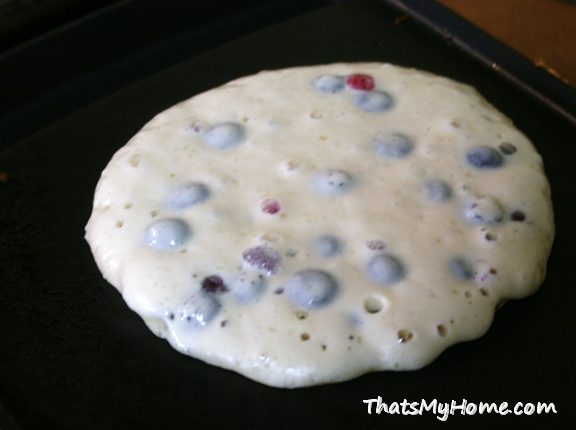 Blueberry Pancakes
Prep time:
Cook time:
Total time:
Fluffy, light pancakes bursting with blueberries.
Ingredients
2 cups all purpose flour
1/4 cup granulated sugar
2 teaspoon baking powder
1 teaspoon baking soda
1/4 teaspoon salt
2 eggs - beaten
2 cups buttermilk
1/4 cup butter - melted
1 tablespoon vanilla
2 cups blueberries
Instructions
Mix together the dry ingredients and set aside.
Add the eggs and beat them in a mixing bowl. Stir in the buttermilk, vanilla and butter. Add the dry ingredients. Do not overbeat. Fold in blueberries.
Refrigerate or make the pancakes right away.
Pancakes can be frozen. Freeze in a single layer on a cookie sheet. Stack them in a ziplock bag until ready to use. Microwave or heat in oven.
Maybe you'd like to try?