Great side dish to go with any dinner grilled outside. This one has it all, corn, potatoes, zucchini, onions and carrots.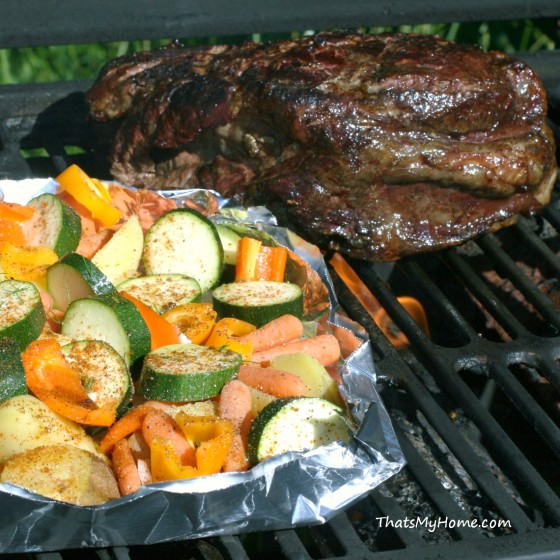 I made some simple grilled vegetables to go with the standing rib roast I grilled today. I am not having a fun grilling weekend here. I was sitting at my computer last night while I was cooking a steak I had cut off of the standing rib roast I had bought when I heard a large pop outside. Imagine my surprise when I saw all 3 controls to the grill on ground and the bbq on fire. Well the fire only had seconds left so it went out on its own but I sure never had this happen before.
So today I go out and put my trusty digital thermometer into the roast and come back 5 minutes later and it had blown up. I'm not sure if it was old age or the Alabama sun but it is no longer with us. I really was beginning to wonder if I should be bbq'ing at all this weekend. I am glad I carried on as the dinner came out fabulous.
I decided to have grilled vegetables as I wanted easy today. I par-boiled the corn, carrots and potatoes. I cooked them in the foil with roasted garlic olive oil and did zucchini slices on the grill with the corn. Season the vegetables with your favorite salt free seasoning and then add a little salt. I find when I do it this way I can cut back on salt and don't miss it either.
The great thing about these vegetables as a side was, I didn't put it on the grill until I was ready to take the rib roast off so the roast got its 20 minutes of resting time it needed before serving.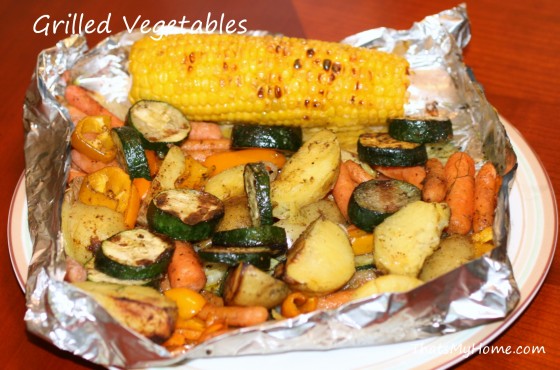 Grilled Vegetables
Prep time:
Cook time:
Total time:
Great side dish to go with any dinner grilled outside. This one has it all, corn, potatoes, zucchini, onions and carrots.
Ingredients
4 small potatoes
2 ears of corn
1/2 onion - sliced
1 cup carrots
1 small zucchini - cut into 1/2 inch rounds
1 garlic clove
salt and pepper
1/2 teaspoon Forward (Penzey's Salt Free seasoning, bold flavors with peppercorns, onions, paprika, turmeric, rosemary, thyme)
2 tablespoons oil
butter
Instructions
Par boil the potatoes until almost tender.
Par boil corn and carrots for 5 - 7 minutes.
Cover a pie plate with foil that has been doubled and let it hand over the edges. Spray with cooking spray. Add oil and garlic. Cut the potatoes in quarters and add to pan. Top with the sliced onions. Top with the carrots and zucchini.
Add the seasonings and stir vegetables.
Put over medium heat on your grill. Put the corn directly on the grill. I brushed with a little butter. I took the zucchini out and did them directly over the grill as they were the only vegetable no precooked.
Take the foil out of the pie pan with the vegetables. Stir the vegetables every 5 minutes.
Cook about 20 minutes or until vegetables are tender. Slide the foil and vegetables back into the dish.
www.thatsmyhome.com
Maybe you'd like to try?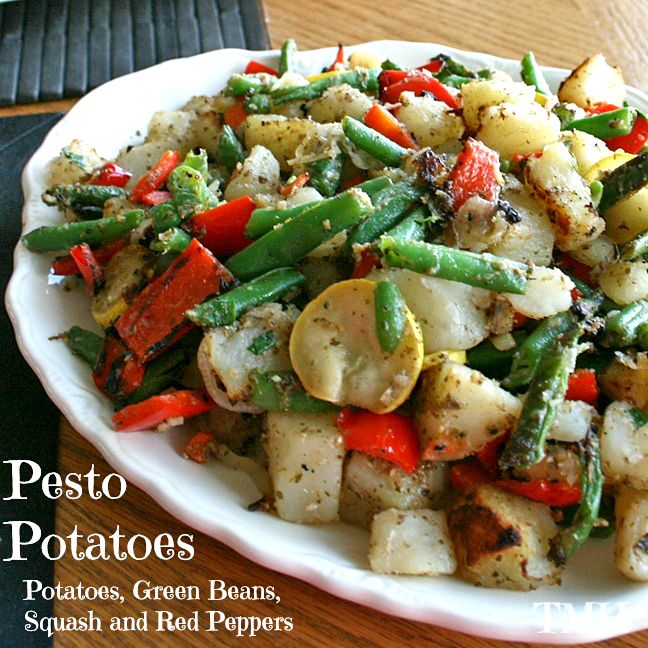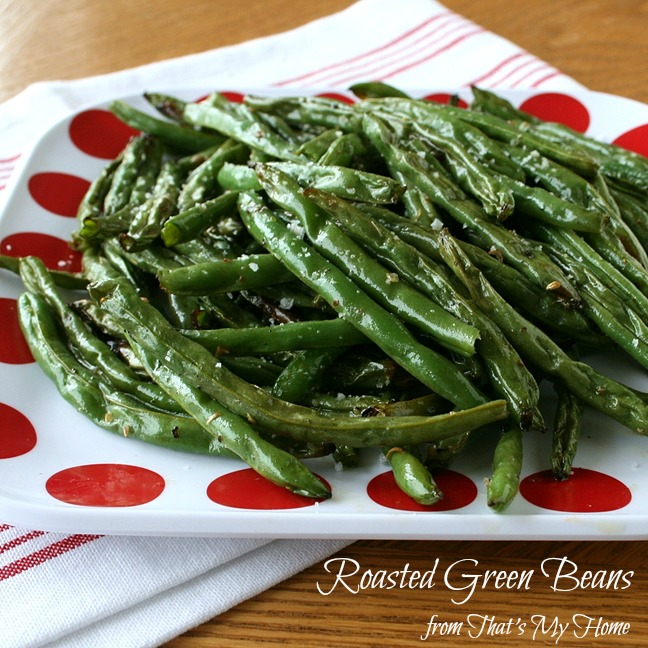 Follow me on Pinterest