Homemade Vanilla Bean Ice Cream has a vanilla custard base with vanilla beans.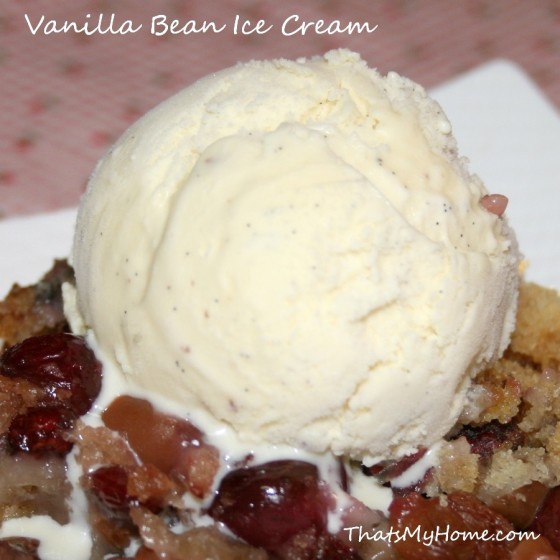 Homemade Vanilla Bean Ice Cream
I can remember Sundays on my grandmothers back porch sitting on the steps cranking that old ice cream maker. You would crank that old machine until you thought your arm would break. There were 2 flavors they always made either vanilla or orange sherbet. Nothing was better on a hot summer day than getting to eat the ice cream on the dasher right after the ice cream was finished. Everyone who helped to crank got to get a spoon, there was never a shortage of cousins wanting that job.
Sometime in the 60's we got our first electric ice cream maker, I think we made ice cream every Sunday that summer. Now with the ice cream makers we have today you can be serving ice cream in minutes if you keep your freezer container frozen, which I do in the summer.
This ice cream starts with a custard base which insures a smooth and creamy ice cream. The recipe we ate growing up was never cooked and used carnation milk, now I would say it was more of an ice milk but it was so good. Now I almost always start with a cooked base when I make ice cream. You can use half and half in place of the heavy cream or use 2% milk if you want to lower the calories.
Homemade Vanilla Bean Ice Cream
Prep time:
Cook time:
Total time:
Homemade Vanilla Bean Ice Cream has a vanilla custard base with vanilla beans.
Ingredients
1 cup sugar
4 egg yolks
2 cups milk
1 cup heavy cream
1 vanilla bean - scraped
dash salt
1 teaspoon vanilla
Instructions
Mix together milk, sugar, salt and egg yolks. Cut the vanilla bean in half and scrape the inside into the milk mixture with the pod. Cook over medium heat until the mixture coats the back of a spoon. Remove from heat and stir in heavy cream and vanilla. Refrigerate until cold.
When the mixture is cold pour it into your ice cream canister and let the machine run until you have ice cream (about 15 minutes). You should hear a slight change in the motor sound when it is done. Put ice cream in a container and freeze until ready to serve or serve right away.
Orange Pineapple Delight Ice Cream