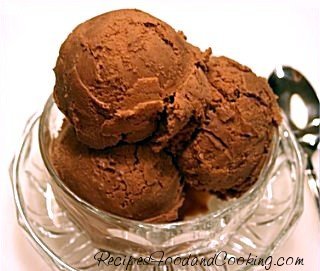 Homemade Chocolate Ice Cream
Last night I got out my Cuisinart Soft Serve Ice Cream Maker. I still don't know if I like it or not. I've used it 3 times now, twice with their recipes and once with mine. I still have yet to get soft serve ice cream from it. This time I let the machine run over 30 minutes and it just began to make a slight thin swirl when it came out of the machine. It has always been way to soft and I then end up putting it in the freezer to harden. I may have well used my regular ice cream maker and saved myself the cleanup of the machine. It is not a lot of fun to wash, there are pieces to the machine and one piece is difficult to clean.
I did make a really delicious, rich chocolate ice cream in it however and the recipe is a keeper.

Homemade Chocolate Ice Cream
Prep time:
Cook time:
Total time:
Homemade Chocolate Ice Cream
Ingredients
6 oz. semi-sweet chocolate
2 eggs
3/4 C. sugar
1 t. vanilla extract
1 t. chocolate extract (optional)
2 C. heavy cream
2 C. milk
Instructions
Melt chocolate in a double boiler. Keep warm.
Put the eggs, 1 cup milk and sugar into a blender. Blend until the sugar is dissolved and smooth.
Whisk the egg mixture into the chocolate mixture and stir until smooth. Cook for 2 minutes over low heat. Remove from heat and add heavy cream, remaining milk, chocolate extract and vanilla.
Chill thoroughly. Transfer to your ice cream maker and freeze according to manufacturer's directions.
Makes slightly more than 1 quart.
Recipe modified from That My Home Ice Cream Recipes
Homemade Chocolate Ice Cream
Prep time:
Cook time:
Total time:
Homemade Chocolate Ice Cream
Ingredients
6 oz. semi-sweet chocolate
2 eggs
3/4 C. sugar
1 t. vanilla extract
1 t. chocolate extract (optional)
2 C. heavy cream
2 C. milk
Instructions
Melt chocolate in a double boiler. Keep warm.
Put the eggs, 1 cup milk and sugar into a blender. Blend until the sugar is dissolved and smooth.
Whisk the egg mixture into the chocolate mixture and stir until smooth. Cook for 2 minutes over low heat. Remove from heat and add heavy cream, remaining milk, chocolate extract and vanilla.
Chill thoroughly. Transfer to your ice cream maker and freeze according to manufacturer's directions.
Makes slightly more than 1 quart.
Recipe modified from That My Home Ice Cream Recipes