Strawberry Crunch Salad is made with fresh strawberries, cucumbers, almonds, ramen noodles and feta cheese.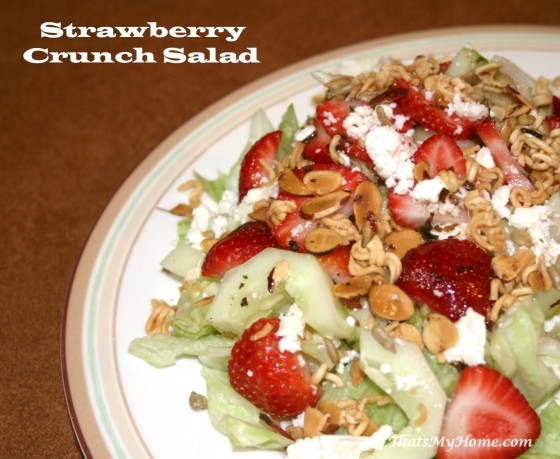 The other day I saw a recipe for the strawberry salad Tricia Yearwood has in her cookbook. I decided to see how we could cut some calories from this delicious salad without sacrificing flavor. First I decided for the ramen mixture to cut out the butter and use a little cooking spray instead. That worked really well.
I broke up the ramen onto a sprayed cookie sheet added almonds and sunflower seeds. Then you lightly spray the mixture with olive oil cooking spray. Then it was baked for about 10 minutes. Store any extra topping in a plastic baggie. This step alone cut out 1/2 stick of butter from the original recipe.
Some of the other things I did because I had it on hand was use regular iceberg lettuce, added cucumber slices, feta cheese in place of parmesan and skipped the spinach. If you are single or cooking for 2 doing the topping ahead can make any salad special during the week. I also changed the dressing up a bit to take out some of the sugar and replaced some of it with honey.
Strawberry Crunch Salad
Prep time:
Cook time:
Total time:
Ingredients
1 package ramen noodle soup - discard flavoring package
1/2 cup sliced almonds
1/2 cup sunflower seeds
cooking spray
iceberg lettuce
cucumber - seeded, cut in half, sliced
feta cheese
strawberries
Dressing
1/4 cup sugar
1/4 cup honey
1/2 cup red wine vinegar
3/4 cup olive oil
1/2 teaspoon basil
1/2 teaspoon salt
2 cloves garlic, minced
Instructions
Preheat the oven to 350 ° F. In a small bowl, mix the ramen noodles, almonds, sunflower seeds and melted butter. Transfer to a baking sheet and toast in the oven, stirring occasionally, until browned, about 10 minutes. Remove from the oven and set aside to cool.
Tear the lettuce and combine with the spinach, strawberries and cheese in a large salad bowl.
To make the dressing, dissolve the sugar in the vinegar. Combine the oil, paprika, salt and garlic and add to the sugar-vinegar mixture. Mix well and store in the refrigerator until ready to serve.
Just before serving, sprinkle the crunchy topping over the salad and toss with just enough dressing to coat the greens.
Notes
Nutrients per serving: 365 calories, 9g protein, 24g carbohydrates, 4g fiber, 20g fat (7g saturated fat), 32mg cholesterol, 485mg sodium

Recipe adapted from Home Cooking With Trisha Yearwood, © Clarkson Potter 2010
Maybe you'd like to try?