Rice Krispy Treats made with browned butter and vanilla.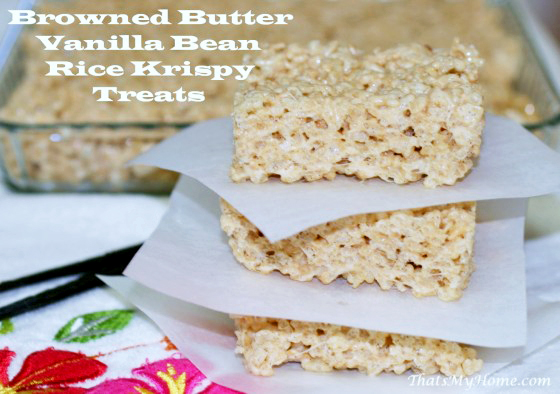 Browned Butter Vanilla Bean Rice Krispy Treats
I am on a rice krispy roll, I made some a few weeks ago also. I wonder what my grandmother would think if she could see all the variations of these out there now. For years she made these almost every week and all of her grandchildren knew exactly where to go when they had a sweet tooth. I think I inherited my sweet tooth from her that is for sure.
The is the second recipe in 24 hours I have used browned butter in. It adds a wonderful complexity to most things. I also added vanilla and the seeds from 1 vanilla bean pod. Vanilla is one of my favorite flavors and I believe one can never get enough of it.
Did you know vanilla comes from orchids?
According to Wikipedia these are the types of vanilla
Bourbon vanilla or Bourbon-Madagascar vanilla, produced from V. planifolia plants introduced from the Americas, is the term used for vanilla from Indian Ocean islands such as Madagascar, the Comoros, and Réunion, formerly the Île Bourbon. It is also used to describe the distinctive vanilla flavor derived from V. planifolia grown successfully in tropical countries such as India.
Mexican vanilla, made from the native V. planifolia, is produced in much less quantity and marketed as the vanilla from the land of its origin. Vanilla sold in tourist markets around Mexico is sometimes not actual vanilla extract, but is mixed with an extract of the tonka bean, which contains coumarin. Tonka bean extract smells and tastes like vanilla, but coumarin has been shown to cause liver damage in lab animals and is banned in food in the US by the Food and Drug Administration.
Tahitian vanilla is the name for vanilla from French Polynesia, made with the V. tahitiensis strain. Genetic analysis shows this species is possibly a cultivar from a hybrid-cross of V. planifolia and V. odorata. The species was introduced by French Admiral François Alphonse Hamelin to French Polynesia from the Philippines, where it was introduced from Guatemala by the Manila Galleon trade.
West Indian vanilla is made from the V. pompona strain grown in the Caribbean and Central and South America.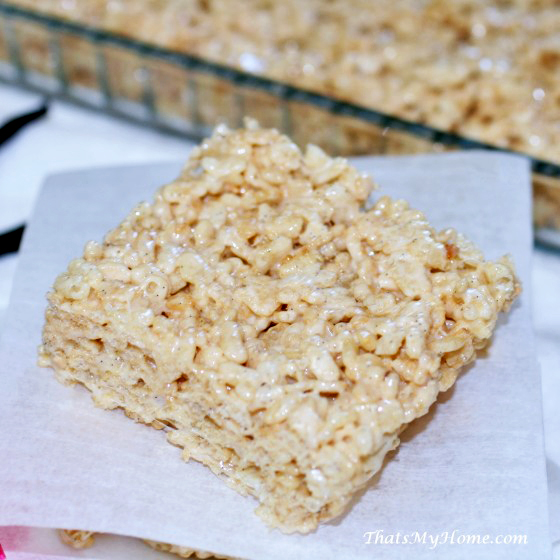 Browned Butter Vanilla Bean Rice Krispy Treats
Prep time:
Cook time:
Total time:
Rice Krispy Treats made with browned butter and vanilla.
Ingredients
3 tablespoons butter
1 10 oz. package marshmallows
1 teaspoon vanilla
1 vanilla bean - cut, split and seeds scraped out
6 cups rice krispies
Instructions
Brown the butter in a large pan. Add the marshmallows and keep stirring off of the heat while they melt. If you need to put it back on the heat just keep stirring it. Add the vanilla and vanilla bean seeds.
Pour into a buttered pan. Press down lightly in the pan. Cut into squares to serve.
That's My Home
Or how some
Turtle Rice Krispy Treats
?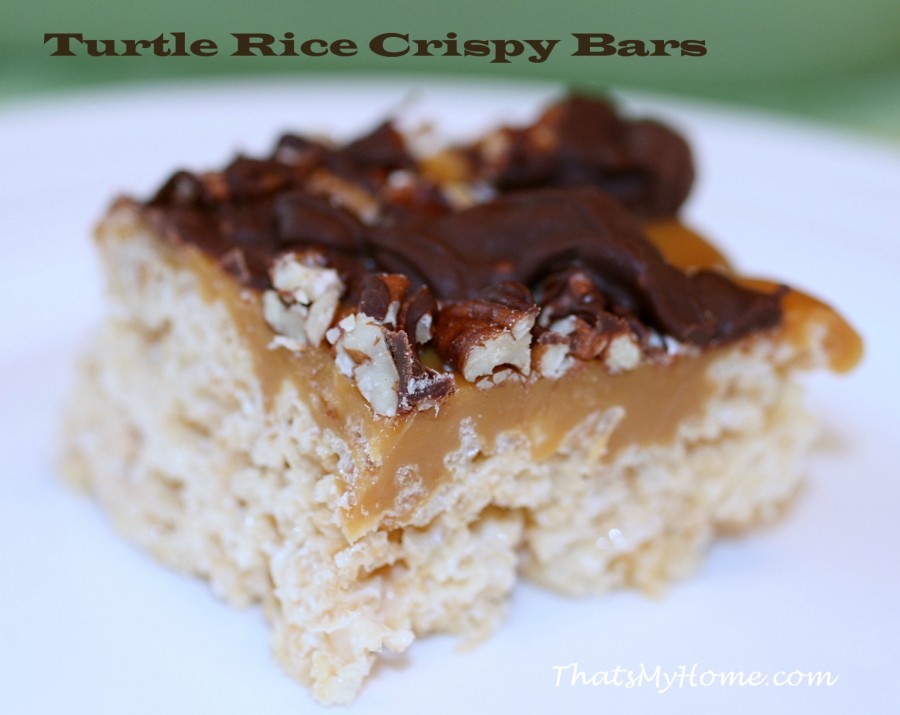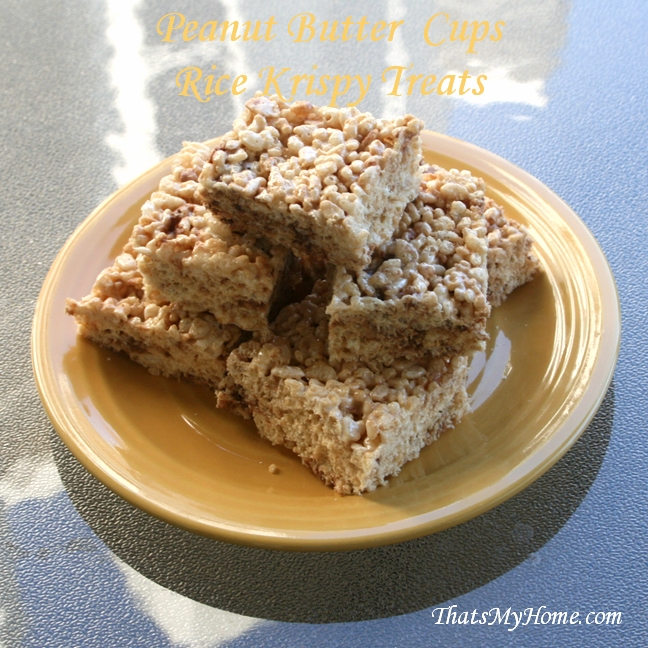 Maybe some Rice Krispy Treats with M&M's and Drizzled Chocolate?